Move it, add to it, love it, and hand it down
The 30-year history of the Davidson family shelving-system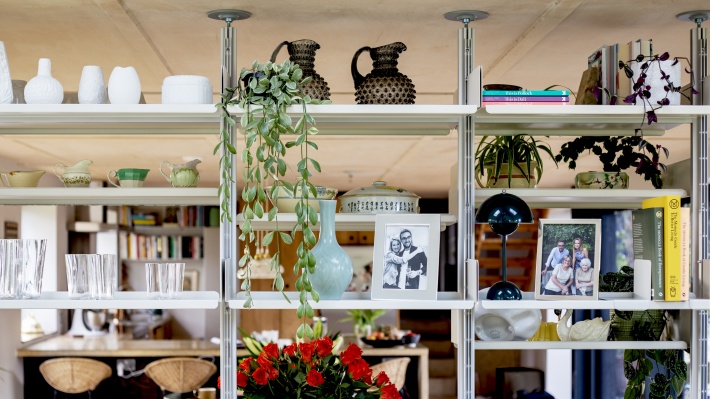 Words: Jane Audas
Photography: Vitsœ
You can take your Vitsœ shelving with you when you move, or, as in the case of the Davidson family, your children can take it with them when they move. Lyn Davidson and her offspring Lucy and Will, have fond memories of living with their 606 shelving system in eight different properties over 30 years. It was Ian Davidson – architect, husband and father – whom they lost unexpectedly in 2003, who was an early admirer of 606 and a long-time friend of Vitsœ.
Lyn (a retired teacher) and son Will (a professional sailor) both live in south London, and neither can see this changing any time soon. Lucy (a psychologist) is trying country living for the first time and has recently relocated from London to Hungerford in Berkshire. They all have 606 shelving systems at home, a mix of old and new. Lyn has been a Londoner since her twenties, but moved to Hong Kong with Ian whilst he was working on the 'Hong Kong and Shanghai Bank' headquarters project with Foster + Partners. Lucy was born there, and on the family's return to England they settled in London and looked to furnish their first house.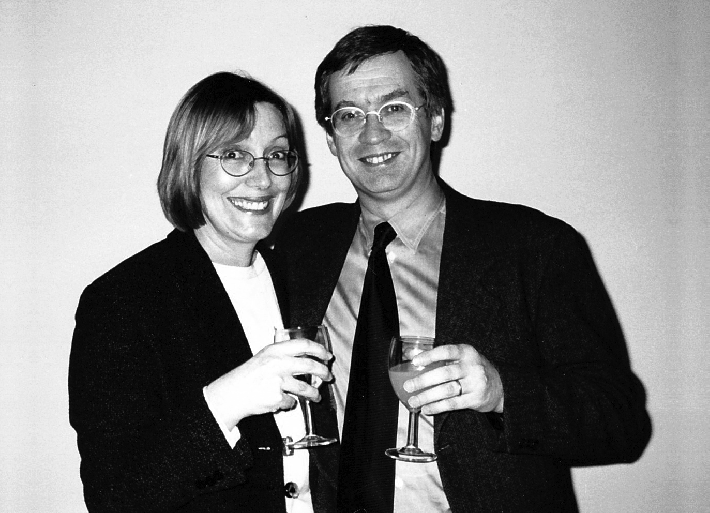 In 1986, after a year back in the UK, Ian founded Lifschutz Davidson architectural practice (now Lifschutz Davidson Sandilands) with Alex Lifschutz, whom he had met whilst working at Foster + Partners. Lyn says Ian (the man and the architect) was a typical Gemini with two sides: a very soft side and a passionate, driven side. After he died, the office placed a bench next to where Ian is buried with the words 'Bring Me Sunshine' on it. Although (Lyn reports) he couldn't sing, he could very often be heard 'belting out' the tune made famous by British comedians Morecambe & Wise.
Mark Adams, Vitsœ's managing director, knew Ian almost from day one of the new Lifschutz Davidson office at Thames Wharf, London. He remembers Ian and Lyn visiting Bermondsey to see the shelving system in Vitsœ's (then) live/workspace. Mark recalls Lyn initially struggling to warm to 606. She admits, "It was entirely alien to anything I'd seen or considered. I thought it was a cold thing to put in a room and that the uprights looked industrial." But soon afterwards, the Davidsons placed their first order. It was installed by a young Mark Adams himself. "And it just looked great. We never looked back."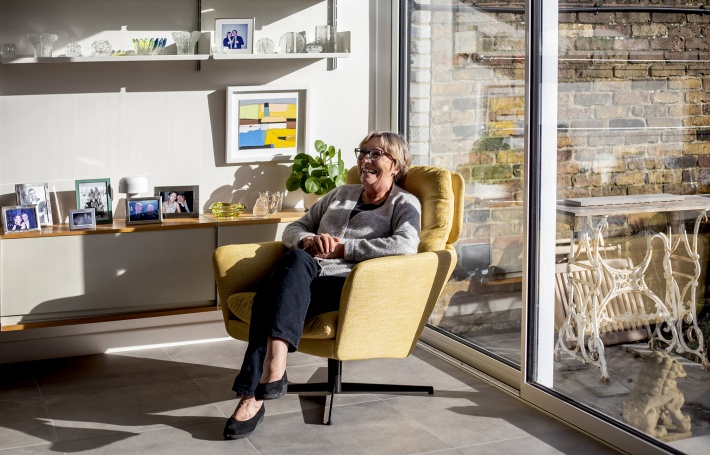 Those first shelves were treasured by Ian and were 'carefully curated'. "We couldn't just put anything on them. Books were fine" Lyn says, "but objects had to be vetted by Ian." That initial run of beech-topped cabinets remained quite bare until a Bauhaus chess set (that was Ian's, and not to be played with) was 'allowed' on them. The family had always lived quite minimally, she recalls, "We never finished a house properly, to be able to put things in it." Lyn thinks Ian was, in some ways, always waiting for the next house. But living in part-baked homes never meant less Vitsœ furniture.
Thinking about how they all use their 606 shelving; Lyn suggests that Will lives with his in a similar way to Ian – with not too much clutter. Lucy is quite maximalist with hers and Lyn thinks she is somewhere between the two. Lucy remembers that her decoration choices were limited throughout her adolescence, as her father was – shall we say – quite specific in his tastes. Wallpaper in her bedroom, was a choice of one of three variations-on-a-stripe from Designer's Guild. "I wasn't given much chance to express myself growing up. I went through a real Cath Kidston phase, probably as a rebellion, until I was in my mid-twenties." She also rebelled against the "awful, industrial" 606 shelving that Will had in his bedroom – and refused it. Then, eating her (interior design) words, she had it installed in her first flat when she was 23. Lucy concedes that, the fact there was some Vitsœ 'going spare', may have been a pertinent reason at that point in her life.
The family still has the original 606 system bought over 30 years ago, but it is now divided amongst the three of them. And they have all added to, expanded, and reconfigured their respective systems. A few pieces are in storage. "I don't know that we'll be able to use all the shelves that I've got left", Lyn says. "I'll find some space for them", Lucy quickly jumps in. The spare 606 results from Lyn's recent move into a 1960s house. "This is the first time it's been in its original era – before it's been in older houses." And she has a small collection of 1960s glassware which has come into its own mid-century glory in its new setting (she didn't start her collecting habit until after Ian died).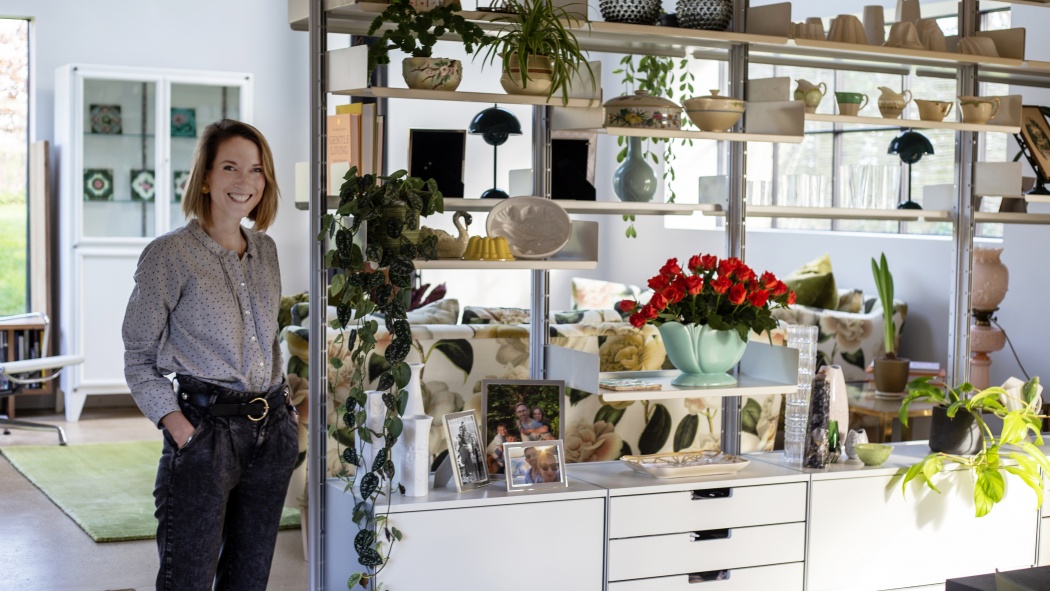 With less than a year in her country home, not having planned to move out of London to 'the middle of nowhere', Lucy is enjoying reconfiguring her 606 for life in a converted 1910 pump-house cottage, a mix of Victorian cottage with a very modern extension. On her shelves she has, as her mother describes: "Some really over-the-top ceramics. But it still looks fine." Lucy's Staffordshire pottery-houses (inspired by a visit to Charleston Farmhouse in East Sussex), jelly moulds, art deco lovelies – including a bright green parrot jug (hence the 'over-the-top' comment) – and brass animals, all sit alongside books and plants. Lucy likes shelves beneath her cabinets, finding them useful for oversized art-books and hiding electrical sockets. She also has a fabulous, compressed room-divider, which allows garden light deep into the property. "I quite proudly tell my friends that our shelving is almost as old as I am. It's not difficult to find ways to use it. They (Vitsœ planners) come round and draw up the design, so it's effortless. They'll never say anything like, 'Oh it's a stud partition wall, we can't put it on there'. You can put it anywhere."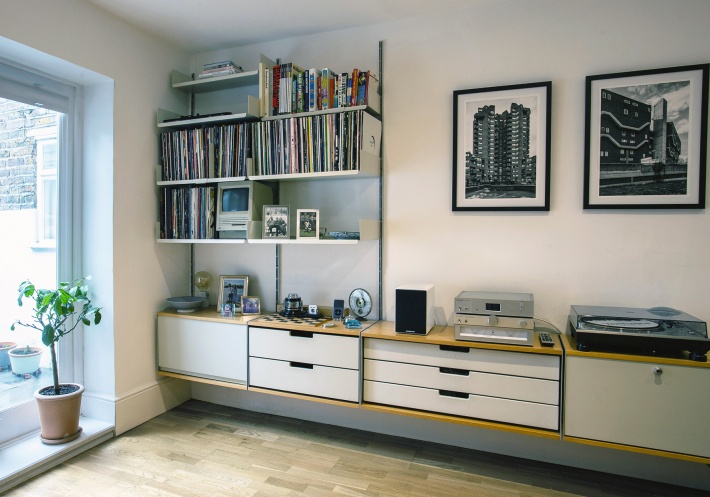 Brother Will, who is out on the water as often as on land, is also living with a mix of old and new 606. "It's all over the place" he says. His shelves house his vinyl – collected over many years – everything from electronic and drum & bass, to classical music and a bit of Motown from his parents. His 1970s Dansette record-player sits pride-of-place on a new off-white and beech system. In the bedroom, two cabinets make a dressing table. Will was always fascinated by Vitsœ's consistency of service: the same planners helping him year-after-year; and that new shelves fit perfectly with those that are 30 years old. Both he and Lucy have inducted their partners into the Vitsœ club. In fact, neither of them was given much of a choice in the matter, says Will.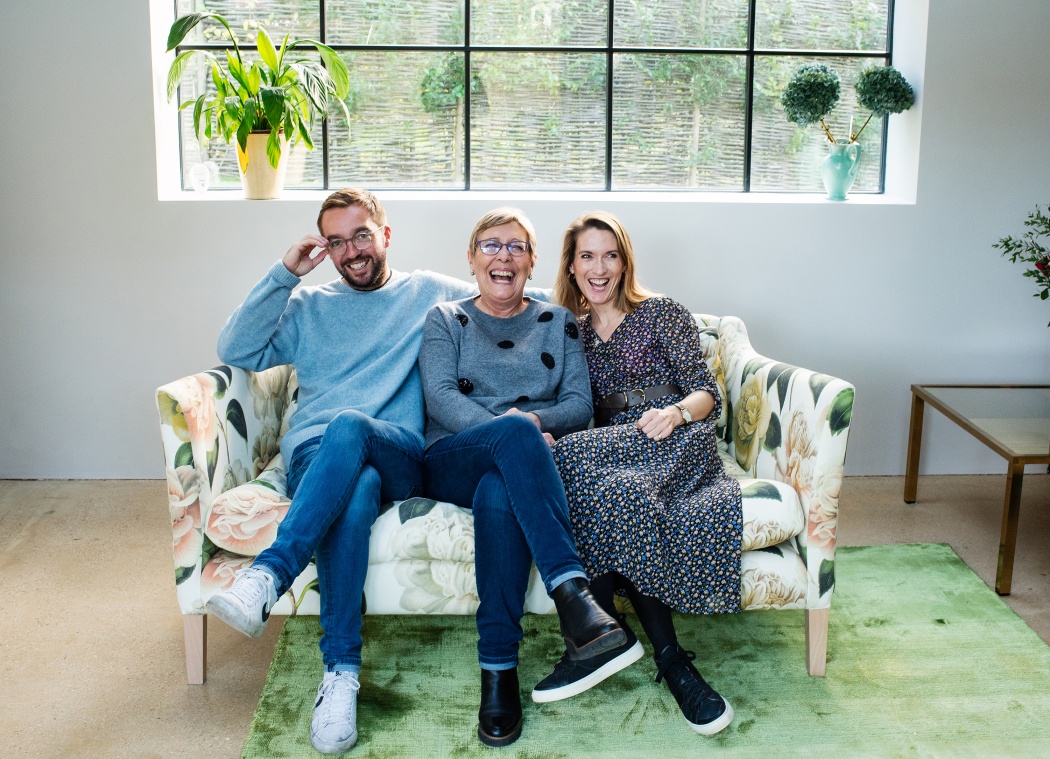 When chatting about their shelving systems, the Davidson family sound rather like those enthusiasts who work at Vitsœ. They've lived with it for so long that they know exactly what it can do, and they effortlessly espouse its virtues. "There was never any question, in all our houses, of what we'd all put in them. We would either buy more Vitsœ or share what we have – as we've just done – between the three of us" says Lyn. "My children now have more than I do" she adds. They all refer to their 606 shelving systems as 'the Vitsœ', as you might 'the dog'.
A little while ago Lucy emailed Vitsœ about her father and received a reply from Mark Adams with his memories of Ian. "It was so affirming, 20 years after Ian died, to get an email like that with a nice memory. It's that idea – in psychology we call it 'continuing bonds' – of continuing a relationship with a person" says Lucy. "There is such a history. Ian had it (606) from very early on and we've continued it." Mark meanwhile, recalling the unwilling reception of the shelving system all those years ago, thinks Ian would be tickled to know the family have all become fans, if not addicts: "Without doubt he would have allowed himself a wry smile that they are all using and enjoying it so many years later."