The romance of shelving
The marriage of Andrew, Nicky, and their shelves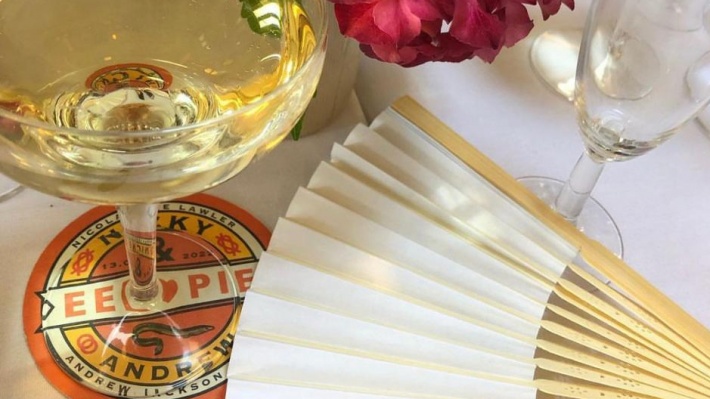 Words: Jane Audas
Photography: Becky Earley, Julia Cody and Vitsœ
The romance of shelving is a very under-published subject. You might think there isn't a lot to write about it, but you'd be surprised. Early last summer, Robin Maude (a planner in Vitsœ's London team) took a call from a customer, who wanted to know if it would be possible to hold an entire wedding-list at Vitsœ.
Andrew Pavitt and Nicky Lawler first met through friends, which, they admit in hindsight, might have been a bit of a gentle set-up. They went their separate ways, then came back together at an exhibition of Andrew's linocuts at the cycle café: Look mum no hands! in Old Street, London. Nicky was there to buy a print for her dad. There followed a rather old-fashioned courtship. Andrew remembers lots of trips to art galleries and outings to watch dance – and the realisation they had similar tastes and liked each other's company. Some ten years later they decided to get married. As Nicky explains: "In March he said 'shall we get married?' and I said 'really, are you serious?' because I wasn't expecting it." The fragility of the world and a leftover-lockdown-feeling had provoked Andrew to seize the day. "It felt quite powerful to make that commitment."
Andrew and Nicky have a superb townhouse in Roehampton, London, designed in 1968 by architect Peter Hutchinson. It is white and light throughout, with a living room that has an entire wall of glass, and a roof skylight that floods light down the stairwell. It is neat and clutter free, rather surprising considering it houses two creatives who work from home a lot. Nicky trained at Cordwainers (now part of London College of Fashion) and works at Vivienne Westwood, designing shoes to flâneur in. Andrew works at the superlative ironmongers Labour and Wait half the week, and as an illustrator and artist for the other half. He studied painting at Chelsea School of Art and is now back with his fine art practice after a period of making graphic and commercial art.
Andrew and Nicky have accumulated a lot of the material things you might need or want in life, but they had always wanted (though not acquired) a 606 shelving system. They thought friends and family who wished to, could contribute towards a system. The idea for their unconventional wedding list had come to them early on in their wedding planning. But how to make it happen had eluded them. Eventually Andrew called Vitsœ and spoke to Robin. Although it was an unusual request, it wasn't entirely unheard of. Robin had to think on his feet a little after the call. "I hadn't realised their wedding was six weeks from the moment they called me." But, true to form, Robin obliged, and Andrew and Nicky promptly received a drawing of a 606 shelving system, arranged to spell the word LOVE in shelves, with the associated room named as: Going to the chapel, and the area within the room labelled: Going to get married.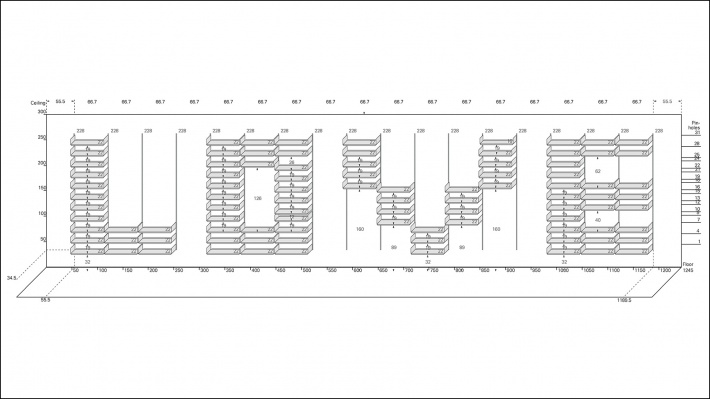 Nicky was their wedding planner, a fact which shines some light on their complementary relationship. Andrew explains: "I found the day when we got engaged absolutely lovely. And the wedding day was such a lovely day. But the planning – I must admit I found it completely stressful. It's not my forte. Nicky is a natural planner of all sorts of things. She just excels more on the logistical side." And so, in August 2022, on one of the hottest days of the year, when England slightly melted, Andrew and Nicky married. The newly married couple were able to walk from the registry office ceremony, catching some breeze, to their reception at the rowing club on Eel Pie Island, quite near to where they live. Thankfully the club had air conditioning (for all those over-heated rowers), so a blessed cool accompanied the speeches, dinner and dancing. Andrew organised the music, designed a very smart beer mat to mark the day, and gave a speech – something else not usually in his wheelhouse. Guests included Andrew's octogenarian mum and uncle, and Nicky's sister and family from Panama in central America. Nicky's niece read a poem at the service and both nephews looked after the rings.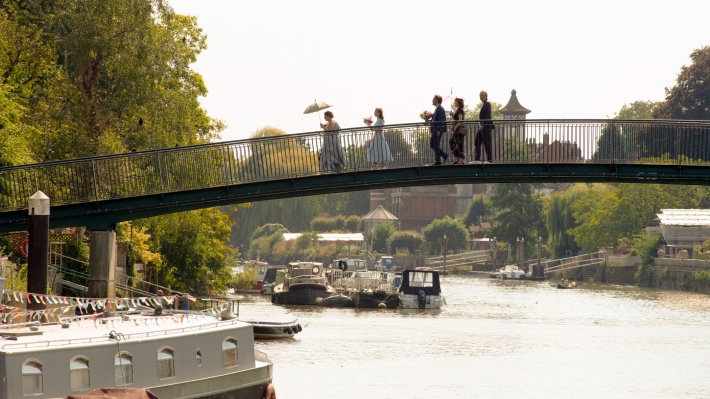 Nicky (unsurprisingly) wore Vivienne Westwood, the mistress of dressing real women in grown-up fantasy dresses. The dress – made specially for her by colleagues – was beautiful pale blue silk, one-shouldered, full-length, and with a train complete with a wrist-loop to lift it for dancing. With it she wore a pair of pagan sandals from the Westwood archive. She would never have chosen the dress for herself, says Nicky, but was persuaded by colleagues who knew what they were about. In the wedding photographs, Nicky definitively wears the dress (rather than it wearing her). She looks both comfortable and fabulous. Andrew wore a suit in petrol-blue linen from Old Town and a pair of Novesta sneakers. They sell Old Town at Labour and Wait, so he was also dressing familiarly, as well as for comfort and style.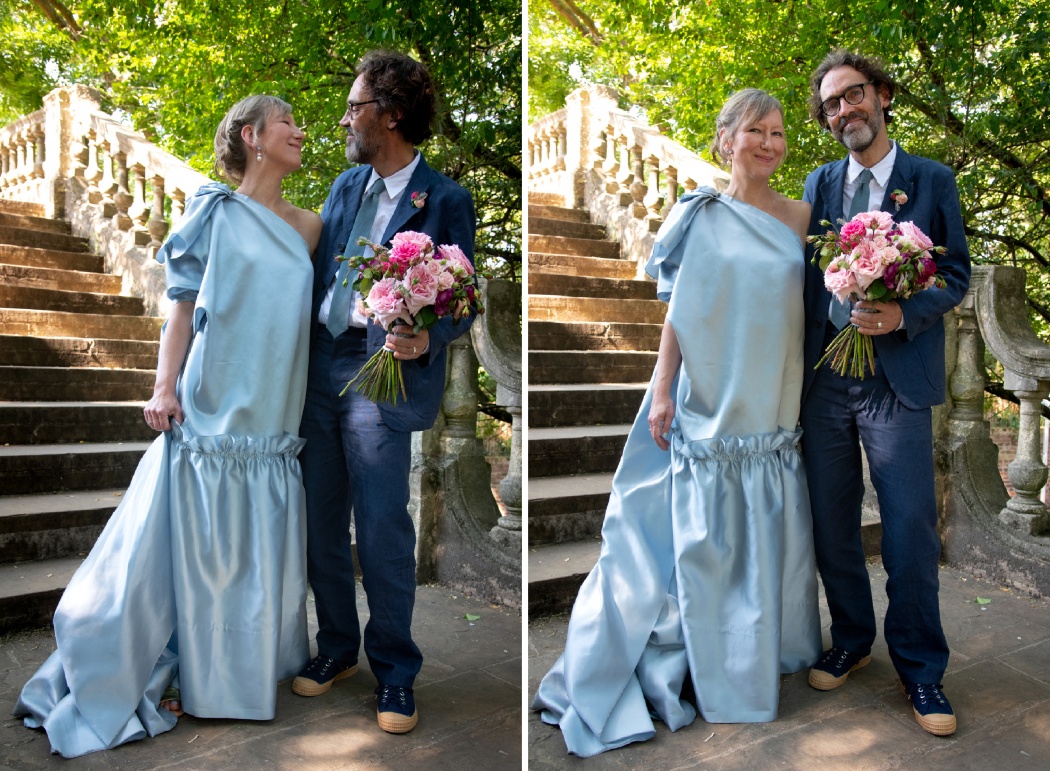 Back at home, their 606 (courtesy of family and friends) had been replanned to suit Andrew and Nicky's needs (rather than spelling LOVE), and their bright picturesque living room now has two shelving systems. Both separately and together, Andrew and Nicky have collected 20th century furniture and art. They each owned mid-century sofas which now sit happily together under the huge glass wall, newly re-upholstered to look smart in the bright light. Having their new shelving has resulted in Andrew and Nicky upping their interior design game a little. Andrew has finally framed some of his art collection, including a small but beautiful Michael Rothenstein watercolour that hangs next to their 606 (until the shelves came, nothing was on the wall). Unsurprisingly the books on their new shelves are mainly about art and shoes. "Andrew is quite nerdy, if not encyclopaedic, in his interests", says Nicky, "he doesn't just acquire books, he will sit for hours reading them."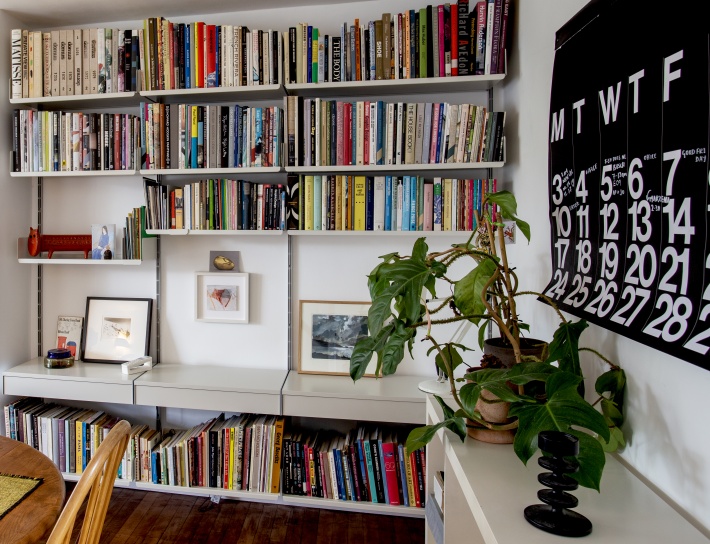 They are enjoying finally having 606 in their house, continues Andrew, "There is pleasure in using something that functions so effectively. We've both always really appreciated that. It's why I've enjoyed working at Labour and Wait, it's all about lifespan and good functionality. It's just so nice to use something good." In the same way that their wedding was very much their style (a beautiful and memorable coming-together of family and friends), equally, the accompanying wedding gift is exactly suited to their taste, and complementary to their life together.