An unassuming wardrobe
SEH Kelly at Vitsœ in London.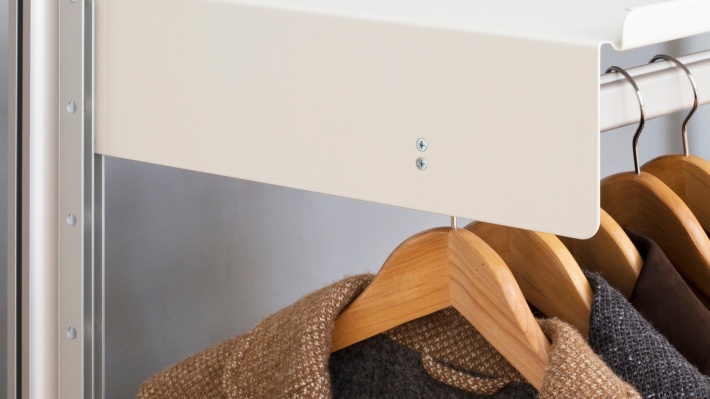 East London-based garment-maker SEH Kelly has brought its studio to our West London shop to tell a story of Hebridean mills, the revived art of horn buttons and the virtues of making in Britain.
Our growing furniture collection is put to good use with button-downs, notch-tops, trenches, trousers and crews of the finest materials.
Manx and Portland sheep give their distinct colours to this undyed British lambswool jacket, see right. It sits comfortably under our shelf with hanging rail thanks to the similar radii of SEH Kelly lapels and our furniture.
Paul and Sara, the halves of SEH Kelly, pay as much attention to the names of their tweeds as they do their construction: the blocky is "Tetris" and the angular is "Space Invader". Sweet.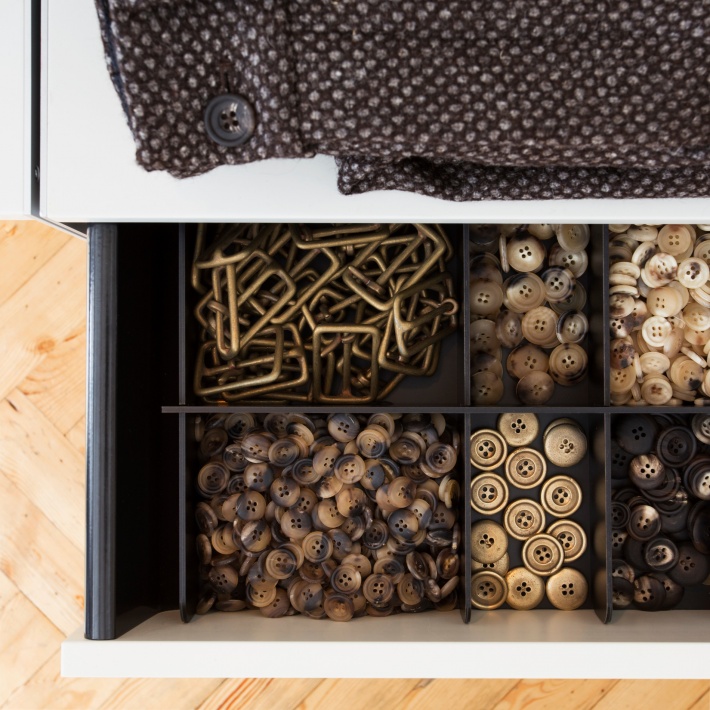 Open a drawer to find weighty sand-cast buckles, lost-wax method brass buttons and others from Scandinavian cows and deer – all organised neatly within our drawer dividers, see bottom-right.
The Inner Hebridean trousers, above the drawer, get their grey from the years of the sheep. Really. Nearly as exquisite as its garments is SEH Kelly's writing: visit our shop to pick up volume four of its newspaper Some British Makers, or read more of their words here.
Another delight – we could go on – are the "notch-top" cashmere-lined gloves, backed by a geometric flecked tweed and palmed with a supple deerskin. Our experience with the 620 Chair Program tells us these gloves will only get better with age.
As Niels Vitsœ said, "the first mark is a tragedy, the second a shame, the third is patina"
See more of SEH Kelly's garments making use of our growing furniture collection at our London shop, now until November 1.
An unassuming wardrobe:
SEH Kelly at Vitsœ London
3–5 Duke Street
London W1U 3ED
24 October–1 November
Monday to Saturday, 10:00–18:00

Meet the makers: SEH Kelly Saturday 1 November at 14:00, please confirm attendance by emailing rsvp@vitsoe.com