From the Vitsœ kitchen: June
Chef William Leigh's words of wisdom and a recipe for his Granola bar: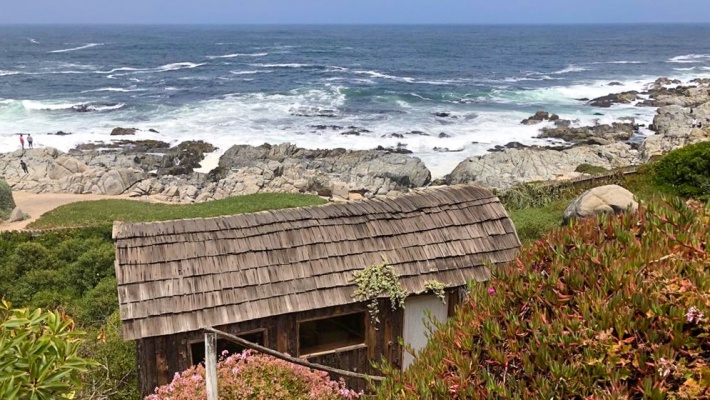 Words: Will Leigh
Photography: Vitsœ
'Glad midsommar' one and all!
"Green was the silence, wet was the light, the month of June trembled like a butterfly."
… or so Pablo Neruda would have us believe. I have been to Neruda's house in Isla Negra, Chile and it's a stunner – views over the Pacific in hues of unutterable ultramarine, and an endless beach snaking off to the horizon. It might speak, ahem, a different interior design language than the one we're used to, but it is entirely charming.
My visit – as we were in Chile in December for my sister's wedding – was followed by an epic feast. We'd already eaten the 'cordero a la parrila' (whole lamb, grilled over a firepit) for the wedding breakfast – here we were on the hunt for 'congrio a lo pobre' – fried conger eel, chips, caramelised onions and a fried egg. It was truly outstanding, a hunk of eel the size of my arm in a batter as crisp and light as midsummer sunshine. However, June in Chile is the depths of winter, so the butterfly Neruda was referring to was probably trembling due to it being a bit, dare I say, chilly.
Here in the northern hemisphere, we have midsummer in June, which feels a lot more sensible. There is nothing sensible about midsummer, however. It is almost entirely overtaken by druids, faeries, Swedes, elves and ladies called Mags who work in shops selling pewter dragons and incense.
The longest day of the year is on the twenty-first of June and is the start of astronomical summer. Meteorological summer starts on the first of June though, meteorologists being, as a rule, an impatient bunch who simply haven't the time to go waiting around for the mysteries of the cosmos to reveal themselves you know.
Unprecedented. Furlough. In these times. Words we hadn't been overly aware of just three months ago are now common parlance, and over-used to the point of infuriation. What with all the social distancing, fishermen are finding it all but impossible to man their boats, and then when they do there isn't a market to sell their fish at, and the few markets that remain open haven't any restaurants to sell their fish to. It's unprecedented. And it means that I haven't had any fresh fish to speak of for far, far too long. But if you are in the enviable position of having access, then I would recommend searching out Albacore tuna, a June treat for anyone lucky enough to find some.
Spring lamb and their delicious sweetbreads are popping up all over the place. Sweetbreads aren't the goolies as many people think; but are instead the thymus gland from the forequarter. Fried in a pan with butter, almonds, peas, black pepper and mint they are a treat beyond compare.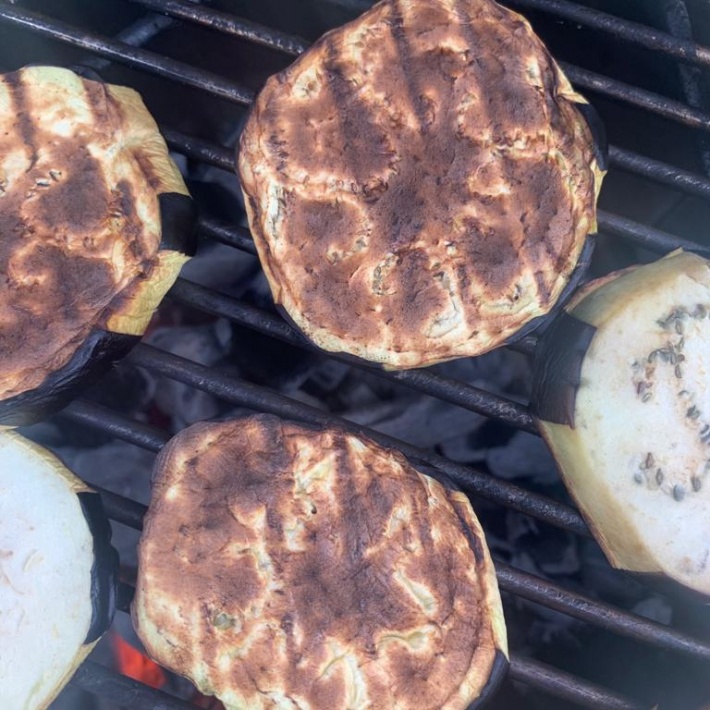 As the days grow longer and the evenings warmer, the barbecue is withdrawn from the shed, charcoal is procured, sticks are held, shirts rended, lockdown meets the Neolithic. It is just wonderful to cook over hot embers; I truly love it. Onglet, or hanger steak, is a wonderful piece of meat. It is as succulent and tender a steak as you could ever wish for, and it a great alternative to burgers and sausages for the barbie. Trim the central line of sinew out, and any gristly bits around the outside – you might be able to persuade your butcher to do this for you, but I advise against that, the trimmings make an amazing beef broth – then season well and grill over hot coals until dark mahogany brown – it must be medium-rare, any more or less will render your steak inedibly chewy. Whip it off the fire and rest for a goodly long time, anointing with the very best olive oil you can find. Slice against the grain and devour rapidly, chimichurri, horseradish or chipotle are all good additions.
Spare not the vegetables when you're lighting the charcoal. Aubergines, cooked boldly, on the barbeque are the best things since, well, sliced aubergines. Slice them into thick half-inch rounds and place them, unadorned, on the grill. Leave them alone. Peel and slice an onion or two – you'll want about half as many slices of onion as aubergine – and again slice them thickly into rounds about the same size as the aubergines. Turn your aubergine on the BBQ, marvel at their dark chocolatey beauty, and then leave 'em alone again, no wishy-washy grilling here please, bar-marks be damned! When the second side is also dark and lovely lift them off into a bowl and anoint very liberally with the best red wine vinegar you can find - the Cabernet Sauvignon from Forum is my choice. A goodly sprinkle of Maldon salt and a vigorous twist of the pepper mill here too.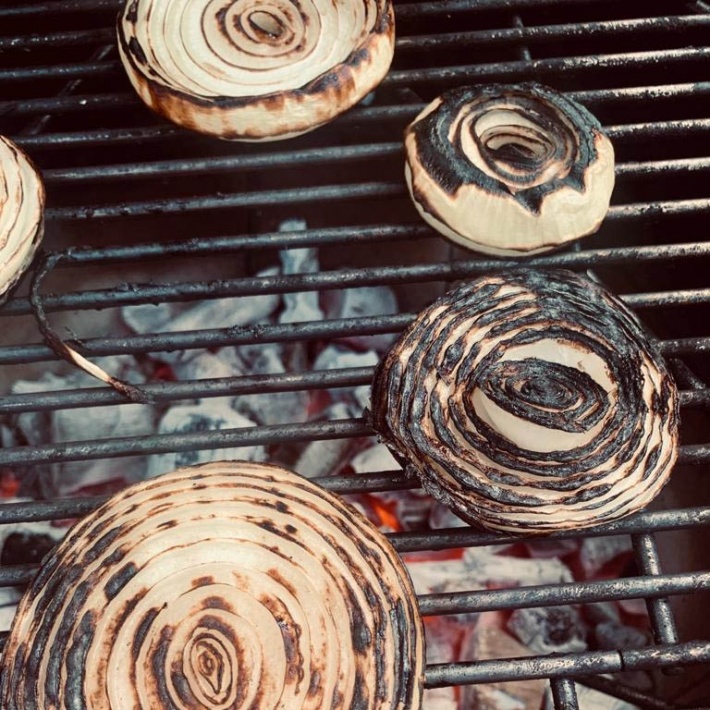 Grill the onion slices in turn in the same bold fashion, darker than you think please, and chop them, coarsely, into the bowl with the aubergines. Now comes the time to send the little ones scurrying into the garden to find all the mint, you'll need all of it. No, more than that little pack from the supermarket, have you another? Excellent. Tear the leaves from the stems and scatter through, over and about the aubergine salad with wild and reckless abandon, if push comes to shove then basil or coriander can be pressed into service, lovage too, or a wild and heady mix of all of the above. Leave it for a half-hour or so, just so everyone gets to know each other in that bowl. Maybe grill something else (halloumi perhaps?) while you wait. You can top it off with feta, or mozzarella, with unvaryingly good results, I have on occasion been known to dabble with a caper in the mix too.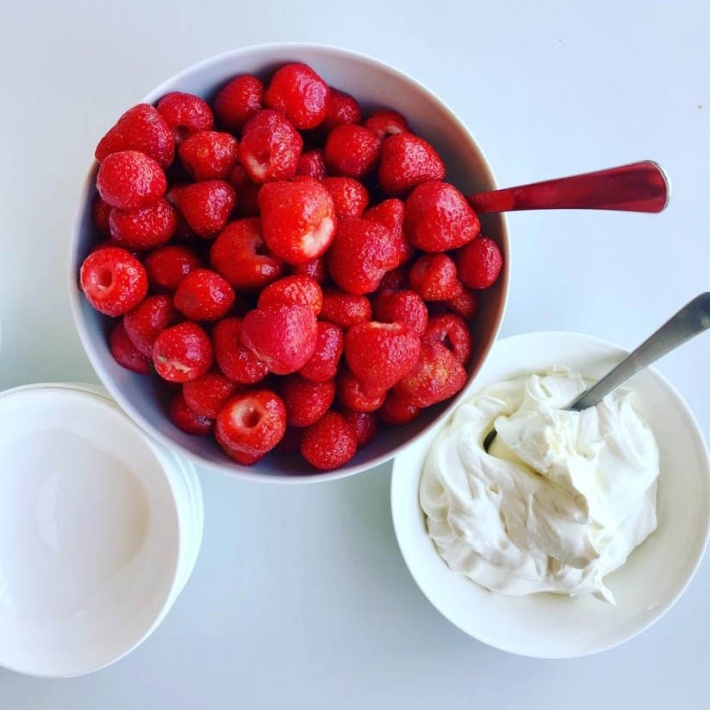 English strawberries come first and they leave the gate open behind them - cherries, apricots, nectarine, peaches, greengages, raspberries, tayberries, redcurrants and gooseberries. All will find their way into the kitchen and some might well find themselves simmering in a pan with sugar and lemon juice. Sunshine means jam-making if there's anyone to bring the harvest in. We are expecting a bumper crop this year, and there's no Wimbledon to take the lion's share of the strawberries. If there was ever a time to eat strawberries, it's now. I suspect there will be shelves full of strawberry jam before too long.
First, they came for the toilet roll, and I said nothing. Then they came for the beer, and to be honest, I grumbled a fair bit about that. Then they came for the flour, and that's just not cricket. Who'd've thought that pandemics lead to home-baking? Karl, the wonderful miller at the wonderful Charlecote Mill here in Warwickshire has a waiting list as long as your leg for a bag of his fine stoneground flour. But supplies have been getting through, and, like everyone else it seems, I have been baking sourdough. Not that this is anything new to me. Bunty – our mother – has been an unpaid Vitsœ employee for well over a year now, all she requires is a little flour and water every so often and she's in clover. I have, however, been experimenting with higher hydration doughs, and different shaping and resting techniques, and getting down with the lingo to impress chums and colleagues alike, "Have you tried a bassinage in the 80% hydration Kamut dough? It's just to DIE for…" Mostly due to guys I follow on Instagram, it has to be said, check out @danthebaker and @sourdough_tim for their beautiful videos and helpful guides. I now have to find a way to wangle a trip to Columbus, Ohio to find Dan's shop…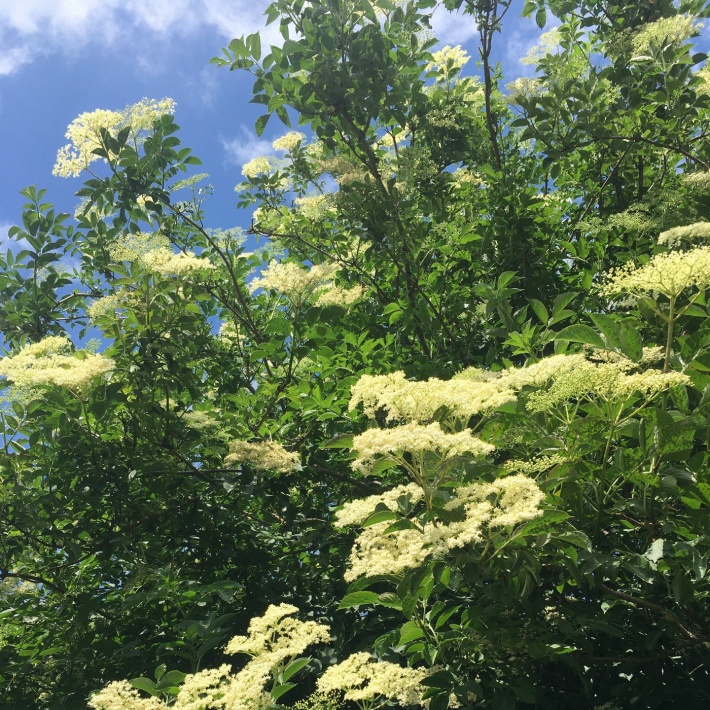 Love in an elderflower. If the rain abates I shall be off to the woods to collect as many of these dusty beauties as I can. Steeped with huge quantities of sugar and lemon they make the king of cordials, I just have to perfect my bottle sterilisation so we don't have a repeat of the rhubarb cordial/champagne issue.
Back in the halcyon days when we could host events at Vitsœ, some had roared and raved about my granola bars, and plenty of people had asked for the recipe, so here it is as a treat. Being flourless they are intrinsically gluten-free, and therefore, basically health food. But also, pandemic proof. Leave that bag of white gold for your sourdough, or banana bread…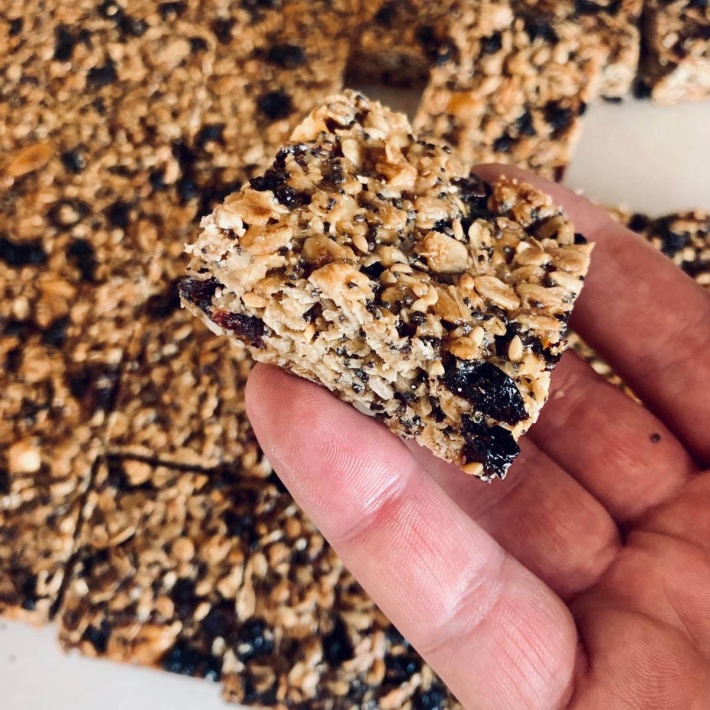 Granola Bar – makes about 15
Ingredients
250g Unsalted butter
200g Light brown sugar
140g Golden syrup
350g (GF) Rolled oats
200g mixed nuts and seeds – I use: sunflower seeds, poppy seeds, flaked almonds, pecans, hazelnuts, and linseeds
150g mixed dried fruit – I use: chopped dried apricots, golden raisins, currants, and dried cranberries

Method
Preheat your oven to 170c and line a baking tray with parchment paper
Cut your butter into rough dice – purely to make them melt more easily, so they need not be razor accurate.
Place the butter, golden syrup and light brown sugar in a pan and melt them all together on the stove, and then bring to a boil - until the mix resembles boiling toffee.
Whilst you are melting and boiling the wet ingredients, combine all the dry – always use a larger bowl than you think you're going to need, a good rule for life.

The choice of seeds and fruit is entirely up to the whim of the cook and the stockiness of the larder, use whatever comes to hand with wild abandon, or be classically minimalist and add just one kind. The choice is yours; your results will speak for themselves.

Once everything is boiling in that pot - pour, carefully now, into the bowl of oaty fruity bits and stir it all well to combine, ensuring that everything is coated in syrupy goodness.
Take your lined tray and plonk the whole ensemble into it. Press gently and firmly with a spoon to coerce the mix into the corners and to ensure everything is flat-ish.
Bake in the oven for around 15 minutes – maybe as much as twenty-five – until everything is bubbling gently and the top has taken a rich and golden aspect.
Remove from the oven and leave it to cool for an hour or so, then turn it out onto a board and chop into chunks as your desire states, I go for about two-inch squares.

Very, very good, with a cup of tea around three…