Take a seat, or two
Vitsœ's Lily Worledge and Mark Adams expose the depth of thinking and care needed to create a chair that lasts, expands and contracts.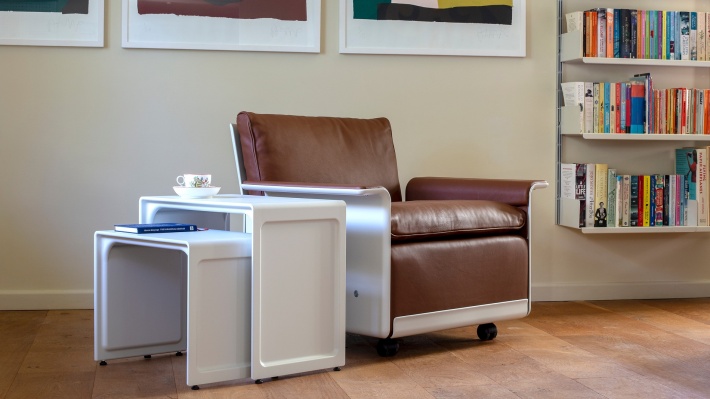 Words & Photography: Vitsœ
We can learn a lot about our ever-changing world by looking at a chair. A manufactured object – arguably one of the most difficult pieces of furniture to perfect – it symbolises the life and times of its designer, as well as providing valuable insight into the culture and lifestyles of those who use it.
A 30-year old Dieter Rams designed the 620 Chair Programme in 1962, just two years after the 606 Universal Shelving System made its debut. Using a combination of traditional upholstery techniques and, what was then, pioneering materials, Rams created a chair without compromise, engineered to outlive its owner.
Granted copyright following court action in 1973, the surprisingly comfortable 620 has remained a popular choice for the discerning customer who understands the meaning of true value and enjoys the freedom to easily adapt the seating programme whenever their needs change. What appears at first glance to be a relatively simple design belies the intelligent and comprehensive design and manufacturing process.
In order to help uncover the innovation, convenience and quality that lies beneath the surface of the 620's perfectly plumped seat cushions, Leanne Cloudsdale asked Vitsœ's Lily Worledge and Mark Adams to take a seat and explain: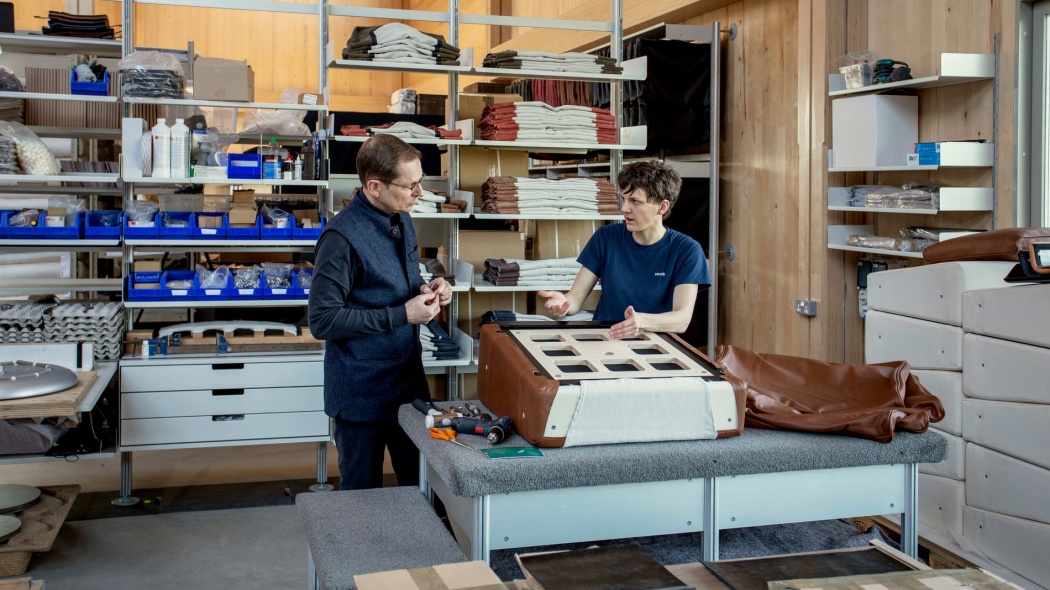 Upholstered furniture on sale today seems, for the most part, to be manufactured almost entirely from dense foam. How does the 620 Chair Programme differ?
Lily: 620 was designed in 1962 when the context of furniture footprints was very different from today. People were thinking about living with less and using their homes more efficiently. Does anyone really need a sofa with arms that take up 2ft of floor space? It doesn't seem practical.
In terms of the production, we use coil spring units – which are made by one of the last remaining traditional spring factories in the UK – over which there is moulded coir seat pad. Coir is made from shredded coconut husk and has been used for centuries; for 620 it's combined with natural rubber to create a comfortable, long-lasting seat that fits snugly in the CNC-cut birch-plywood base. Most modern chairs and sofas would use cut foam for this which degrades over time, but rubberised coir is extremely resilient and keeps its original shape – over a lifetime there would never be any need to replace it. It's the same material being used to house and store spent nuclear-fuel rods, which really emphasises how durable it is.
Lily: I think the upholstery we use for 620 is really quite unusual on the market. It is full grain leather that hasn't been corrected in any way, which means you're getting covers with natural features such as scars, scratches and wrinkles that are finished with natural oils and waxes. It can be a bit of a surprise to customers who expect something really uniform. But it adds character and allows us to utilise as much of the hide as possible, reducing waste.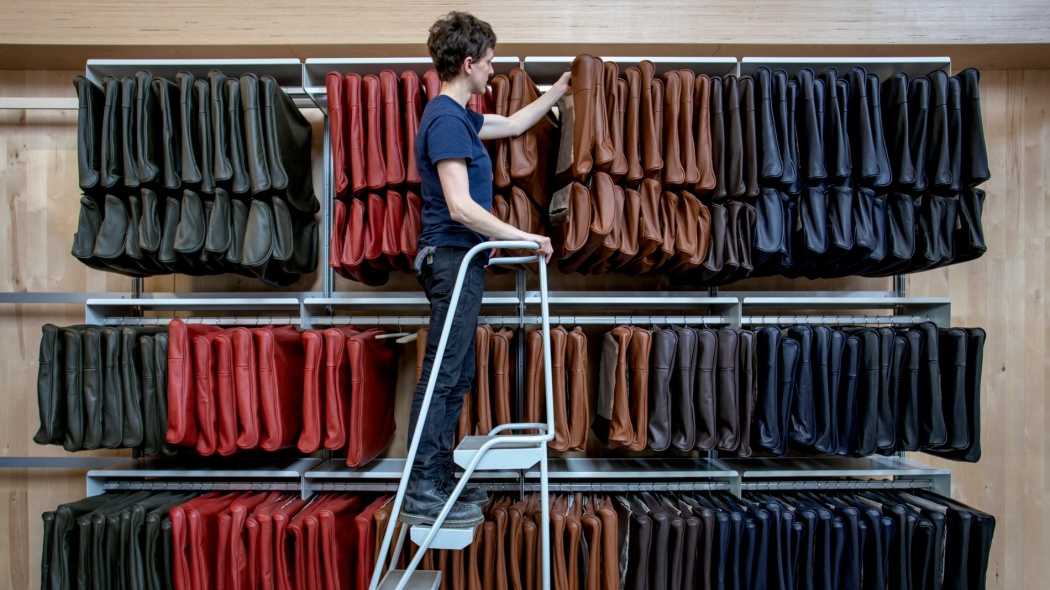 Many people associate contemporary oversized proportions (such as wide arm rests) with a perceived sensation of comfort. Does such a compact chair achieve this?
Mark: Dieter wanted to achieve the comfort of a fully upholstered chair (whether that's a button-back or a club chair) with a visually lightweight frame. He talked about how Niels Vitsœ's experience in the bed industry helped inform the design, and resulted in the use of coil springs in the construction.
There's one phrase that always comes to mind, which is that everything about Vitsœ offers you breathing space. I'm always saying, "don't squeeze it right up to the skirting board, or the curtains, or whatever. Just give it breathing space and it will all look and feel so much better." This is another thing that 620 gives you, because it's not being greedy about the space it takes up.
In terms of comfort, whenever I visit any of our shops, or when I'm here at our building in Leamington, I annoy everyone by plumping up the cushions. I do this because I know from experience that the very first time a sceptic sits on 620 is when we sell it. You can see their reaction within seconds as they settle in and say, "Oh, this is so much better than I expected."
As our lives change, so do the demands on our homes. What does Vitsœ's well-known adaptability offer with this chair?
Mark: It's not obvious at first sight that it's a kit of parts, Lego for grownups. There's no such thing as a three-seater 620 sofa, it's three chairs joined together, which could easily become a ten-seater if you want.
Lily: 620 arrives in easily manageable boxes, you could carry a four-seat 620 sofa to a fourth-floor walk-up apartment in New York City piece by piece without a problem. No need to hire specialist equipment or pay someone to remove the windows to fit it all in. It all adds up.
Mark: We once saw a hired external lift outside one of the really slim houses in Amsterdam, taking a sofa up to the fifth floor. The street had been partially closed and the window had been removed – it was an entire operation. It was hard not to shout, "You should have bought 620! You could have got it in by opening the door and without closing the street!"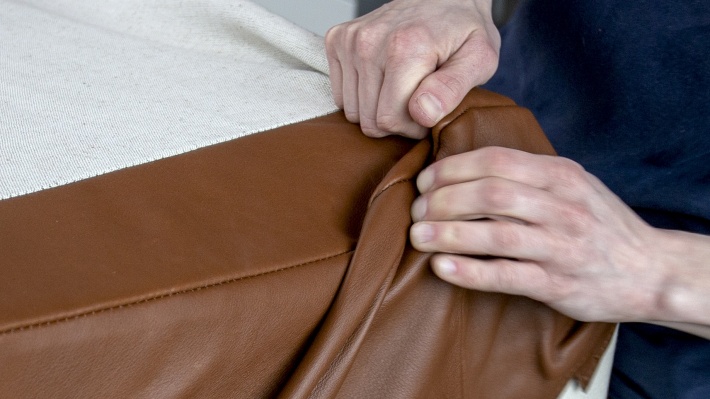 The 620 Chair Programme is assembled using a simple manual tool. How important is this 'connection' for how we feel about the furniture?
Mark: People are craving that down-to-earth simplicity and a sense of being engaged with the product. I remember years ago a well-known architect customer of ours turned down my offer to install his Vitsœ furniture. He said, "I want the pleasure of doing it all myself."
Ever more, products are intentionally made in such a way that you can't interact with them whatsoever, but with 620 you can unbolt arms and add seats together. You can make a multi-seater sofa when you want to. These virtues are so unusual for a chair – verging on unique.


You talk about Vitsœ furniture being an investment, rather than a cost – how is this so with 620?
Mark: I'll always remember Niels Vitsœ saying to me, "Mark, you have to realise that the trouble with Dieter Rams' design is that you don't see where all of the cost goes." And this is especially true about 620, and it's the reason we always have a cut-away (cross section of the chair seat) for customers, so they can see exactly what goes into the making of each chair.
That's the Vitsœ virtue – all of the cost is in there and it's hidden, but it's the reason why your chair will still be going strong and will remain in good condition for 40, 50 or more years. We've got customers coming back now, ordering new upholstery after 50 years and being so excited that they can not only buy it but fit it themselves in their own home.
Lily: I think some of the best customer feedback that I've read recently is customers ordering replacement parts for chairs they've had for 40 years. One particular comment that springs to mind was from a customer who bought new feet for their chair. They explained how being able to make this one small change after all those years had made them so happy and they didn't expect it. They seemed even more elated than customers who have just bought a brand new 620!
Buying a sofa that you can't change or adapt should be more of a hard sell. How does anyone know what they will want in 40 years' time? 620 allows you to change and adapt, safe in the knowledge that all of the parts you need are never going to become obsolete. That's why it's such a good investment – it's all about the long-term thinking.
Mark: Even after owning a 620 on castors for years, some customers might not realise they can easily swap those out for a swivel base. So, you could order a swivel from us for around £300, turn your chair onto its back, unscrew four castors, use four little screws to screw in the new base unit and suddenly you've got a swivel chair! You can make this change five, ten or 40 years after you've bought it – it's bonkers! This is the reason why it's such great value.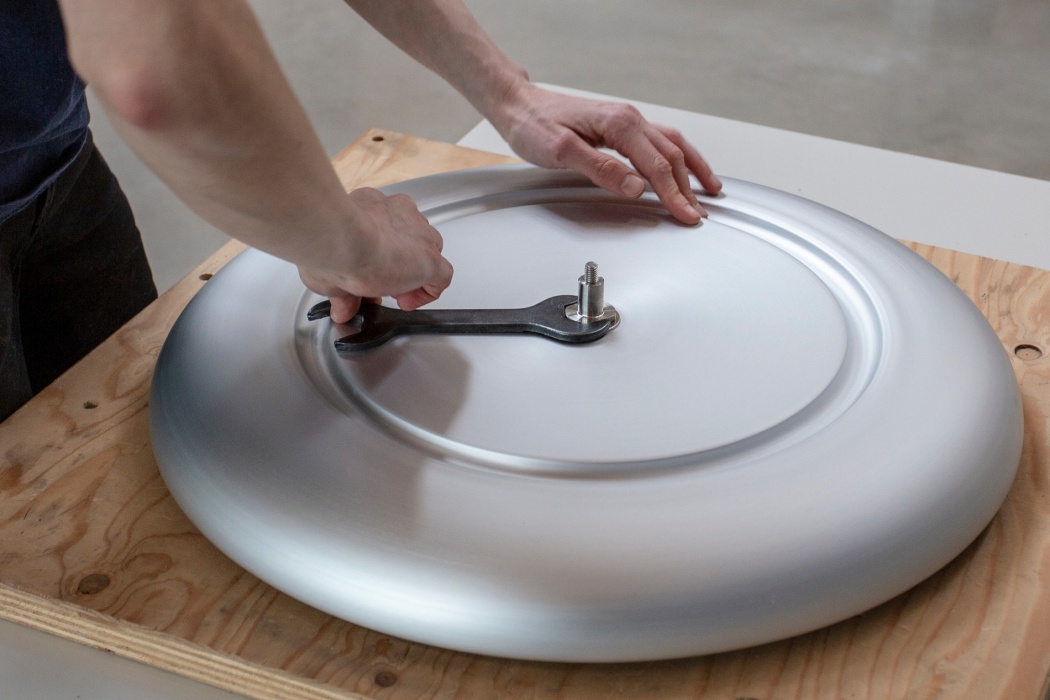 So, are we buying more than just a chair?
Lily: The relationship customers have with Vitsœ gives them the feeling of control. Every component of 620 can be replaced if needed. I think it's because the design comes from a time when people were encouraged (or expected) to have more ownership over their products and feel that if something was broken, they could take it apart, replace the broken element and fix it. These days products are being designed in such a way that you're actively prevented from being able to do that, but with 620 and 606, the assembly is honest, we're not trying to hide anything.
Mark: Wherever you live in the world, you buy directly from Vitsœ – there is no middleman. We don't go via dealers, so our margin is smaller. You are buying from the manufacturer and dealing with experts who know all about it.
I'm sure Alfred Wainwright said that the Yorkshire Dales and the Lake District are like a relationship with a really good friend. You can go without visiting them for many years and as soon as you see them again, you can just pick up the conversation where you left off. I would argue that's what you can do with Vitsœ.
Leanne Cloudsdale is a design journalist and communications consultant.
*Update: As of September 2020, 620 is also available in four colours of 100%-pure linen upholstery.