Thoughtful interactivity
Our quirky team of affable planners is focused on building long-term relationships.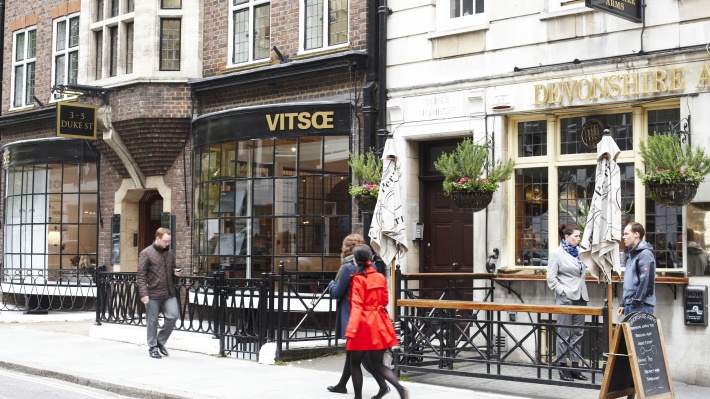 There was a time when shopkeepers remembered their customers' names; a time when building trust within a community was more important than making transactions. The teams of planners at Vitsœ's shops strive to work in a similar way – listening to the individual needs of customers to help bring them a better quality of life. Unusually this service is focused on solving problems and building long-term relationships rather than pursuing a sale. This service is free and for life.
The desire to meet new people every day – digitally or physically – is more important for a planner than a clutch of qualifications in interior design or architecture. The London team, at 3–5 Duke Street, takes a moment to explain…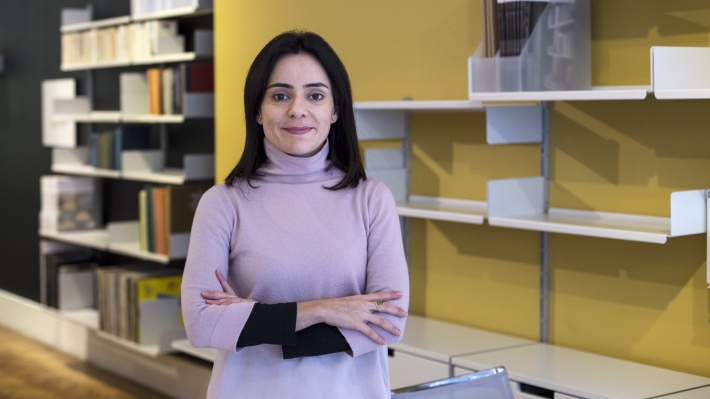 Joana Marques
"We always ask about wall types straight away, which could seem strange I suppose, but it's so important because we need to make sure we supply the right fixings. Once we've established the basics, we can start to find out what the customer needs … and what they don't. Occasionally I'll go to houses that aren't very organized, which is why they've come to Vitsœ for shelving, to give a bit of order to their lives.
"Direct contact with the final client was one of the main reasons I came to work for Vitsœ. Before moving to London I worked as an architect in Portugal and would be sitting at a computer for long hours, never meeting the person I was designing for. But now I have a customer that has moved from Lisbon to Ethiopia with UNICEF and last week she sent me pictures from her work because she knows that I appreciate what she does."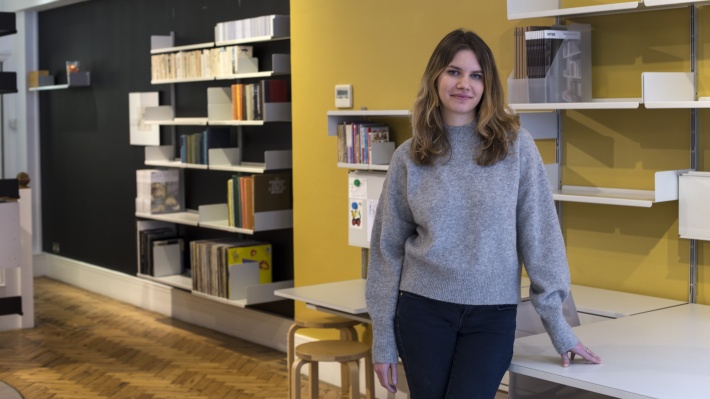 Lauren Juozokas
"Whether you're refurbishing an entire property, fixing up a bedroom or moving house, most people experience a mixture of stress and excitement, so as a planner we have to be sympathetic to that cocktail of emotions.
"Long-term thinking informs our customer service because we're not a company that sells products that will be obsolete in a few years time – there's no upgrade to the 'better version' next season, and there's no half-price sale next month. This means as planners, we can offer a more thoughtful service that isn't rushed or pressured. You could say we're the 'measure twice, cut once' kind of people, who encourage customers to buy less and add more later (if needed). There's plenty of room to reimagine the system in the future, it can be taken down, re-planned, reduced or added to – that's the beauty of it. It helps to be level-headed and work methodically, considering all the details while simultaneously thinking of the bigger picture.
"Not everyone can visit our Duke Street shop, and although we realize nothing beats being sat next to someone when you're building a relationship, a telephone call is the next best thing. It is so appreciated now, in a digital age when it's become less common to pick up the phone. Hearing someone's voice on the other line is reassuring for both parties and helps customers to feel they are being understood.
"In my previous design jobs, it was hard to wrap my head around the idea that I could design a bespoke interior for someone I'd never had any personal contact with – here I actually get to know the customer. I love hearing back from them and seeing photos of how their systems are filling up and how their homes are taking shape. Sometimes it feels like you've been on a journey with them during the planning process, so finding out how much of a difference it's made to their lives is always fulfilling."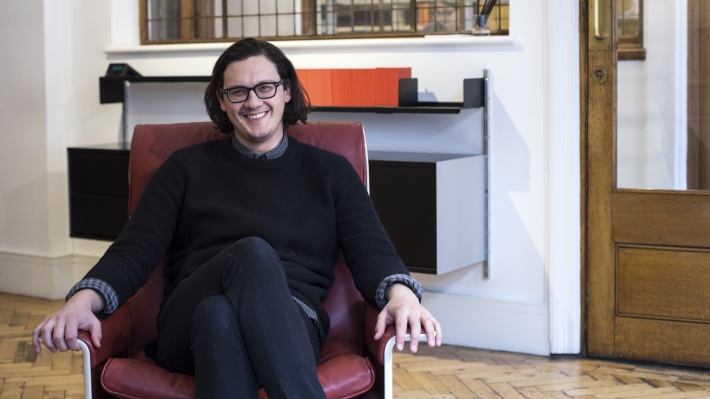 Robin Maude
"One of the best parts of the job is not being able to guess who's going to walk through the door next. Customers who come to Vitsœ tend to be quite interesting.
"Not everyone decks-out the full house, we have some people who will buy small amounts, but frequently, and this is how we build up relationships. We need to be sponge-like and make people feel like they are in safe hands. I often find myself saying to customers 'if you buy everything at once, you'll end up having that hotel finish. If you do it bit-by-bit you'll have something much more organic.
"Several of my customers are in the same age bracket as me and started with two tracks and a couple of shelves. Over the years they've fleshed-out whole walls, so I've got to know them quite well; this means we have an idea of what they might ask for the next time around, so everything becomes so much smoother for the end user.
"I graduated with a degree in Fine Art from Kingston University, trained as a draughtsman and then started working in kitchen design. That kind of work was very incentivized towards sales and commission – there was a lot of competition within the team and a fair bit of back-stabbing. I didn't like that culture of 'design something, get the cheque, and think about the problems afterward'. Service was always an afterthought. I'd also been thinking about how wasteful the fashion aspect of kitchen design was – people would pay a small fortune for granite worktop and then two years later they would be ripped out and chucked on a skip. I wanted to work somewhere that was kicking back against all of this, and Vitsœ was ticking all the right boxes.
"I like to have a laugh with my customers and I always want to make it more fun than just buying some bookshelves. It's an exciting development – they're finally going to get the chance to properly display all that pottery that's gathering dust up in the loft. A collection shouldn't be hidden away up there in the rafters, it should be on your shelf."
_
If you are not yet a customer, the planning process is:
Measure and photograph your space, and tell us how you want to use your system. We will plan for you and deliver, worldwide, direct to your door.