A writer's retreat
Penny Martin creates space for quiet contemplation.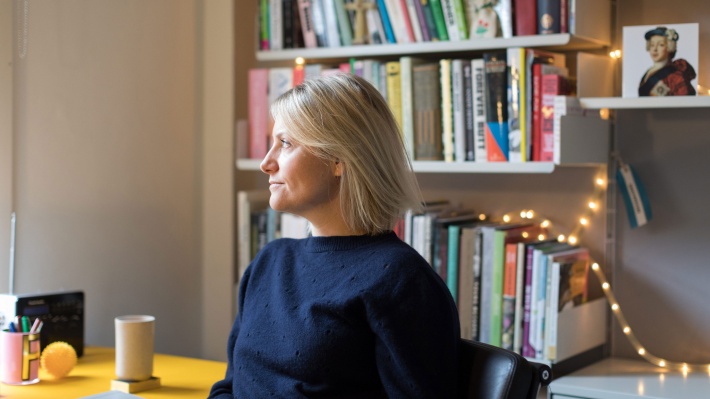 Words: Vitsœ
Photography: Anton Rodriguez
Penny Martin, writer and editor-in-chief of the revered magazine The Gentlewoman, lives on a quiet residential street in south-west London with her husband. Here she spends part of the week working on personal projects away from the magazine's busy central-London headquarters.
After moving from their previous home, Penny wanted a "happy place to work, because the time spent here is quite solitary and stricken with deadlines so I wanted to make somewhere that felt jolly and light." In order to relieve the feeling of isolation while writing, Penny works with her desk facing towards the window, because, she said, "I have my best thoughts in discussion – rarely thinking alone. So in a way, looking out onto the backs of other people's houses seems kind of social and creates a different tone of voice. It's amazing how unguarded people are – you see quite a lot of naked torsos and BBQs on roofs and the different focal distances are more of an abstraction when I am concentrating, similar I suppose to looking up at the sky to clear your mind and focus."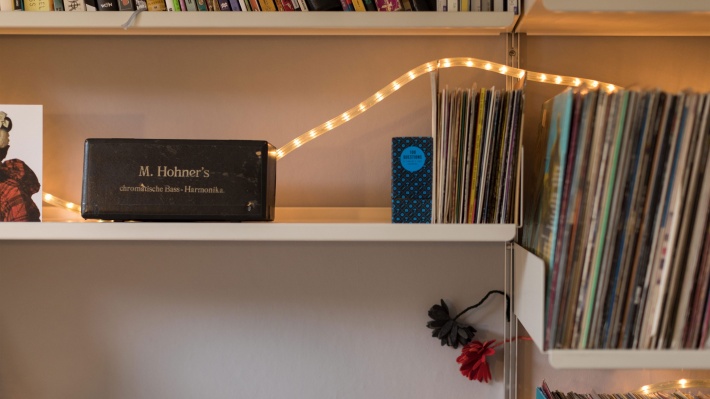 Their shelves hold a collection of records, many of which Penny inherited after the death of her younger brother Ryan. She talked openly about how they frequented the same music shop in Glasgow and shared the same taste in music. Gesturing towards the shelves Penny mentioned that "some of the mixtapes up there are the ones he made for me. They were burned onto CDs and then they became playlists on Spotify. I suppose people would just email you a digital file now, which is not the same as being given a lovingly-made cassette – they have a lot of sentimental value for me."
Prior to her career in publishing, Penny was a curator and admits that she has "absolutely no spatial awareness. Creating something in 2D for an exhibition is no problem, but 3D completely flummoxes me. I'm happy to clean, but struggle to tidy – it's like the Krypton Factor, trying to put the square peg in the square hole, I just can't make sense or order things easily. Even though I'm messy, Vitsœ helps me because I know instinctively that there's a natural place for things, I always know where everything needs to go, and once you've lived with the shelving, there's really no going back."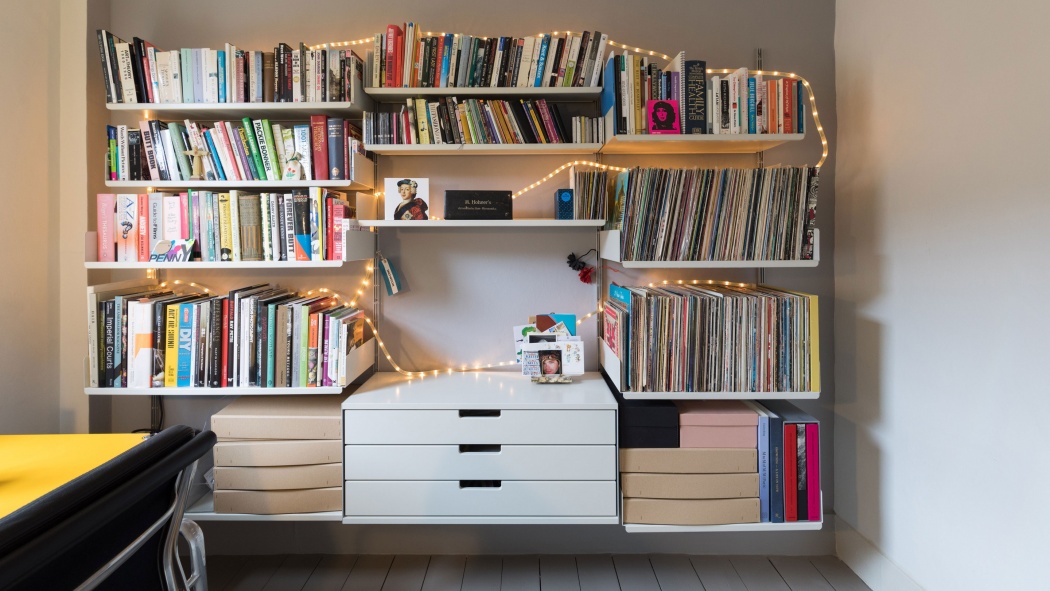 Penny struggles with her growing library. "I'm on a personal project to clear my shelves. I've started to read all the books that people have given to me over the years, I'm in a real purple patch with fiction at the moment – which is rare, because working on a magazine you tend to mainly read other people's journalism. My aim is to read everything I've not had the opportunity to so that I can start all over again. It's a constant edit.
"I occasionally look up and think 'am I defined by these books?' because it's such a strange mixture of titles up there – all the ones about football, Karl Marx and Chairman Mao belong to my husband Barry, not to me! I like the idea of only having a finite space on which to store things, so I enjoy the natural boundaries of a Vitsœ shelf. It's an undemonstrative backbone for our collections, and if you prize the things that are on it, then it kind of disappears – it's a mutable design statement, always quietly elegant."