All selected projects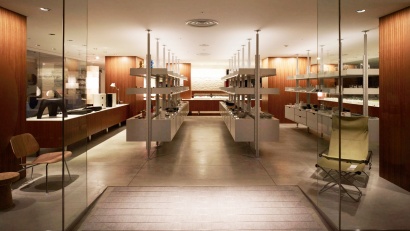 Matsuya Design Collection, Tokyo, Japan
Project overview
In the Matsuya department store, Ginza, shelving systems compressed between floor and ceiling unobtrusively display products and demarcate space across the 178sqm Matsuya Design Collection.
The 606 Universal Shelving System provides a suitable display for items selected by the Japan Design Committee.
Architect
Naoto Fukasawa with Kaoru Mende (Lighting) and Taku Satoh (Graphic)
Specification
606 Universal Shelving System
Wall mounted: E-Tracks (natural anodised aluminium); Compressed double-sided: E-Tracks and X-Posts (natural anodised aluminium); metal shelves (off-white powder-coated mild steel); cabinets (natural anodised aluminium with off-white lacquered MDF)
In their words…
"When planning the new Design Collection space I knew that all visitors would expect to find only the best of the design world. It was equally important that the space was as simple as possible for the products on display to shine. I then choose to use Vitsœ, the shelving system is not only simple, but thoroughly designed"
Naoto Fukasawa
Photo courtesy Nacása & Partners Inc.