All selected projects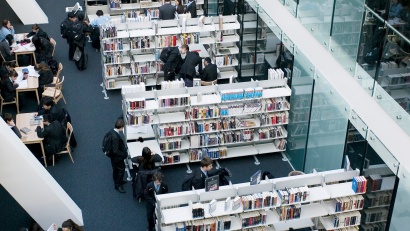 Holland Park School, London, UK
Project overview
We planned and installed 3000 feet of library shelving, systems for 33 teachers' offices in Holland Park School's new building. The 606 Universal Shelving System fulfilled the client's brief for adaptable spaces with unimpeded ventilation and natural light.
The principals' offices required comfortable seats that could be easily rearranged; we planned the 620 Chair Programme in clusters of single chairs and multiple-seat sofas – all of which can be reconfigured when needed using one simple Vitsœ tool.
Installation of the library took less than four days; total installation, less than three weeks. Our experienced installers left without a trace – aside from the new shelves and chairs of course – and as always they took packaging away for reuse.
Architects
Aedas, London, UK
Specification
606 Universal Shelving System
Wall mounted: E-Tracks (natural anodised aluminium); semi-wall mounted: E-Tracks and X-Posts (natural anodised aluminium); free-standing: E-Tracks and H-Posts (natural anodised aluminium); metal shelves (off-white powder-coated mild steel); cabinets (natural anodised aluminium with off-white lacquered MDF); integrated tables (off-white laminate)
620 Chair Programme
Off-white shell with chocolate leather
In their words…
"Vitsœ was an obvious solution to us for our office and library requirements. We chose to use the 606 shelving system and 620 modular chair throughout the school. The elegance, practicality and quality of Vitsœ's furniture perfectly complements our new building and our overall philosophy.
"Dealing with Vitsœ is a delight. Staff, at all levels within the company, are enthusiastic, knowledgeable, intelligent and charming. All those directly involved took a genuine interest in our project and worked collaboratively with us at all stages of the venture. Their attention to detail and craftsmanship are exquisite.
"We have created, with the assistance and imagination of numerous talented people, a stunning place for learning; Vitsœ have played a key role in the realisation of this achievement."
David Chappell
Associate Head of Holland Park School