All selected projects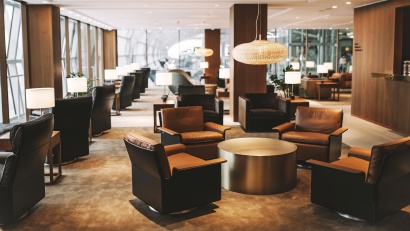 Cathay Pacific, global
Project overview
We have planned and delivered our 620 Chair Programme to six Cathay Pacific executive airport lounges around the world. Our planning team worked closely with interior designers Studioilse to specify seating configurations to meet the client's brief.
Cathay Pacific's first consignment for Tokyo Haneda airport of 22 chairs and seven footstools was delivered quickly, just eight weeks after the order date. With the help of our international logistics partners all 183 chairs and 49 footstools were dispatched on time and delivered in immaculate condition.
The 620 Chair Programme is well suited to busy spaces as every component can be serviced or replaced. We think that signs of use contribute to patina, but if your client disagrees we can ship replacement parts without delay.
Interior designer
Studioilse
Specification
620 Chair Programme
A combination of low-back and high-back chairs with swivel bases and footstools in black shell with cinnamon or black leather
In their words…
"Our starting point with the lounges was to think how people behave in these spaces and respond accordingly to their needs.
"Today, more than ever (and particularly for nomadic frequent fliers) people want to feel at home in public space. Dieter Rams' 620 chair fitted our requirements perfectly here. It allows for people to inhabit it, not just sit in it. It is effortlessly comfortable. Its swivel means you can position yourself as you wish, together or away from your neighbour. Crucially it is engineered to such a quality that we know it will not only last well beyond the required lifetime of our lounge design, but there's every chance it will improve with repeated use."
Ilse Crawford
founder of Studioilse