Enduring interiors for transient lives
Interior designer Alex Kalita in conversation with Vitsœ's Andrew Jones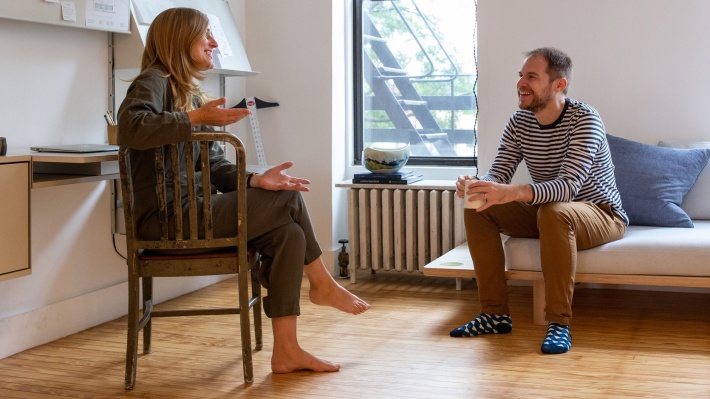 Words: Vitsœ
Photography: Vitsœ, Mark Weinberg
In times of economic turbulence, many people are choosing to improve, enhance and invigorate their temporary living spaces instead of taking a leap into the uncharted waters of home-ownership. Brooklyn-based interior designer Alex Kalita has responded to this shift in real estate attitude by developing a business that actively encourages tenants to make subtle, but significant changes to their homes with the addition of good quality, easily transportable fixtures and fittings. With affordability, value and a reductive aesthetic at the core of her philosophy, she has been working with clients across New York since 2013, helping to maximise the potential of inner-city rental apartments, renowned for their limited floor space.
An enthusiastic Vitsœ customer, she is a firm believer in the benefits of investing in what she calls 'long-term furniture', even for those who are not in a position to take their first steps on the property ladder. Working closely with Vitsœ planner Andrew Jones, Alex has specified the 606 Universal Shelving System for many of her interior design projects. Sitting in Alex's sun-drenched apartment in leafy Carroll Gardens, Brooklyn, Andrew and Alex offer a new perspective about short-term accommodation and the advantages of adaptable home improvements.
Alex: "There has always been a preconceived notion that interior designers are dictatorial and frivolous – a real indulgence for the elite. Traditionally, they were incentivized by the commission-based model of directing clients towards more expensive goods whilst acting as the gatekeeper and keeping the trade price of furniture or textiles confidential. When I started my own business, I took a different approach, which was influenced by my time working 80-hour weeks in the financial regulation department of a law firm. Back then, I took so much comfort from my own space - my home was a refuge, a place where I could feel calm and relaxed. I loved the problem-solving aspect of interior design and the idea of being able to really add value by providing a service that is more accessible to a younger market and people who are renting. The proportion of home-owners to renters here in New York is probably 50/50, so it makes sense for me to promote the idea of movability, flexibility and momentary security."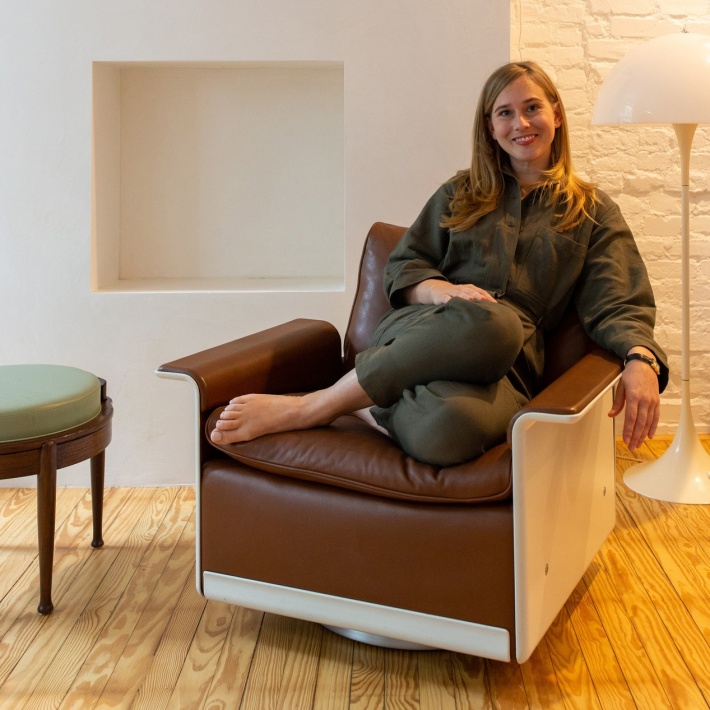 Andrew: "As far as the culture of renting property is concerned, I think there is definitely a difference in attitude between the U.S.A and the U.K. Rent stabilization programs offer tenants protection against unpredictable rent increases and offers automatic lease renewals over here in the States – so if you're lucky enough to get a great deal with your landlord, you know you're not going to be left floundering when your rent gets unexpectedly hiked up."
Alex: "With such a huge chunk of the local population renting, I base my brand strategy on understanding the way you live; finding out what works for you and your family, looking at your functional needs and optimising the space by installing adequate storage for a better way of living. I focus on where in a property I can add value to the lifestyle of the inhabitants and charge exclusively for my time – for those value-added tasks. There are high-end designers who say, 'Write me a cheque, hand over the keys to your apartment and get out of town for 6 months. When you come back, I will have turned your apartment into every other apartment in my portfolio'. That's not me. It seems to be that if a client discovered me on Instagram, or they've read an article about my place here in Brooklyn, it's likely to be my personal aesthetic they're drawn to. They might feel frustrated that they know what they want, but don't know how to get there."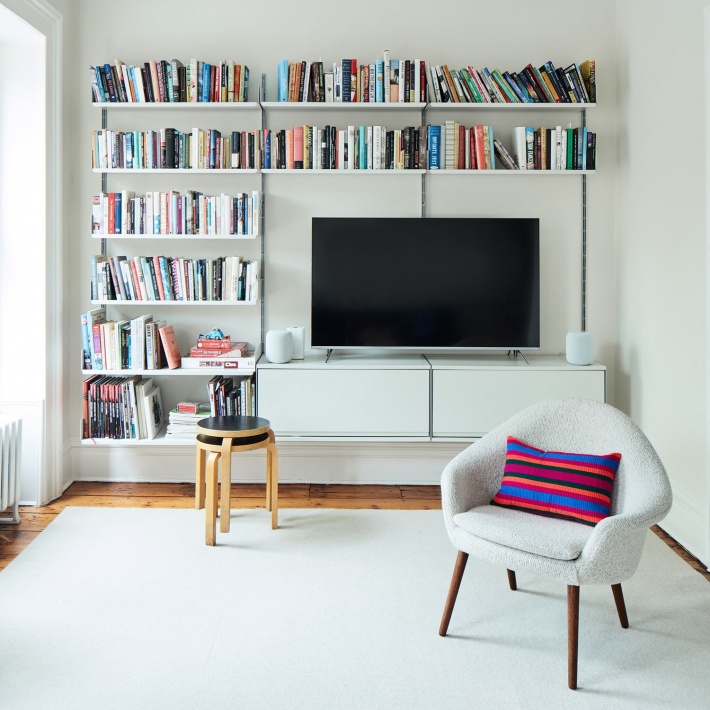 Andrew: "Going back to the point you made about helping renters meet their practical needs in terms of storage, there is always that conundrum of where to put everything, but for me personally, I've always thought that if you feel proud to own something, you shouldn't want to scuttle it away somewhere. It should be something that you want to celebrate, otherwise, why do you have it? I think this is an unintentional benefit to the 606 Universal Shelving System – it allows you to think about the things you own and really appreciate them, especially nowadays when we are consuming so much. As consumers we need to be more conscious, we shouldn't be buying anything just for the sake of it – we should think about the impact on the environment."
Alex: "I agree with the sentiment of thinking more carefully about our purchases, but in my experience of working with clients, all of us still have objects that should be concealed. Who wants to sit looking at a stack of scruffy, but essential work files? What parent wants to display the ratty stuffed animal toy that their child refuses to part with, that they've slept with and cuddled for the last eight years? Our homes, rental or otherwise, need places for us to put the things we can't easily live without. We need furniture flexible enough to adapt to the changes in our tastes, or in the lives we lead.
I think Vitsœ is somewhat self-selecting. A Vitsœ customer is, for some reason or another, drawn to it. By the time they've hired me it's very rare that someone who didn't have any aesthetic leanings in a Vitsœ direction would hire me as an interior designer, so anyone who's coming to me is at least open to the idea. From speaking with clients, I would say that Vitsœ's biggest competitor in the home-owner sector is the custom built-ins."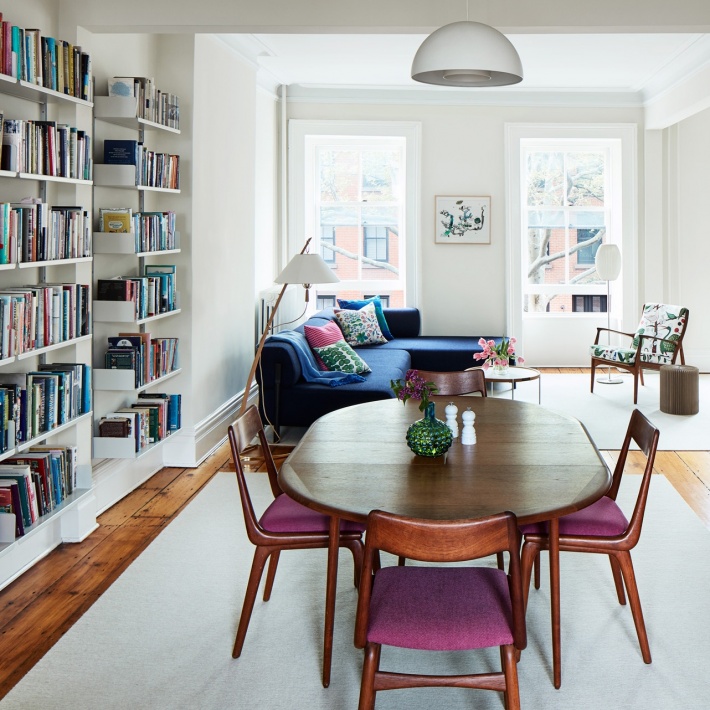 Alex: "I've found that peoples storage needs are so specific that, as a 606 evangelist, sometimes I'll find myself saying: 'Well, let's explore the custom built-in solution. Talk to your realtor and see if they believe that what you're contemplating will add value to your property. Make sure it's an investment because you can't take it with you'. Secondly, 'Let's get a carpenter in for a quote, with the sanding, sealing, painting, finishing and certificate of insurance all included and see what the final cost will be.' It's never less than the Vitsœ but sometimes they just need to see that comparison number. Then the realtor will say to them 'Well, you know what you're contemplating is ideal for your needs but it's not really generic enough. You may be building toy storage and whoever buys your apartment they don't have children. You might be building in bookshelves and whoever buys your apartment might not read or read on a Kindle. I just don't think you ever want to eliminate your options in that sense; in real estate, when it's such an important investment."
Andrew: "So once a client has made the decision not to go-down the custom-built route, you're able to show them the solutions drawn up by the Vitsœ planners free of charge! Surely this makes your life so much easier? You know that the service is there which just relieves some of the burden from your shoulders as well. You can trust the lineage of Vitsœ - we're in our 60th year. Customers can come back to us at every stage of their life journey for advice regardless of whether they are renting or buying; installing 3 shelves or 300."
Alex: "Absolutely. I don't know if you work this way with all your designers, maybe it's because we specified a lot of systems together, but I think you already have a sense of what my preferences are. I just have to explain the context and give a little bit of guidance and you come up with the initial design and then I provide feedback. Then I'm in a dialogue with the client, and we're all in the same conversation together. It's very collaborative. I know I can make as many revisions as I want, or space-out the execution of the project in a way that's comfortable with their cashflow. We're able to encourage them to only buy what they need, what they can afford, safe in the knowledge they can always come back for more."