How the system works
A track and a pin
At the core of the shelving system is the aluminum E-Track and a pin.
Shelves, cabinets and tables are hung from the E-Track – using no tools – simply by slipping the notched pins into position.
Shelves have a second hole so that they may be hung either way up.
The easy interchangeability of the components encourages either day-to-day rearrangements or complete reconfigurations.
Three interchangeable structures
The E-Track can be attached directly to a straight and sound wall (wall mounted). Alternatively the same E-Track can be attached to an X-Post and stood in front of the wall, held upright by adjustable wall brackets (semi-wall mounted).
If you have no wall nearby, the E-Track may be attached to one or both sides of the X-Post and compressed between the floor and ceiling. We will give you advice regarding acceptable ceiling heights and loadings.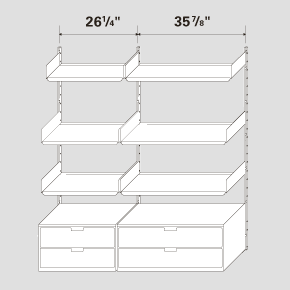 Two bay widths
Combinations of the esoteric 26 1/4" and 35 7/8" bays are all that it takes to meet almost every available space. For example, the system has 27 possible bay combinations for a wall of 16 feet width.
If you expect to load your shelves heavily, we will suggest using more smaller bays. If you want, say, a row of cabinets to look more elegant, we might suggest more larger bays.
We just need to know from you the width and height of your space and what you need to store or display.
Four shelf depths
The slender but strong shelves come in four depths.
When combined with the easy adjustment of the vertical spacing between shelves, the system can accommodate almost all storage and display demands.
We suggest taking a moment to measure a few of the items that will go on your shelves; it is time well spent. This will help us plan your ideal system.
So much more than shelves
A variety of additional cabinets, tables and accessories cater for almost every need.
You can, for example, hang a wall of cabinets in your kitchen; create a sophisticated wardrobe with drawers and hanging rails; or organize your entire home-entertainment system.
Most importantly, you can add extra components at any time in the future, safe in the knowledge that they will be both available and compatible. Reassuring.