Getting fruity in New York
The Gourmand will transform Vitsœ's New York shop into the Vitsœ Fruit Stand to coincide with ICFF and NYCxDESIGN 2014.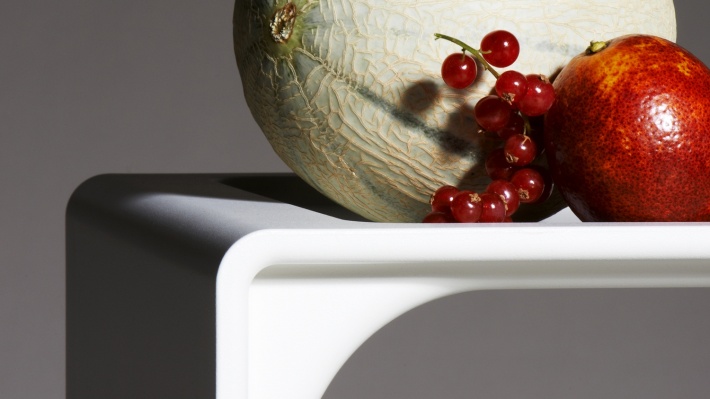 On discovering British food magazine The Gourmand, Vitsœ was drawn to its exquisite still-life photography and articles on topics such as the legacy of Gordon Matta-Clark's restaurant and artwork "FOOD" (written by Natasha Hoare). Of course, the paper stock is just so, and the magazine format sits a little taller and narrower than others, raising a smile – closer to a menu card, perhaps? That their particular magazine is obsessed with food is almost superfluous.
As you do when a new acquaintance piques your interest, Vitsœ has invited The Gourmand into its home, in New York. With chairs, tables and shelving systems at its disposal, The Gourmand will replicate a neighbourhood fruit stand in Vitsœ's New York shop. A locally-sourced selection of fruit tarts, teas and homemade sodas will be served alongside The Gourmand's archive of back issues and inspirations to introduce visitors to their award-winning magazine.
Visit during this four-day event to relax and refresh in the comfort of Vitsœ's growing furniture collection: after being served from the adaptable 606 Universal Shelving System, visitors will be invited to pause in the comfort of the 620 Chair Programme accompanied by the 621 Table, which is always there when needed.
Together with The Gourmand we have published a limited-edition recipe book with fruity recipes accompanied by commissioned illustrations. It will be free to visitors. Recipes by: Jackson Boxer, Gabriel Pryce, Missy Flynn, Bompas & Parr and Brad McDonald. Illustrations by: Gwendal le Bec, Yann le Bec, Bruce Usher, Jamie Brown and Jean Jullien.
Friday 16 May to Monday 19 May 11:00–19:00
Open Sunday 18 May
Vitsœ Fruit Stand with
The Gourmand
33 Bond Street
NY 10012
T 1 917 675 6990