Plans for dinner
Training to be an architect helped Hanna Geller prepare her menus.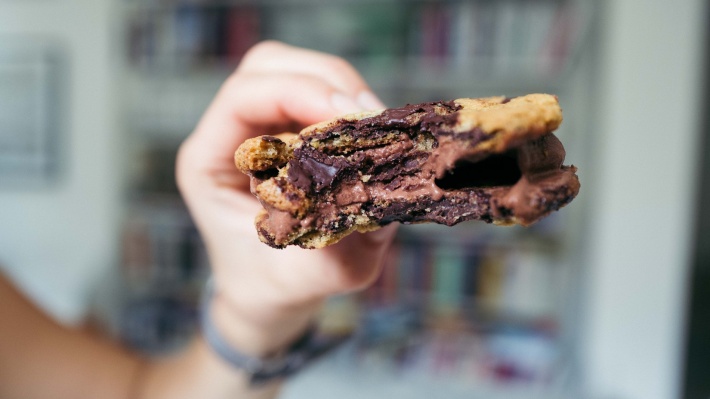 Words: Leanne Cloudsdale
Photography: Vitsœ
"I was always the person who turned up to site meetings with food. It was amazing what an impact baked treats could have, whilst we all sat around talking through plans in some freezing cold, half-finished building. My food lifted the mood, and everyone got on a little better – which made proceedings run so much smoother" explained Hanna Geller, who didn't plan on forging a career in the world of communal dining. After studying architecture, she made the decision to move into interior design and spent many years creating domestic interiors for private clients. It was only after managing the completion of substantial renovations to her own family home in 2013 that she decided on a shift in career path – it was time to start something new.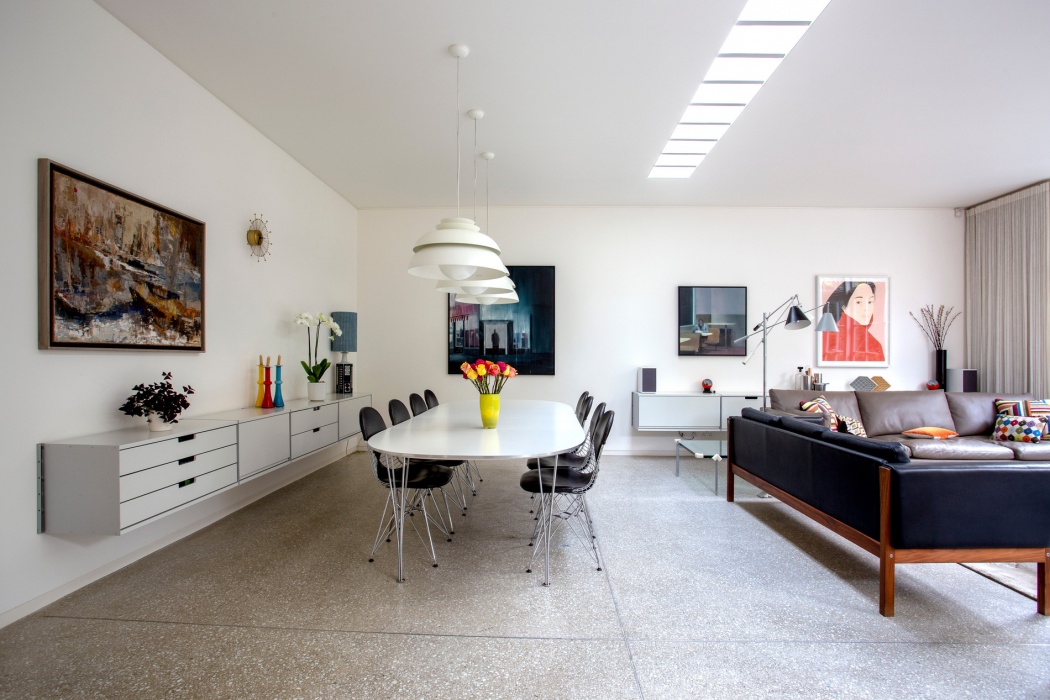 'Building Feasts', began as a food blog (that Hanna started during the pregnancy with her fourth son) and gradually morphed into teaching cookery classes from the comfort of her own kitchen. A couple of years later, the 'Supper Club' was born, set up with her friend and photographer Jeremy Coleman. Hugely popular, these laid-back, ticketed events were always a sell-out success, and took place at Hanna's spacious home in central London. With menus designed around seasonal themes or planned with like-minded collaborators, every morsel of food was prepared and cooked by Hanna. An intimate, communal dining experience, all courses were served 'family style' and accompanied by bespoke cocktails created by a local mixologist. Smiling, she remembered, "It was really all about people building new friendships in a relaxed setting. Food was just the vehicle – not the main performance."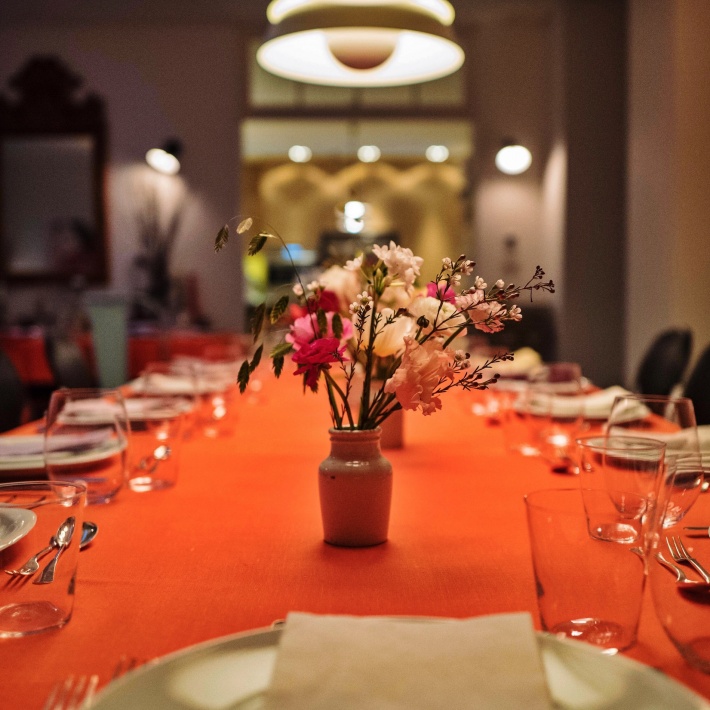 It wasn't long before 'Building Feasts' banquets had become the place to dine in the capital, but the pair were soon forced to adapt when the global pandemic meant sharing dishes (and tables) with strangers was off the cards. Unable to entertain in the usual way, Hanna turned to the digital world instead and launched the 'Monday Bake Date'. Hosted from her Maida Vale kitchen over the summer of 2020, they amassed a cult following with up to 80 people a week tuning into the group video call. Unaware of how the move online would affect the demand, Hanna laughed and said, "Just like everyone else, I was stuck in the house – with four kids. At the start it was fantastic because all the usual rules went out of the window. We were staying up late, having ice-cream parties and eating breakfast in bed. It became a bit of an adolescent truant house with us all running our own schedules and getting into our own rhythm. But when we realised this might continue for longer than expected, I knew I needed to be doing more – I wanted to try and build a community."
Connecting people with food seemed the most obvious thing to do, and before long there were home cooks from all over the world joining in. 'Monday Bake Date' subscribers were sent an email listing all the necessary ingredients a few days beforehand to give them time to prepare. "It was fantastic. I chose the recipes very carefully so they required minimal equipment or experience, and for an hour everyone could take a break from the news and share something good together. We had someone waking up at 5am in Sydney, another woman in India baking at midnight. Others joining from the United States, Germany, France, Switzerland and Ireland. The great thing about cooking, is that it forces you to concentrate on what you're doing and helps create balance – you have to be present in the moment. I was beginning to really miss holding the 'Building Feasts' cooking classes, but the 'Monday Bake Date' meant that I could now teach people to cook on every continent, not just locally."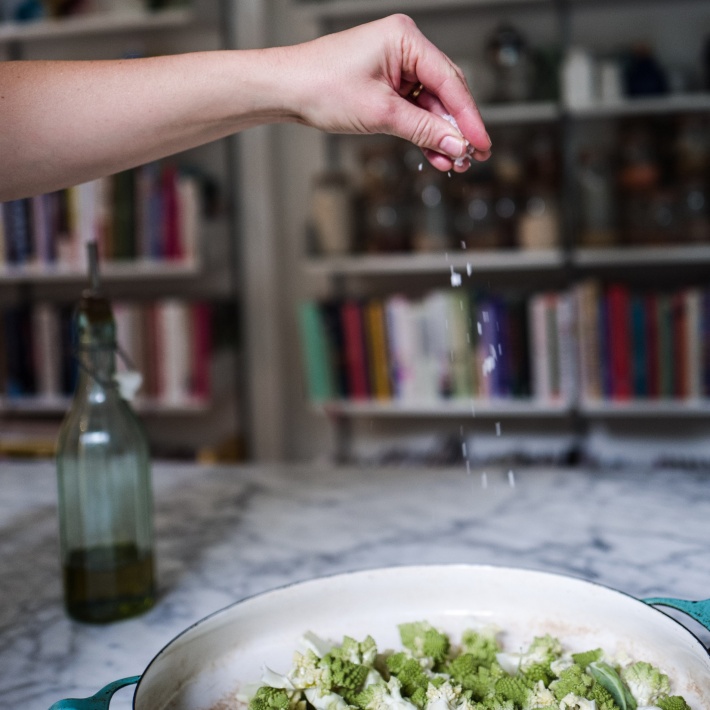 The stress of dinner party preparations has always bypassed Hanna, who prefers to disregard the competitive side of culinary expertise and focus instead on the social aspect of sharing a meal. At university, she was the self-proclaimed household hub, and became renowned for her seemingly endless ability to put together delicious meals made using modest supplies for herself and fellow students.
With a grin, she described the parallels between cooking and her architectural background and revealed, "It's all about planning. Back then, when I was designing spaces, every project would have a long, drawn-out exploration phase. Finding out what the clients are into, what their lifestyles entail and what kind of taste they have. Armed with this, you begin to build. You start with the bare bones, then lay a solid foundation and keep adding layer, after layer, of flavour, colour, textile, lighting and then the final details. When you build a meal it's the same principle. From an outsider, or a dinner guest's perspective, it might all look effortless, but the process begins long before the doorbell rings. What they'll never know is that the magic happens because, even when I was out shopping the day before, I was already cooking (in my head) and thinking ahead – planning a timeline for roasting the chicken and spicing up those carrots."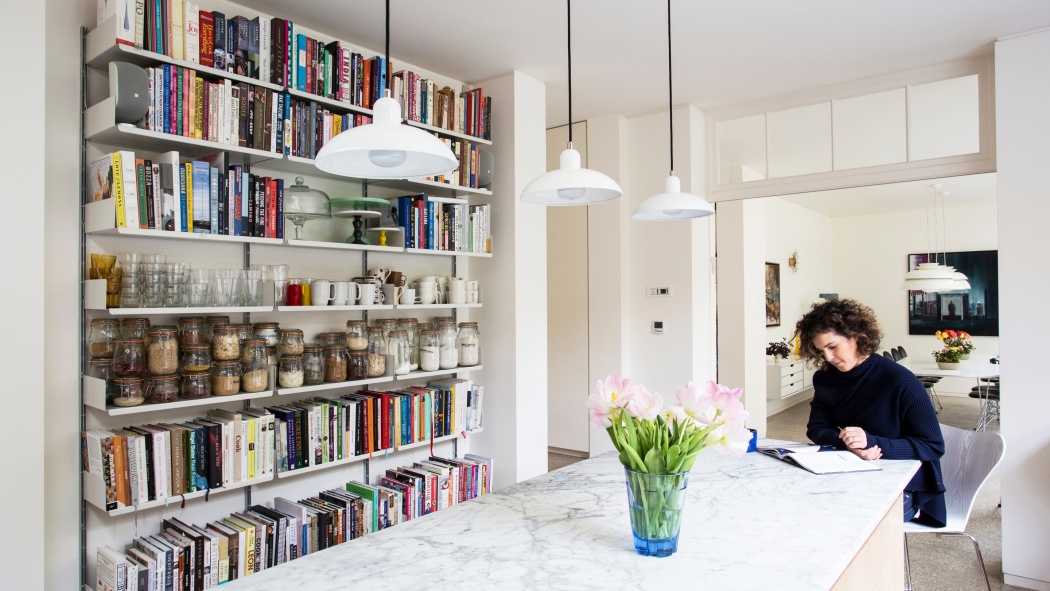 Gesturing towards the discreet shelving system behind her, stuffed with cookbooks, crockery and tall glass jars packed with grains, Hanna smiled and said, "I'm not the world's best cook, but it gives me permission to be messy, creative and enjoy myself. The beauty of what I do isn't about the ingredients, it's not food theatre. I want people to feel more confident about buying food, organising the pre-recipe to cut down on the pressure and make sure everything is more fun. Even with the 'Supper Club', there are still components and timelines to consider. There are similarities to my old job, but instead of years in the making, in a few hours it's all over – and either you've had a glass of wine and a giggle, or an explosive argument and smashed a few plates. Whichever way you look at it, it's evolving and never really finished. Just like life."