Streets in the sky
The visionary renaissance of Sheffield's 1960s Park Hill estate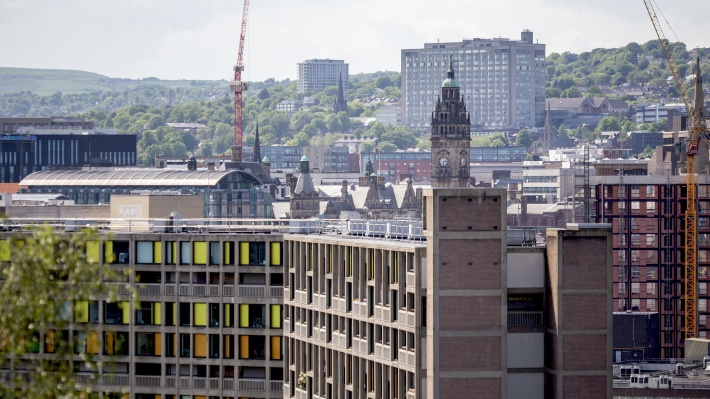 Words: Leanne Cloudsdale
Photography: Vitsœ
Referenced in Chaucer's Canterbury Tales, Sheffield – once the steel-making capital of the world – is a city with a rich manufacturing history and unique topography. Located in South Yorkshire, England, there are roads with gradients so steep that handrails (and a very reliable handbrake) are required. This prompted a specific type of challenge for the local council's planning department, who were tasked in the 1950s with building homes for an expanding post-war population.
The chief architect at the time was J.L. Womersley. Born in 1909, he was the visionary behind Sheffield's Park Hill housing estate. Developed on a 32-acre site previously dominated by back-to-back (slum) housing with shared toilets and communal water standpipes, which were unconnected to mains drainage, the council wanted to provide a scheme that put the health of social housing tenants before profit. Designed to work in harmony with the dramatic, undulating skyline, the architects responsible for realising Womersley's pioneering vision for a renewed community were Jack Lynn and Ivor Smith.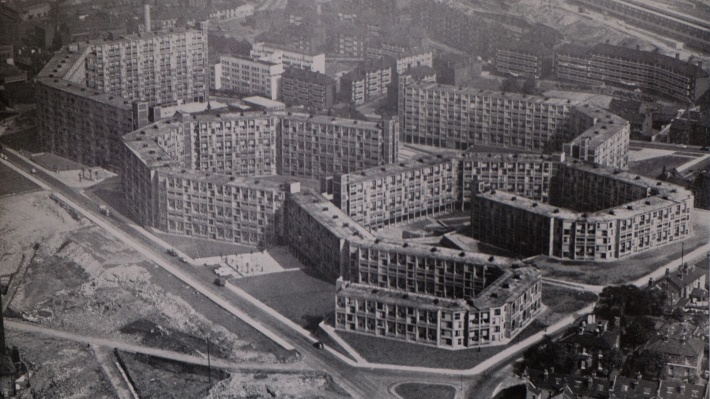 Construction took place between 1957 and 1961, with the finished project comprising 995 flats and maisonettes, three pubs and 31 shops, spread across five standalone tower-blocks connected by bridges. A striking grid-like structure that can be seen for miles, Womerlsey and his team maintained a constant roof level throughout the sloping plot – with flanks ranging from four to 13 storeys. Once finished, it was celebrated as a modernist utopia and received rave reviews across the architectural press. Now a protected grade II* listed building (the UK's largest) Park Hill is revered internationally as a brutalist concrete icon.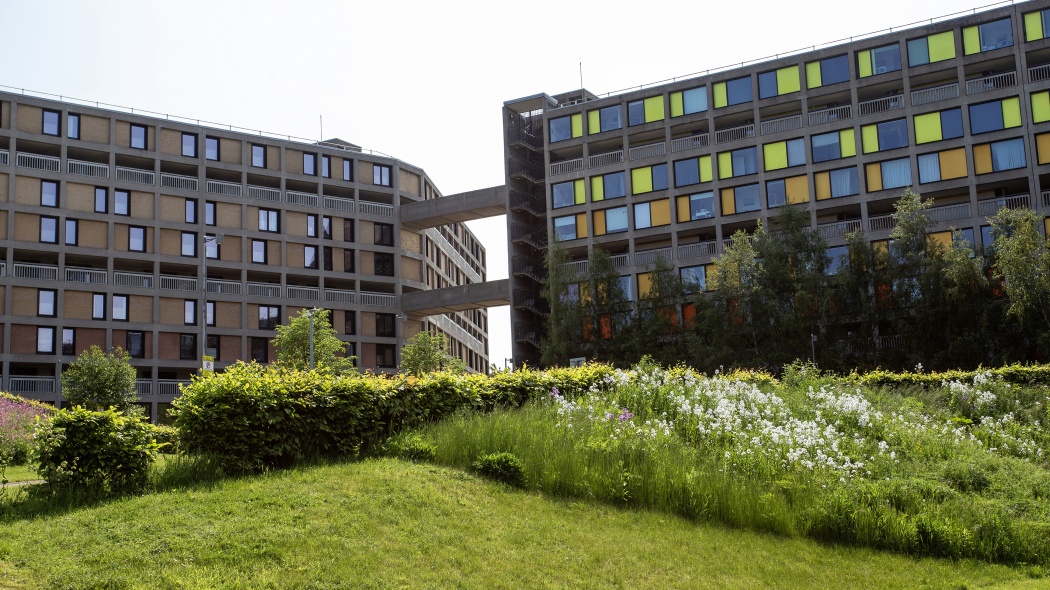 What is perhaps most significant about Park Hill is its 'streets in the sky'. Influenced by Swiss-French architect Le Corbusier's 'Unité d'Habitation' in Marseille, the open deck access to each home was via a three-metre-wide walkway which offered a more sociable alternative to the small, enclosed lobbies more commonly seen in point-block towers. As a respectful nod to the previous residents of the demolished terraces, the 'streets' were named after those on the original site; Gilbert, Hague, Long Henry and Norwich. Unearthed cobbles were also repurposed and used to create a path leading to Sheffield's railway station, situated at the foot of Park Hill. It was thoughtful details like these that paved the way for a new kind of high-rise community – one which encouraged neighbourly interaction and impromptu conversations on the walkways, along with a growing sense of pride at this new, elevated way of life.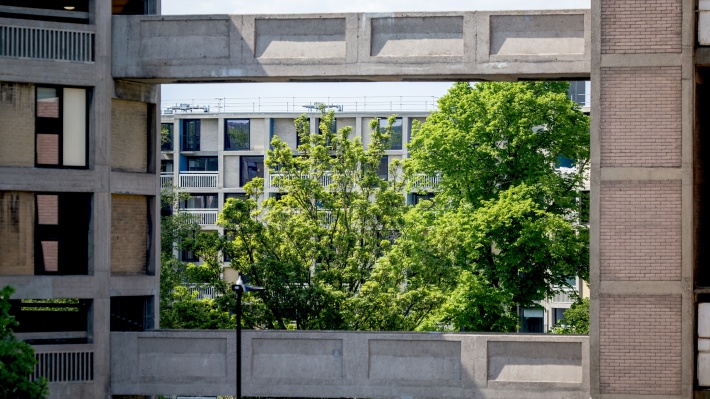 Former city planner Graham Hague was part of Womersley's team. Now 84 years old and long retired, he leafs through archive boxes containing hand-drawn building plans and newspaper clippings about the newly unveiled Park Hill dating back to the 1960s, while explaining, "Back then, building high-rise flats was much more common in mainland Europe than it ever was here in England – aside of course, from places like London, or Scotland, which has always had more of a tradition for tenements. Here, in Sheffield, Park Hill was built to an urban scale that was unusual for the region and at first, it scared people because it meant living so far from the ground".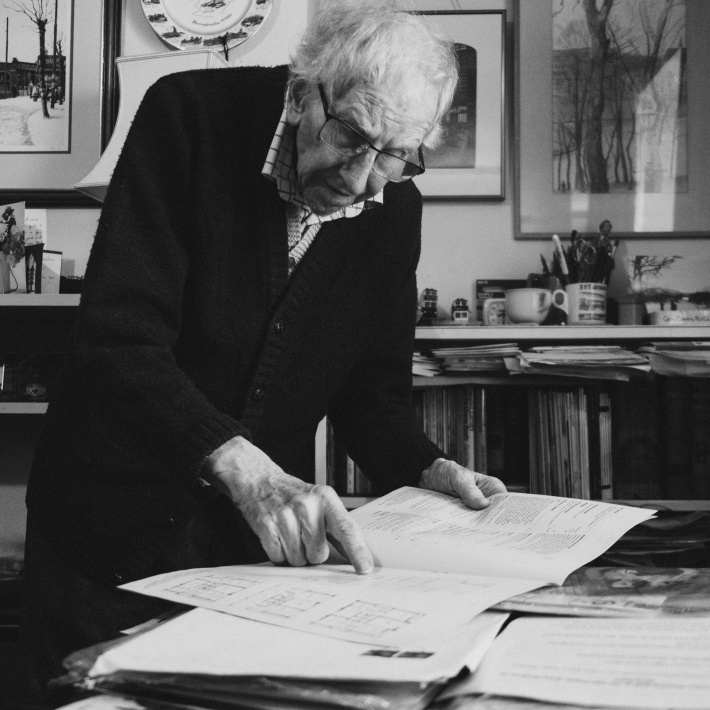 Graham remains modest about his contribution towards Womersley's ideal of a complete architectural environment, but it's clear to see he still feels energised by conversation around the progressive aspects of modernism. He said, "Everything that we've made in common sense, we get rid of in this country. The municipal hand may have been a bit bureaucratic, but it knew what was needed and did it. Now everything is – does it make a profit? With Park Hill, the very fact that coach loads of architects, town planners and so on, from other towns (and cities in Europe) would come to visit Sheffield at the weekends, to see how the structure was developing when the construction was well underway confirmed to me, they were clearly taken aback by this impressive scheme. I did get into the spirit of understanding that we were creating something that hopefully, would be part of the future. Which of course, with the recent revival of Park Hill, has become the future."
For the rehoused inhabitants, gradually they warmed to their new environment and welcomed the prospect of a brand new, modern home with a kitchen and bathroom with clean running water – quite different from the single tap in the corner of the scullery that most had been used to. But by the 1980s, after decades of being hailed as a trailblazing estate with great architectural significance, it (like many others owned by local authorities) ended up battered and bruised from lack of investment and poor maintenance. Graham remarked, "During this period, whenever Park Hill was mentioned in the regional news, the commentary was always derogatory. But I always say, 'if you give a dog a bad name, it will live up to it'. If the media encourages and celebrates a place, there is far more likelihood that people will respect where they are living."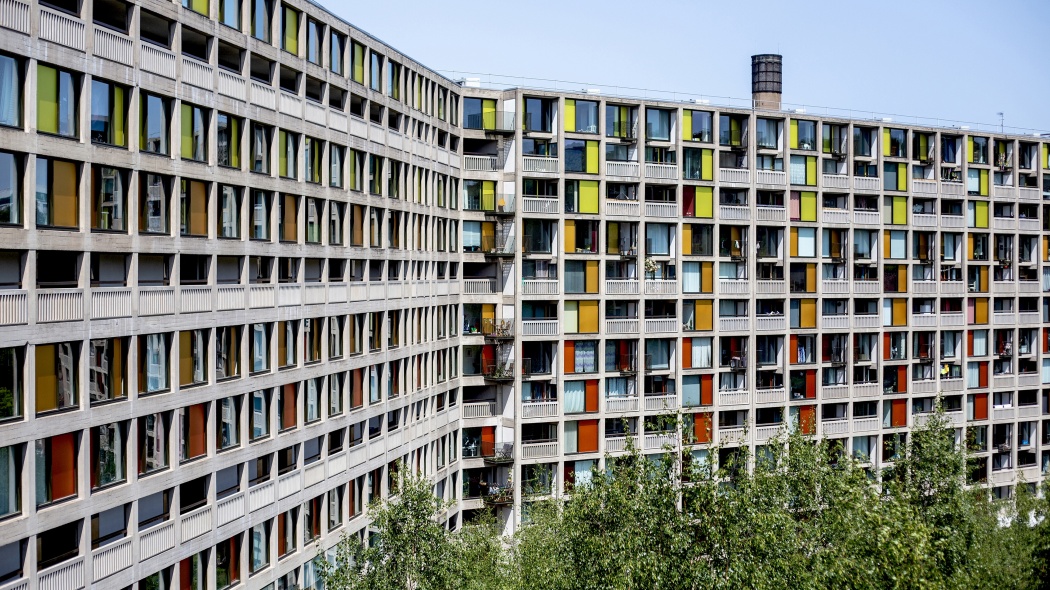 What was once a shining example of inner-city life was labelled as an eyesore, and by the late 1990s Park Hill was in real danger of being razed to the ground. In 1998 with its destiny uncertain, English Heritage – a charitable trust – stepped in with the protection listing and consequently saved the entire estate. Since 2004, there has been a slow but steady process of refurbishment divided into five 'phases' – three of which are now complete – under the stewardship of property developers Urban Splash. Architects Hawkins\Brown were responsible for the complete overhaul of phase one, completed in 2013. Mikhail Riches have been the architectural force behind the recently completed, retrofit of phase two, which has won multiple awards since its completion in 2022. Across the estate, flanks have been angled to maximise the amount of natural light that comes flooding through the floor to ceiling windows. Communal gardens with their mature trees and wildflower-beds are well-maintained and welcoming, even at night. Delivery carts of milk or bread may no longer grace the walkways, but there is a genuine sense of old-fashioned happiness and togetherness that pervades at Park Hill.
Resident, Richard Fennell, relocated to the estate from London in 2022. He smiles and says; "Essentially, the architecture has changed very little - they certainly knew what they were doing 60 years ago! The variety of flat formats and orientations give a huge sense of personal ownership of space, whilst the external decks and landscape encourage a collective responsibility. A community has been drawn from both Sheffield and further afield, but with a strong sense of connection to the city. I know the names of more neighbours here in Park Hill than I've known collectively in over 15 years of living in many other neighbourhoods, both in Sheffield and in other cities. There's something powerful about living in a space where there's a sea of green outside the windows, with the life of the city layered so closely behind."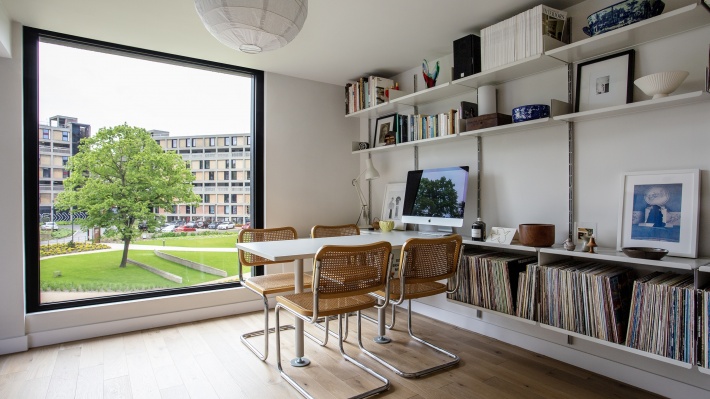 Stretched out across Sheffield's horizon, J.L. Womersley's masterpiece has been given a second chance of success. The conundrum of why it's working so well is a hard one to fathom. Is it the building, with its lack of dark corners, continuous walkways and panoramic views of the Peak District and the Pennine Hills? Or is it the people, and their admiration for the mid-century revolutionaries who changed our perspective on high-rise living; by breathing love and soul into the bricks and the concrete? Perhaps it's the visionary harmony of it all.