Flour power
A journey by baking-duo Pierre-Antoine and CJ, leading them to 'simple is better'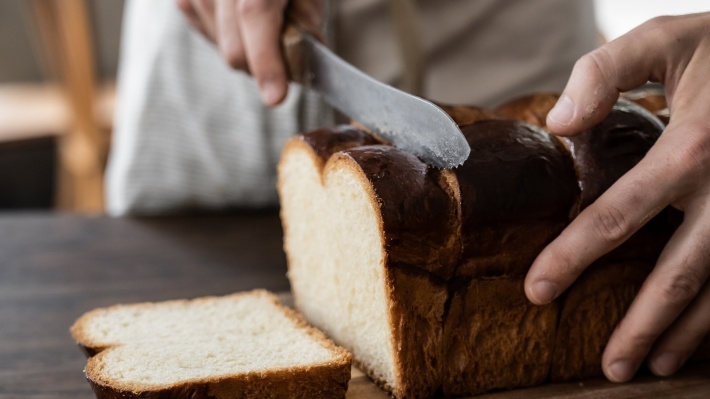 Words: Kassia St Clair
Photography: Anne-Claire Héraud
Conventional wisdom has it that it is usually a mistake to turn a hobby into a career. Luckily for the bread-lovers of Nantes in western France, Pierre-Antoine Arlot is the kind of man who cuts his own path and lives his passions. La Maison – or Maison Arlot Cheng to give it its full title – is the result. An airy, simply furnished boulangerie and café on the corner of an old industrial street in the Île de Nantes district. The menu is spare, blending the familiar and exotic. Ham and mustard toasties; a Thai-influenced salad of carrots, kumquat and peanuts; walnut and adzuki bean tarts; wheel-shaped Paris-Brest pastries sandwiching clouds of praline cream.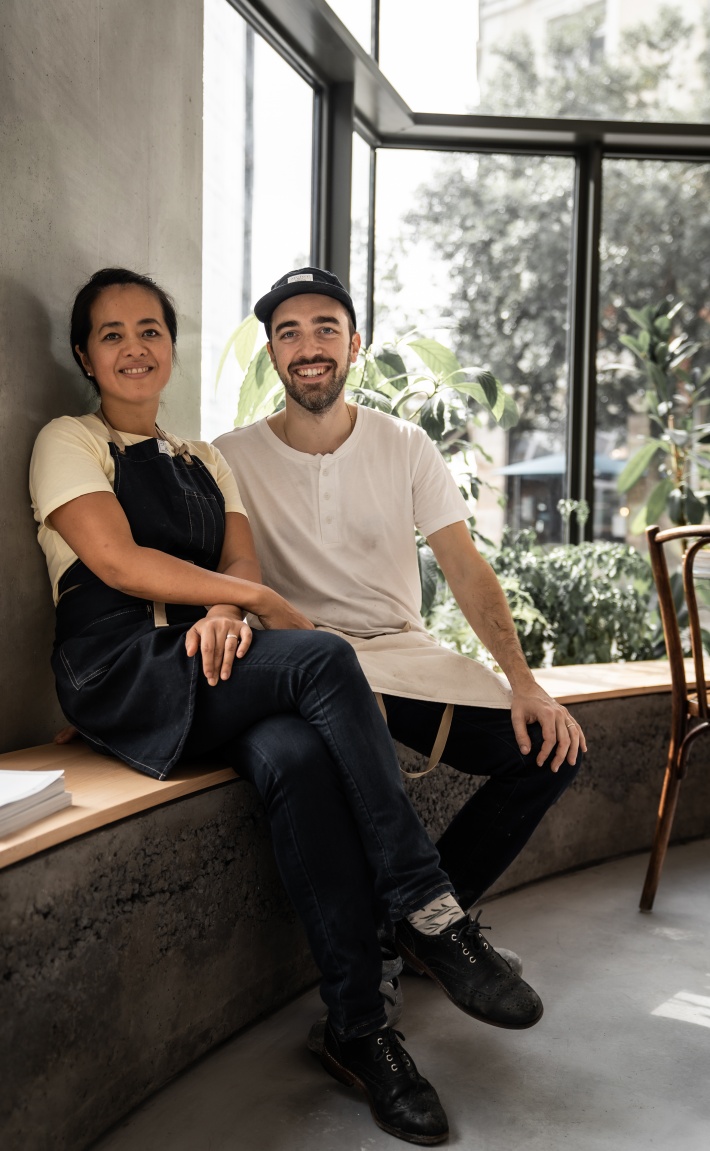 For Pierre-Antoine, opening his business in Nantes was a homecoming after fourteen years of living an itinerant life. He grew up in the city and studied at the European Business School in nearby Bordeaux, which gave students the opportunity to work in different countries each year. "I had the chance to study and work in Spain, Florida in the United States and London, and I ended up in China, in Shanghai." Pierre-Antoine spent five years in the country working for 'Identica', a Canadian graphic design and branding firm. It was during this time that he met his future wife, Chin-Jy – known to most as CJ – a China-born, Dutch national, who speaks five languages. On returning to Europe, Pierre-Antoine continued to work in design, first in Paris for the brand agency 'Carré Noir', then in London for 'Wolff Olins'.
London was also the city that ignited his passion for food in general, and bread in particular. Pierre-Antoine comes from a family of restauranteurs and farmers and so has gastronomy in his blood, but there was something about the exuberance of London's cuisine that caught his imagination. He sought out new gastropubs that were popping up around the city like mushrooms, and enjoyed spending time in bakeries, revelling in a food scene that felt "vibrant and very open-minded – much more than Paris, back then." E5 Bakehouse, in East London, would have the biggest impact on him. Founded in 2009 by Ben MacKinnon – who took to baking after quitting a job at a big multinational corporation – E5 Bakehouse is a small, brick-lined temple to natural yeast under the railway arches next to London Fields station.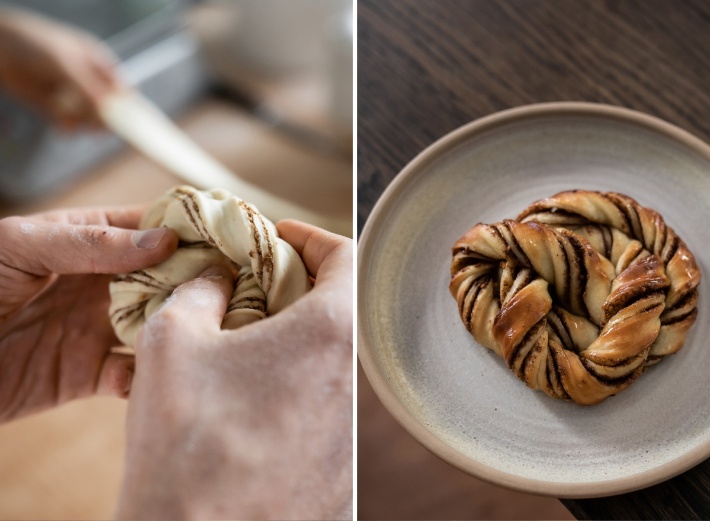 Whether because of an affinity with MacKinnon, or because of the quality of the bread, E5 became a touchstone for Pierre-Antoine. Before long he was making friends with the bakers, hanging out and chatting for hours in the sweet, warm fug of fermenting flour and yeast. He began baking bread at home, obsessing over how to achieve a perfectly caramelised crust on his own loaves, before returning to E5 to hone his skills at various cooking courses that they ran. "They were super easy about welcoming newbies onto their team," he explains, "and I loved it there, so I ended up doing shifts at the weekends in addition to my day job."
With the birth of Pierre-Antoine and CJ's daughter, the pair decided to leave their jobs and strike out on their own. As a consultant, Pierre-Antoine was used to advising businesses, coming up with big visions and ideas, designing programmes and then watching, with mounting frustration, as these were never fully implemented. "There are a lot of barriers, especially when you work for big corporations. So we thought: 'Okay, maybe let's set up our own business, try and apply our own advice to ourselves and see what's real and what's bullshit.'"
They spent a year immersing themselves in the craft, visiting and working in all the places in Europe they believed to be at the forefront of gastronomy and economy. CJ – who, like Pierre-Antoine, comes from a family of restauranteurs began training at Allpress roastery in Dalston to become a barista. Pierre-Antoine spent four months at a baking school near Aix-en-Provence. Together they worked at Mirabelle in Copenhagen, Denmark, run by a former Noma restaurant chef; they went to Paris, to an Anglo-French bakery called 10 Belles Breads; to Pain Paulin in Cap Ferret, near Bordeaux and back to E5 in London.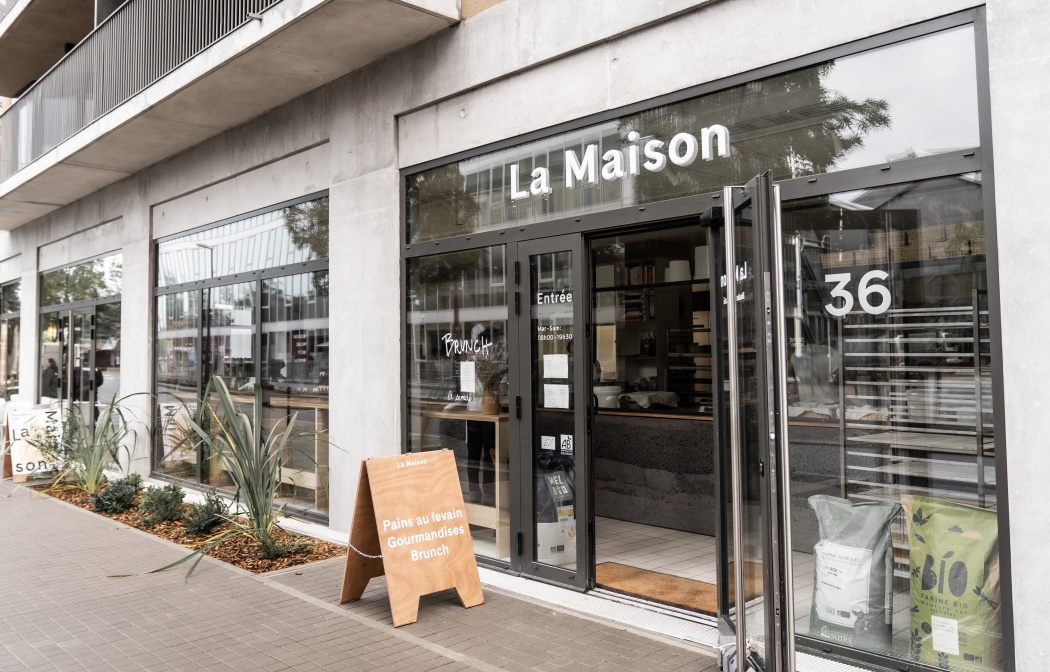 Opening a bakery felt intuitive. "We knew the business had to be around our passions. So that was clearly gastronomy, and bread felt like the simplest entry-point. Obviously, bread can be very complex, but it's still always just flour, water and salt. From that starting point you can create a world." Given their fluency in various languages, the location was up for grabs – but they soon decided to return to Pierre-Antoine's hometown.
Nantes, as a mid-tier city, held an undeniable appeal. Smaller and more navigable by bike or foot than megapolises like London, Shanghai or Paris – the Atlantic Ocean is within striking distance. It is also a creative hub. There's a fine-art school, plenty of start-ups and the once derelict industrial zones are being imaginatively reclaimed. One large former shipyard – for example – has been turned into an attraction park, with a carousel and enormous metal animals crafted by steelworkers and inspired by Jules Verne novels. It was more affordable too, which meant it could offer them – and their staff – a better quality of life and allow them to be more ambitious. More tables; more space for equipment; more scope to develop as they became more established and grew.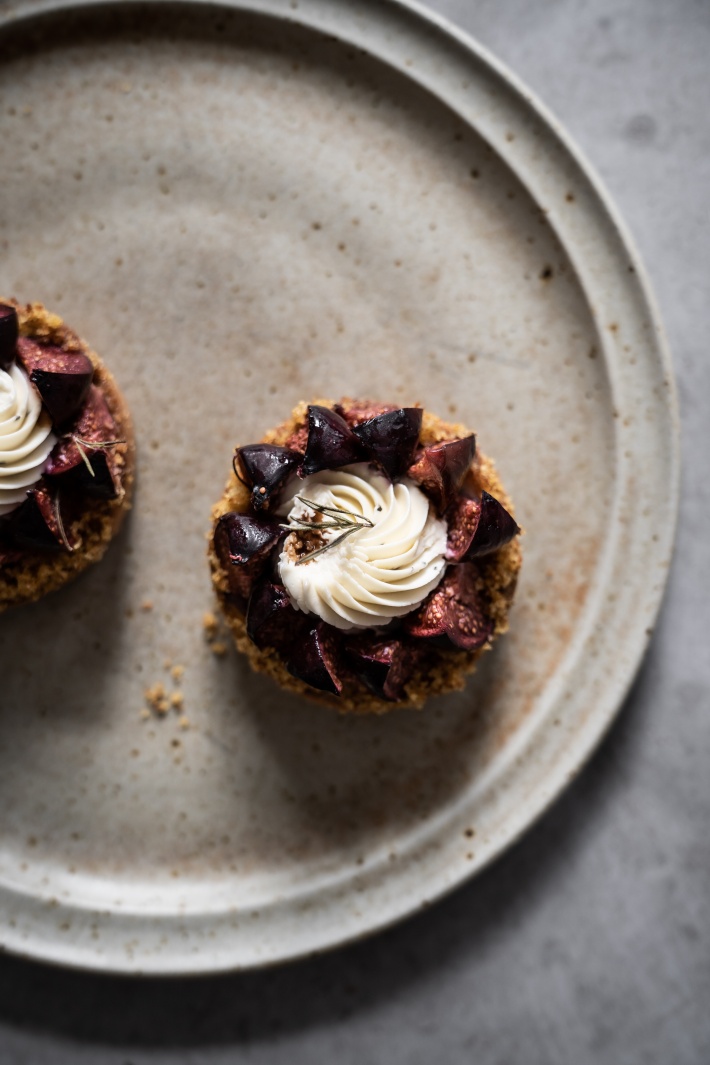 When it came to designing both the space of La Maison and its menu, 'simple is better' was their mantra. "That meant cutting down on the trends, the crap, all the stuff that's basically noise and clutter. This allows you to concentrate on higher quality ingredients and materials." Sustainability and their relationship with the local environment was crucial. "We wanted to be super clear about what we stand for, with a clear vision and a clear philosophy. Always thinking about the impact we have on people's lives. What kind of construction materials are we using? What furniture are we using? What kind of energy are we using – we use 100% sustainable energy that comes from small French water mills that we buy directly from the producers." Rather than importing marble from Italy to use on the counter tops, they upcycled granite and slate from local quarries and created a composite material that Pierre-Antoine describes as "rural concrete". They have a zero-waste policy: leftover produce is given away to charities. The 606 Universal Shelving System they had in their own home in London was repurposed in La Maison to display the work of local artists. And, despite the internationality of their staff and menu, they concentrate on the best ingredients from within a circumscribed radius of Nantes. Even the adzuki beans in their tarts are grown nearby (a notable exception to this is the 'Allpress' beans from Dalston, which they still use for their coffee.)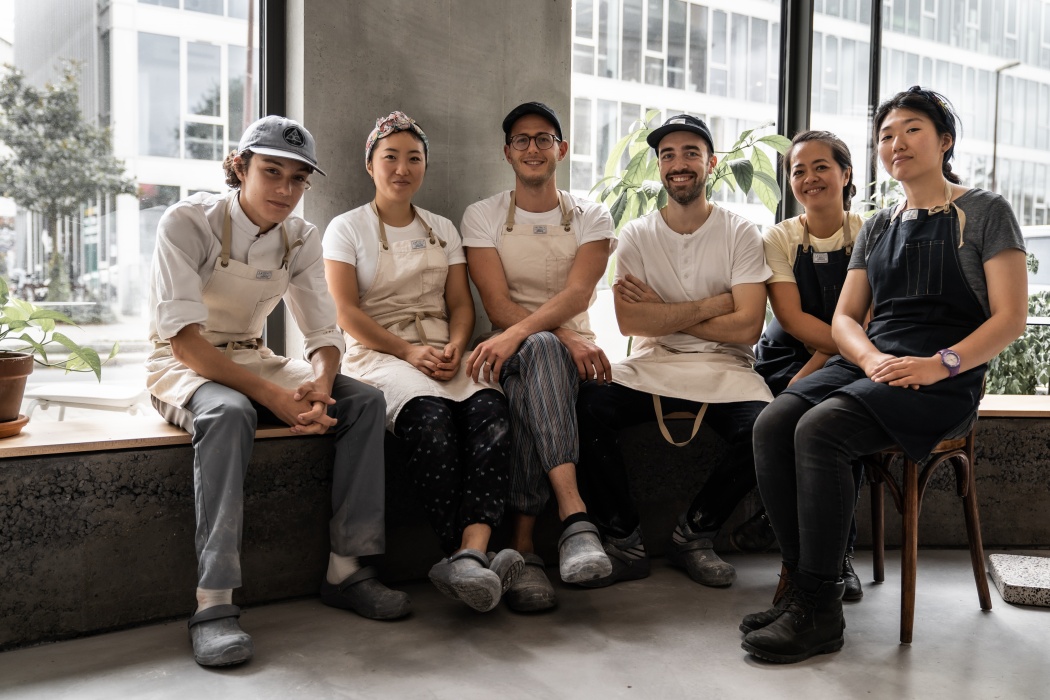 Pierre-Antoine is the first to admit that their commitment to their principles made things difficult. "We had to make really hard and courageous choices", he says, but he has no regrets. This is his home, and he is here, with his family, living his passions. "We have maybe five or six hundred people coming every day to La Maison. We can have a real impact on their lives. And we managed to stay true to our philosophy: 100% organic, 100% seasonal, all renewable energy. To see that now – the impact that we have – that's fantastic … exhausting, but fantastic."