Sandy, the 'Duracell bunny'
An unstoppable force in our workshop team for over 20 years.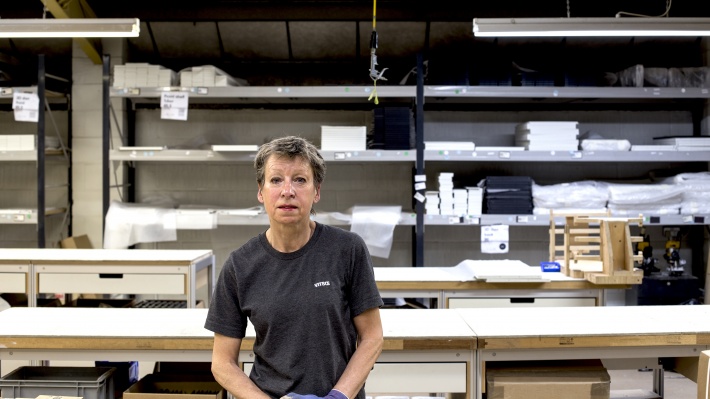 Finding Sandy, one of Vitsœ's longest-serving members of the team, is always tricky. Having earnt the nickname the 'Duracell bunny' as she's always on the move, she readily admitted while dashing between jobs, "I'm useless at sitting down." Sandy joined Vitsœ when the business moved from Germany to the U.K. in 1995 and has now worked there for over 20 years.
She was busy in the workshop wrestling with sheets of cardboard twice her size as she explained her philosophy, "everything we do is important if it keeps the work flowing. I know it might sound a bit idealistic, but it's all about continually promoting the importance of every task, however small. I don't mind doing them either – and proudly. I'm always walking around making a mental list of jobs that need doing, always scanning for things around the workshop that might distract someone from the task at hand. My catchphrase has always been 'leave it to me, I'll do that.'"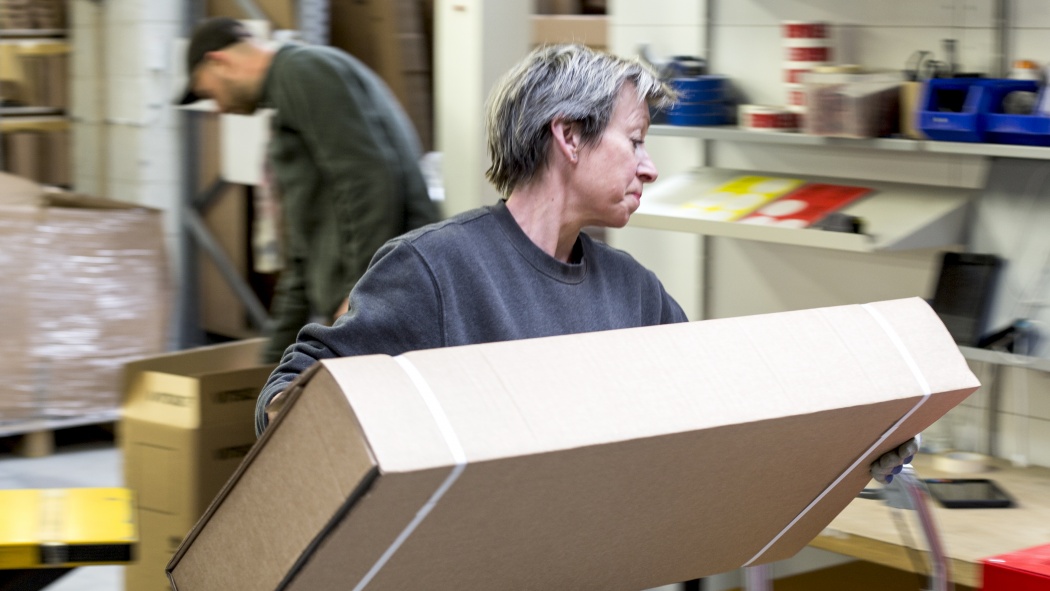 Sandy joined Vitsœ after receiving a degree in furniture design. Manhandling a stray pallet back into position, she paused to laugh when asked about how she was recruited and bashfully revealed that she's "never had a proper job interview, it's all been through personal recommendation." She has become the catalyst for positive energy and enthusiasm in the workshop with her upbeat approach, which she thinks, "is essential, particularly when under pressure."
Arriving at the workshop an hour before everyone else gives Sandy the time to prepare for the day ahead. Sometimes her preparation entails stewing a pan of apples with sultanas and cinnamon, made especially for "the ones who can't eat cake," she said. "It seems normal these days for people to have food intolerances, so we have to make sure they get a nice treat in the mornings, too."
She dashed off to prepare for the daily tea break armed with a rhubarb pie and some fruit bread, which she slathered with butter, and after taking a sneaky bite, decided, "it's lovely and soft; nice enough not to toast." Sandy doesn't need a drinks list as she's clearly memorised everyone's preferences. She deftly decanted spoonfuls of fresh coffee into a couple of pre-heated cafetières, ready to fuel the workshop team. She stacked plates for the sweet treats and grinned, "we've always stopped at 10:30. It used to just be a quick hot drink and some biscuits, but I guess things have escalated…"
Sandy's work ethic and disposition have come to define the industrious atmosphere at Vitsœ. "I need to keep on the march," she said, "because that's what's required to make sure things are running smoothly.
"I like to stay tuned-in so that I know what's needed to keep a cheerful working environment where everyone feels comfortable. It's always nice to add a little something - like a workshop ice-cream in the summer."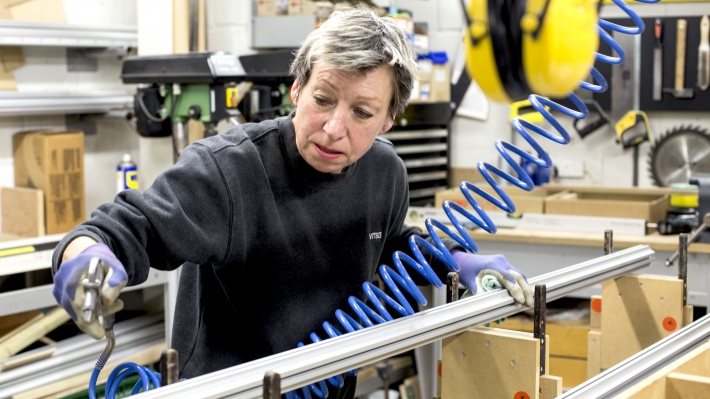 Weaving through the workshop later that afternoon, she pondered, "for me, it's all about completing jobs as a system for happiness. I suppose it's a bit like the Shaker approach to work really at Vitsœ, and my character fits into that type of mould. I certainly love 'doing' and being on the go.
"The unique thing about this place is that everyone works to their own strengths. There is no defined way and no rules – just as long as the end result of the day's work contributes to the health and productivity of the entire company."
—
If you would like to work in an eclectic team of like-minded, passionate and affable people, please visit vitsoe.com/careers for current vacancies.