The road to Royal Leamington Spa: arrival
Our new HQ and production building comes to life.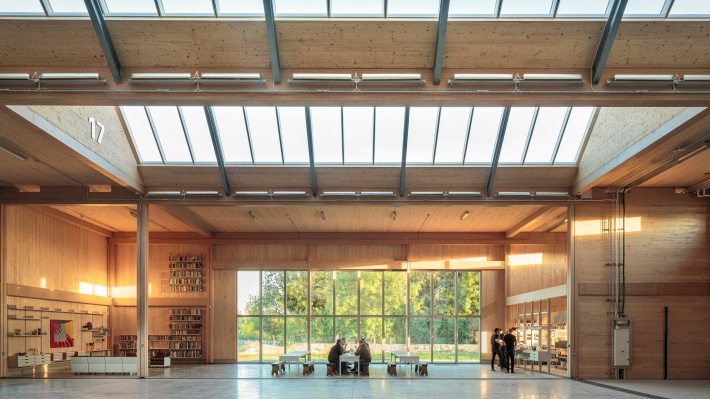 Words: Mark Adams
Photography: Dirk Lindner
On the occasion of the opening of Vitsœ's new building
[A bell rings]
Here at our company's new home in Royal Leamington Spa our school bell is rung at 10:30 for our morning break and at 12:45 for lunch … together.
Do you know the origin of the word 'company'? Cum pane; with bread; the act of coming together to break bread. Vitsœ's very first chef bakes our bread in our open-plan kitchen using flour from Charlecote Mill, one of the last remaining water-powered mills in the country, just down the road from Royal Leamington Spa.
Vitsœ's new building has been created to allow many people to break bread together for decades ahead.
But why has Vitsœ come to Royal Leamington Spa?
First and foremost, as we outgrew the expense and congestion of London, we were looking for a community. We could create a home for Vitsœ from anything, but we could not create a community. On our first visit to Leamington we asked to meet the community, not to look at sites. Our experience can best be summed up by the lady I stopped to speak to a few weeks ago tending a garden on Archery Road: she said, "I came here 35 years ago; I knew one person; that was enough to introduce me to the entire community." People we met on that first day have stood by us ever since.
So we found a community, but where are we?
We are only half a mile away from the Midland Oak, allegedly the centre of England, in the area loved by distribution companies. We are at the centre of Vitsœ's supply chain, and near container terminals so that our 40-foot containers can go by rail to the ports.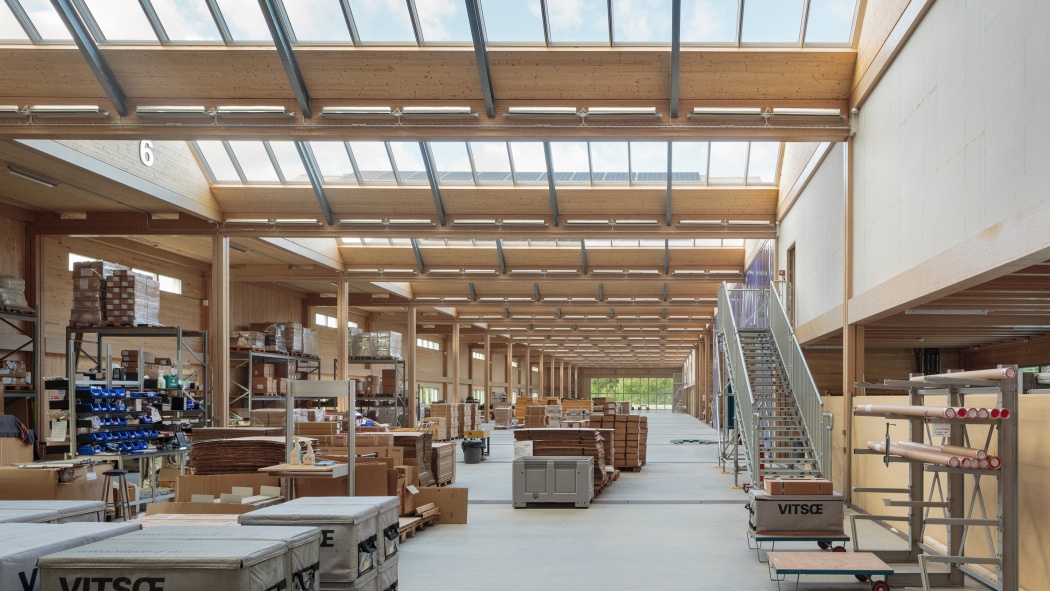 We are in an area rich in engineering history: Malcolm Sayer, the E–Type designer, lived nearby; Frank Whittle was educated in Leamington and went on to create the jet engine; Aston Martin, Bentley, Rolls Royce and Jaguar Land Rover are in daily parlance. That's the physical world.
But, more surprisingly, we are also in the digital world – the heart of the UK gaming industry. Vitsœ is as much a digital business as it is a physical one. We are also in an area that is surprisingly artistically creative.
Given its history as a spa town, we are surrounded by fine Georgian and Regency architecture and immaculate parks. We are a short walk from the station where we can take the train to London – and walk to our Marylebone shop. We are on the national cycle route. The buses stop outside our door, where our future employees are heading to school. The universities of Coventry and Warwick – with our new collaborator, Warwick Manufacturing Group – are a few miles away.
Warwickshire College Group is visible from our north window while the fine state and independent schools are along the Myton Road, which leads away from the west of our site.
As Ebenezer Howard said in Welwyn Garden City: "Bring together the best of town and country; home and work should be nearby." While others are rushing to make more cars, we chose a location that allows us to avoid using cars.
Can we cast our minds back to a world before the carbon age – the age when we broke open nature's closed cycles by consuming resources bequeathed to us over billions of years? We could think, for example, of a 13th century cruck-frame barn constructed from timber with braced aisles on either side of an open nave; and large doors for cross–ventilation to separate the wheat from the chaff as you threshed your harvest.
Or we could think of our favourite cathedral, with its soaring nave, top light and supporting aisles. Or of the brilliant Joseph Paxton who conceived the design for a building in Hyde Park in 1850 for the Great Exhibition and watched Queen Victoria and Prince Albert, an Anglo-German pair, open it just nine months later; known as the Crystal Palace, it was six times the size of St Paul's Cathedral. On a grid of 24 feet, it comprised repetitive components that could be handled by men and horses; despite its vast size, by all accounts it was human and uplifting.
Or we could think of those factories designed before the age of electricity: they had north-facing rooflights to provide as much even daylight as possible. And finally, Sir Alex Gordon, president of the Royal Institute of British Architects in 1972 who pointed out that the best buildings are: "Long life, loose fit, low energy." These are just some of the many influences that lead to Vitsœ's new building.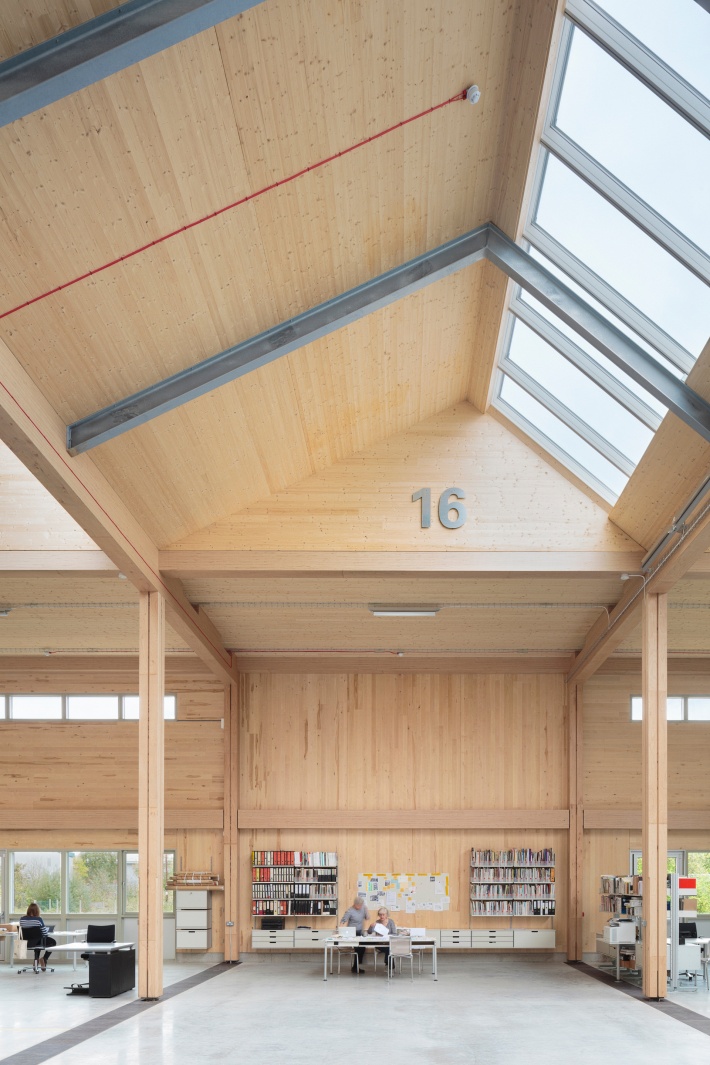 It is perhaps less known that Dieter Rams was trained as an architect in the early 1950s. Later, when he was professor at the University of Fine Arts in Hamburg, he strove to bring together the disciplines of architecture, interior design and industrial design. What I have learnt from Dieter is that, above all else, design is a thinking process. I would venture that Vitsœ's new building is not a piece of architecture; it is a way of thinking. Which is why it has been designed by many thinkers.
Early on it was academic brains from the Centre for Industrial Sustainability at Cambridge, Imperial College and Cranfield University. They advised us not to register for sustainability assessment methods because the box-ticking would constrain us too much from doing the very best for our building. We were joined by environmental and services engineers who devised a strategy based on comfort, to the extent that a lady asked me when visiting here on a June day when it was 32 degrees outside: "where is the air–conditioning?"
We were then joined by Martin Francis, a furniture designer who trained in the early 1960s before joining Norman Foster in his garage to help design my childhood influence of the Willis Faber building in Ipswich. Martin then established an engineering firm in Paris to help design, among others, the Louvre pyramid. Since when he has designed some of the most elegant yachts that ply the high seas before being introduced – by a Vitsœ customer – to be the rock of this project for the last two-and-a-half years. A mutual respect for Paxton bound us at our first meeting.
Beneath our feet in this building is a brownfield site that has been stabilised to a depth of four metres. We are standing on a sealed and polished composite of sand, stone, clay and water – a material rooted in the earth. It is long-living and noble, concrete.
We are looking at a north-south grid of 7.5m between the columns, by coincidence, almost exactly Paxton's 24 feet. We are surrounded by natural, breathable materials that have grown from the earth: a beech laminate-veneer lumber frame; birch-faced cross-laminate timber walls; and wood-fibre insulation. In other words, a few good-quality components. Constantly we have asked during this project: "What can we leave out?" We have spent more on structure, and virtually nothing on finish.
When the first bay was erected on 28 November last year, the internal finish was there, on day one. Nothing has happened since; the structure is the finish. The mantra for this building of "no paintbrushes" has held true.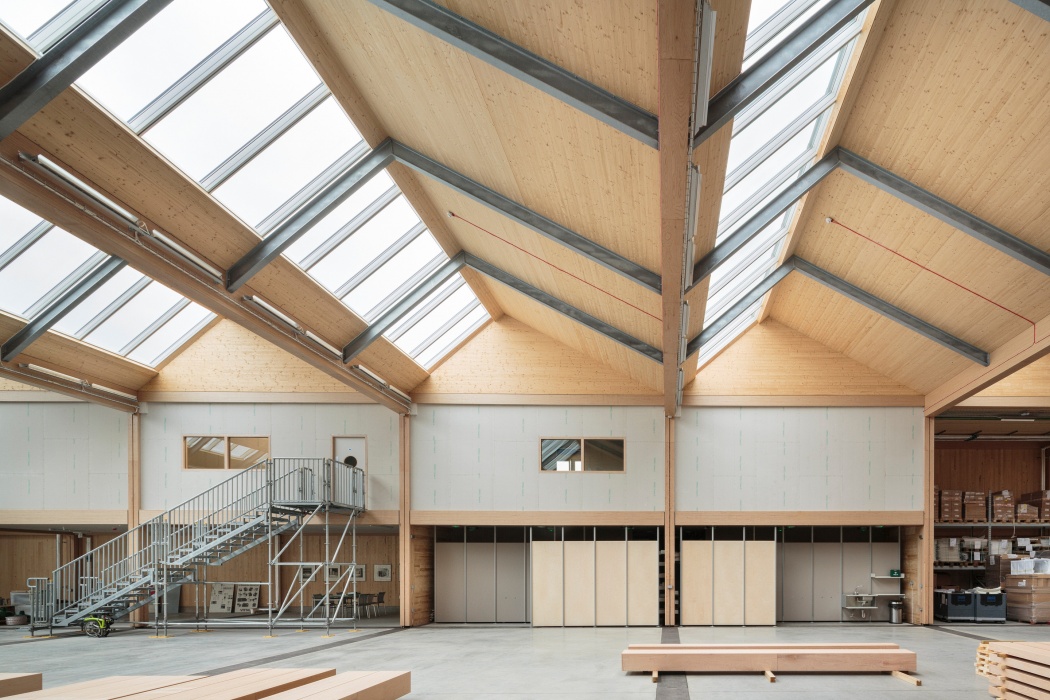 Above our heads are the openable windows that allow natural ventilation. Up there is also natural light, from the north, and the photovoltaic panels facing south. Also up there are the pipes and wires distributed north-south through the cutouts in the beams before dropping down to move east-west in the floor channels beneath our feet.
Outside is our ridge-and-furrow landscape that will settle and mature over the years ahead; it has just been seeded with wild flowers.
In the middle of winter last year it took just 23 working days to erect our building. And the total construction cost of the square foot on which we are standing, from 4 metres down to 9 metres up, was £145. That's £5.7m for the almost 40,000 sq feet in which we stand. We are assured that is a good figure.
Construction professionals or industrial–sustainability gurus will look around our building with critical eyes, spotting the problems. But, on Dieter Rams's own admission, a certain shelving system was fairly crude in the early 1960s. Today we are still working on that kit of parts, constantly improving it.
Welcome to this kit of parts. In stacks on the floor of our building are the large beech LVL beams with which we will continue to adapt it. The aluminium dovetail joints that hold the beams to the columns allow us to insert beams or relocate them, as we did two weeks ago when we moved our first beam. Nobody had ever done it before; there was nervousness; we learnt; but we did it. This is a building that will adapt and learn.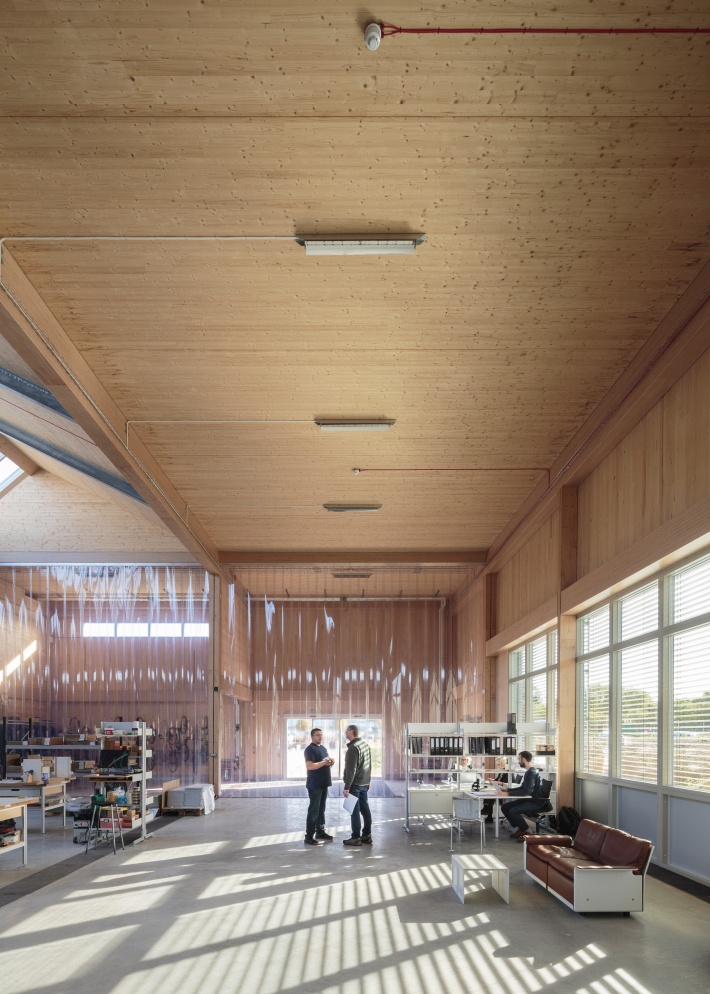 Internally this building is about visibility and serendipity; bumping into each other; fewer meetings. We have heard the research about our problem with a lack of exercise and the fact that we must do our 10,000 steps. We are advised that we need technology to encourage us to do that. But if we walk/cycle/train/bus to Vitsœ and spend our days in here, the problem is solved – without technology.
We have also heard about the increasing problems with our immune systems due to the fact that we spend our years under artificial light at an artificial 22 degrees. In Vitsœ's building we will be warmer in summer, cooler in winter, and exposed to daylight because no lights are on during daylight hours. The result is that our immune systems will be happier.
Externally, this building is open to its community. It has windows so that we can see out to the greenery but so our future employees can see in – and be tempted. This building is designed to be part of the community that has welcomed Vitsœ so warmly.
But, above all else, this building will last because it will be loved.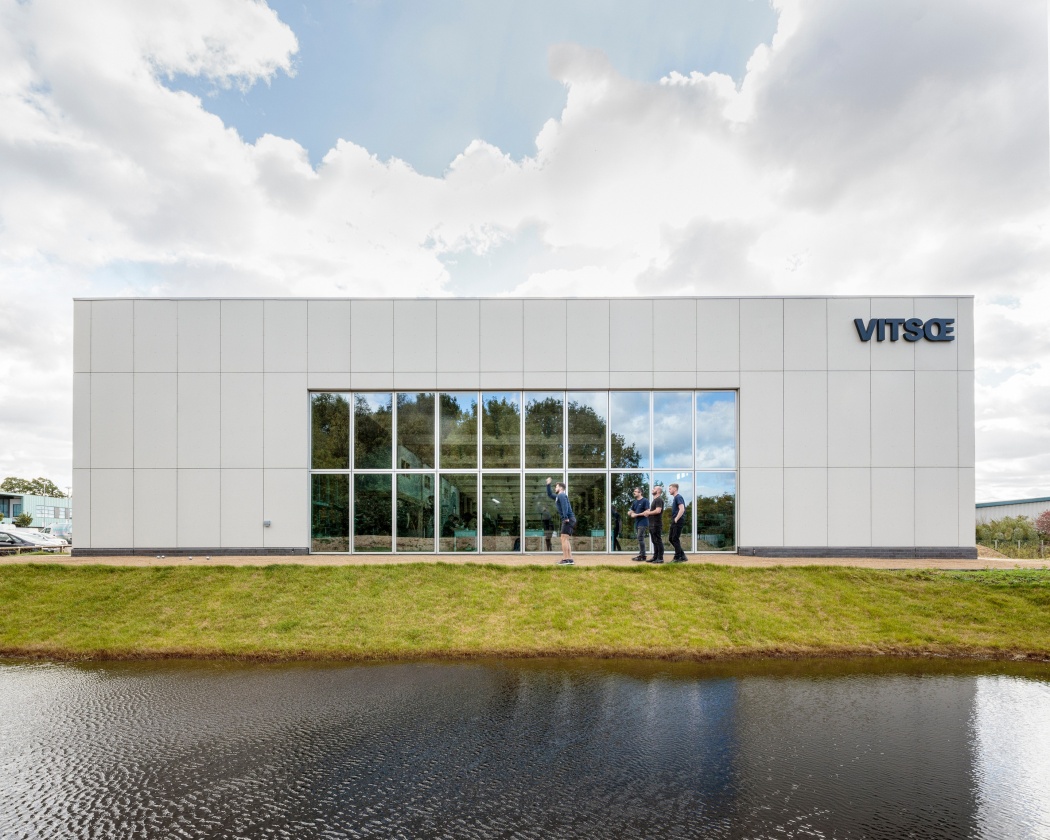 At Vitsœ we are often asked about our business model; the questioning goes something like this:
– you make furniture to last a long time
– you encourage your customers to buy less of it
– you then encourage them to take it with them when they move
– you encourage them to repair it
– you even encourage them to hand it on to the next generation (as we hear increasingly, Vitsœ is put in our customers' Wills)
– and, to cap it all, you don't do what everyone else does: you don't launch new products as often as possible, or even offer new colours, all to encourage your customers to keep coming back to buy more.
How on earth does that business model work?
We know the three planets argument: we cannot all survive on a finite planet with inexorable growth, especially when that growth depends on continued disposal. If the ferocity of recent hurricanes, or the destruction of our coral reefs – both fuelled by warming seas – is not enough to remind us, we have made a mess of our planet. As the prescient EF Schumacher told us back in 1973 in Small is Beautiful, greed and envy are the root of the problem.
But how does that explain why Vitsœ has built this building? A building that is larger than its current needs…
Because, as Nancy Bocken and Sam Short of the University of Cambridge, wrote in an academic paper published in 2015, Vitsœ is a rare example of a "sufficiency–driven business model: businesses that seek to moderate overall resource consumption by curbing demand through education and consumer engagement."
At Vitsœ we genuinely want our customers to buy only what you need from us. We want more people to buy fewer things of better quality and to make it last longer – people who understand that they are not rich enough to buy cheaply.
Our creaking planet needs many more of us to behave in this way; and we know that our existing customers are, by a country mile, our number-one advocates and the source of our new customers.
This building is a statement of intent: if ever more people around the world will buy less from us, then this building, and all it stands for, will be justified.