Gold, silver, plastic and cardboard
Caroline Broadhead's life in jewellery, ahead of the exhibition at Vitsœ's Munich shop.
Event details
Shelf aware
An exhibition of jewellery by students and staff of Central Saint Martins
Vitsœ
Türkenstraße 36
Munich 80799
Germany
3 – 14 March 2018
Monday – Friday 10:00 – 19:00
Saturday & Sunday 10:00 – 18:00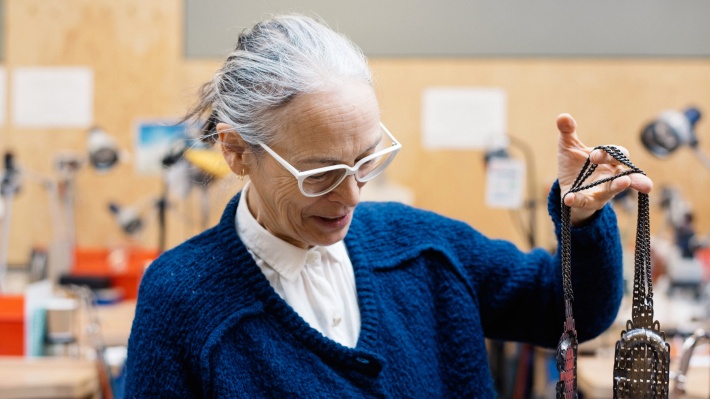 It was just before term time at Central Saint Martins in London, giving Caroline Broadhead a rare moment of calm from her busy role as course leader on the college's BA Jewellery Design course. With work benches empty, and nothing to distract her besides the distant hum of an industrial extractor fan, she prepares for exhibitions in the spring.
A renowned jewellery designer in her own right, Broadhead's more than 40-year career is being recognised with a retrospective show in the Netherlands in February. She is deftly juggling this with the curation of works from students and staff for CSM's annual inclusion at Munich Jewellery Week at Vitsœ in March.
As a child, art was her favourite subject but jewellery-making took her interest when a ceramics teacher at a progressive school in Devon encouraged her to make a pair of metal and enamel earrings. With a grin, she recalled, "the freedom in the arts and crafts area was one of the best things about Dartington Hall School. I was always pottering around in the art department – I was no good at anything else.
"The day I made those earrings, everything changed; creating something small and three dimensional felt quite magical. Transforming an uninspiring piece of metal into something new had sown a seed in me. I moved to Leicester and started a foundation course, and it was there that I heard that you could actually study jewellery design, so I applied to Central School as it was called back then [now Central Saint Martins] and got a place on the course that I'm now leading."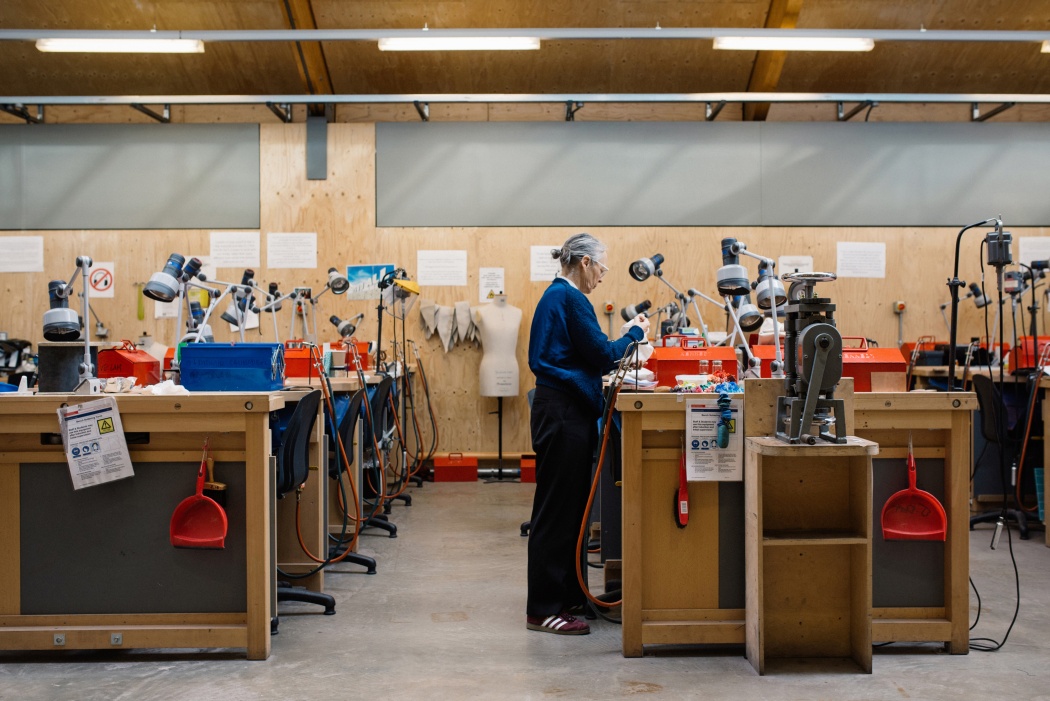 In 1973, with an Art & Design diploma, Broadhead set-up a small workshop in Covent Garden with fellow graduates. These days, the idea of starting out in one of London's most prestigious postcodes is daunting but 40 years ago the area hadn't become the tourist hotspot it is today. Laughing, she set the story straight:
"Oh it wasn't 'Covent Garden' then! Nobody knew about it. When we said we'd started our own business there, people would ask 'where is this Covent Garden?' It had the Opera House and the fruit market, so it was okay if you knew about either of those, but otherwise, it took some explaining.
"We'd struck lucky thanks to an architect friend who was working for Rock Townsend. Incorporating a basement studio into the plans was a mandatory part of the planning permission for their new HQ. It was crypted, with very low ceilings and worked perfectly for us jewellers because you only need a very small space.
"Back then, there was the assumption that you'd leave university and work solo making bespoke jewellery in gold or silver with diamonds or precious gemstones for clients. This was heralded as 'the way forward' but I knew that clearly there were other ways of doing things. I was experimenting with silver and ivory, and knew what I wanted to do wasn't going to be commercial, so I had to do all I could to make it happen.
"It was all very hand-to-mouth; I was working part-time in the bookshop at the Design Centre, as well as making the odd wedding or engagement ring to survive."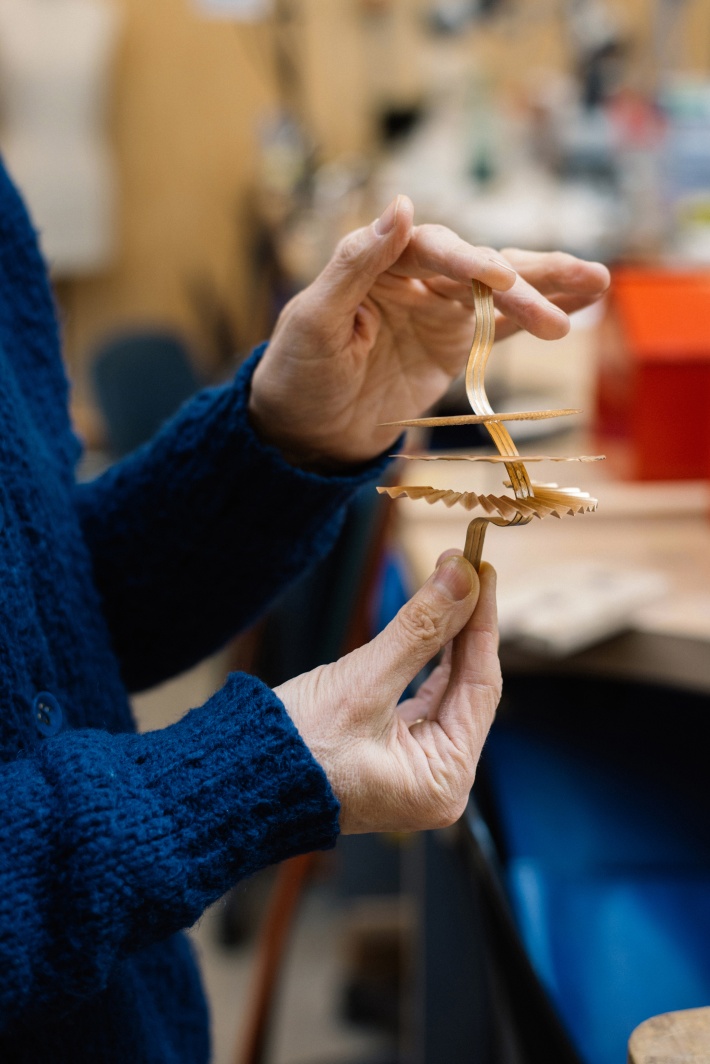 Caroline Broadhead graduated at a time when things were changing in the industry. She recalls how during the 1940s and 50s, the so-called rules of jewellery stifled the creativity of the wearer: "You weren't allowed to wear gold and silver together, because that would be seen as tasteless – you could only wear certain rings on certain fingers et cetera.
"But then the 1960s happened, and life suddenly went into technicolour. Clothing and jewellery became this means of self-expression, and it was there for the taking. There's been a development of this because jewellery has broken off into different strands. Fine pieces can be funny and quite playful, as well as subversive.
"The costume jewellery we see on sale today is well designed, cheap and accessible – similar to the stuff that was being made in the 1960s that was seen as radical, now it's fully mainstream."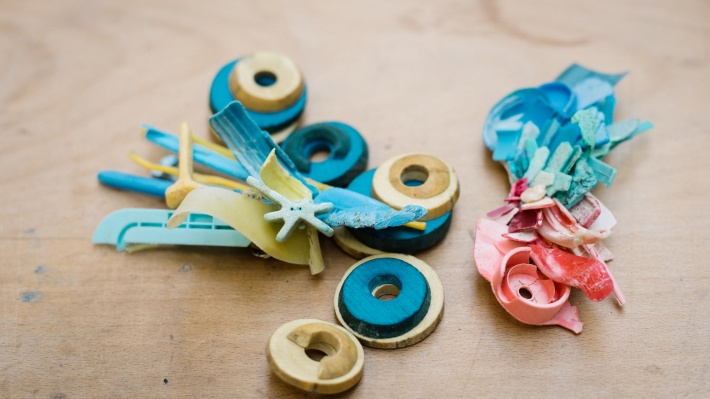 After years of hard work and determination Broadhead's jewellery was soon being shipped overseas for inclusion in numerous international exhibitions, and then in 2009 she began her teaching position at CSM. Modestly, she insists she couldn't do the job without her fantastic team, but conceded that under her supervision, the course culture has changed.
"There was a predominance of using metal before I came, but since I've been here other materials are being taken more seriously. There's a long way to go before we see a complete shift in attitudes though – plastic is still seen as cheap and disposable, even though it's oil-based, which is one of the world's most precious resources. It's a new material that's been around for less than 100 years, but it's had very bad press recently because of the ocean being full of it.
"A lot of the students are interested in sustainability and using materials that are not going to have a huge negative impact on the world. One of the students is taking objects that you'd expect to see carved out of stone or wood and making them from recycled cardboard tubes. It's that kind of refinement; the magic of getting to know a material and a process, that forms the foundation for setting up your own business or your own design identity. The excitement is that it's all equal now. There's merit in everything that they choose – the accent is on the quality of what they are doing and how they express the reason behind it. It's all about craftsmanship and clarity of idea."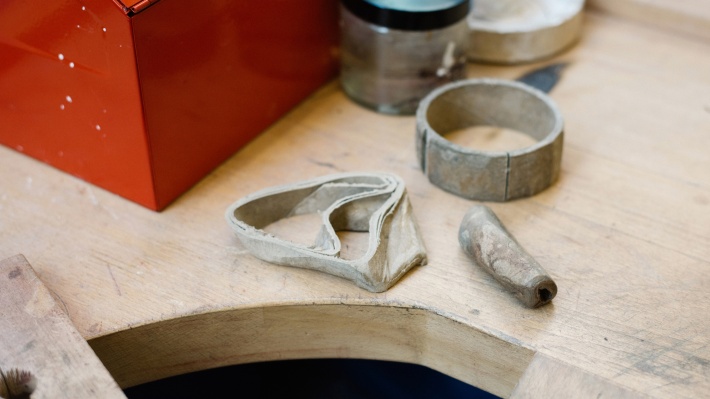 "Of course, there are different types of jewellers," Broadhead continued. "A classic maker will have an extraordinary attention to detail and a persistence about getting things right. It could be worrying about how a catch works, or how a stone is set.
"A piece of jewellery is actually a very difficult thing to design and make. People expect it to be robust, especially if it's being worn on the hand, wrist or finger. It takes a huge amount of bashing – so even getting it to the point when something doesn't fall apart is a big hurdle.
"A good jeweller will consider how something feels on the body, it has to feel nice or sit comfortably. The wearer needs to feel satisfied with how it works. You have to be sensitive to this. Every little thing has got to be its own version of perfection."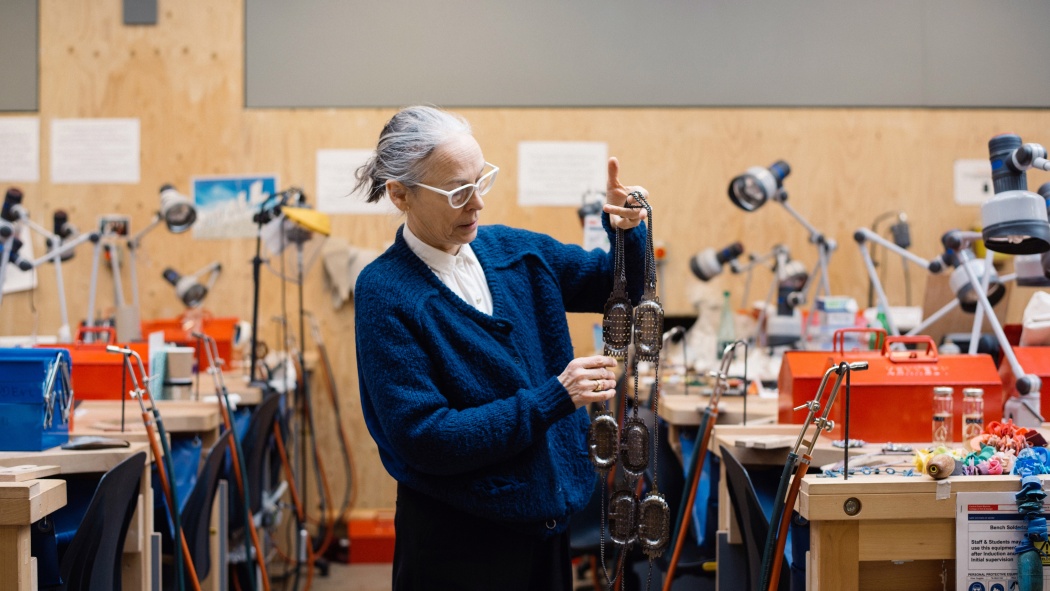 Alongside her academic position, work on her own designs continues, occupying most evenings, weekends and summer holidays. Because of this, one piece could take months, or a year to finish. Teaching hasn't stopped Broadhead's insatiable desire to collaborate. Alongside working with choreographers she sometimes uses photography or drawings as part of her practice.
She is currently finishing work for a retrospective show at CODA Museum in Apeldoorn in the Netherlands starting in February, and will then shift her focus to the exhibition 'Shelf aware' from 3–14 March, which takes place for the third year running, at the Vitsœ shop in Munich. The exhibition comprises work from over 40 staff and students from CSM, including photographs of a special year-two project to explore sustainable materials.
When asked if there's any particular item of jewellery she's been inspired by during the making process, she refers to her favourite works of art in London's National Gallery: "I love the Tudor portraits, and those women from the 1600s with the big gold chains – unbelievably fantastic! The weight of the embellishment, the stature, the elegance. The grandness in those pieces wouldn't work these days, but in those paintings there's something that signifies the real power of jewellery, which throughout history, has always been a means of saying 'Look at me!'"