A sense of belongings
An exhibition of treasured possessions examines how emotional attachment ensures that man-made objects last as long as possible.
Visit
The exhibition at Vitsœ's London shop will coincide with London Design Festival 2018
Vitsœ
3-5 Duke Street
London
W1U 3ED
United Kingdom
15 September to 6 October 2018
Monday to Saturday 10:00 - 18:00
Sunday 16 September 11:00 - 16:00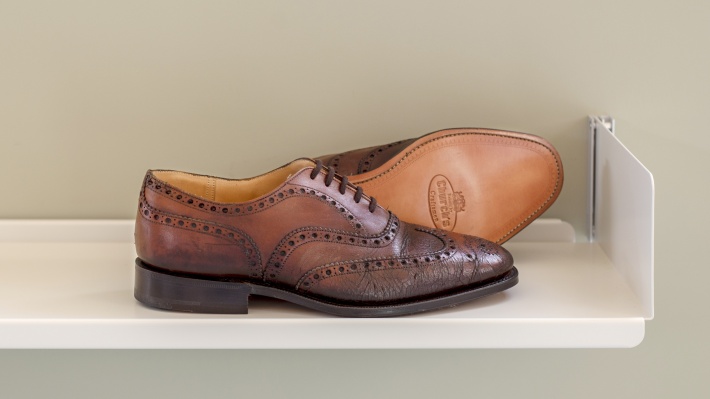 In this era of ever-greater disposability, precisely what is it that prevents treasured items from being discarded long ago?
This exhibition at Vitsœ's London shop calls upon long-standing relationships with its eclectic customers and friends to examine that question via treasured possessions, which have been used, repaired and cherished for many years.
The stories attached to these objects illustrate a sense of endearment that reduces their inevitable impact on the world's environment and resources by being loved for as long as possible…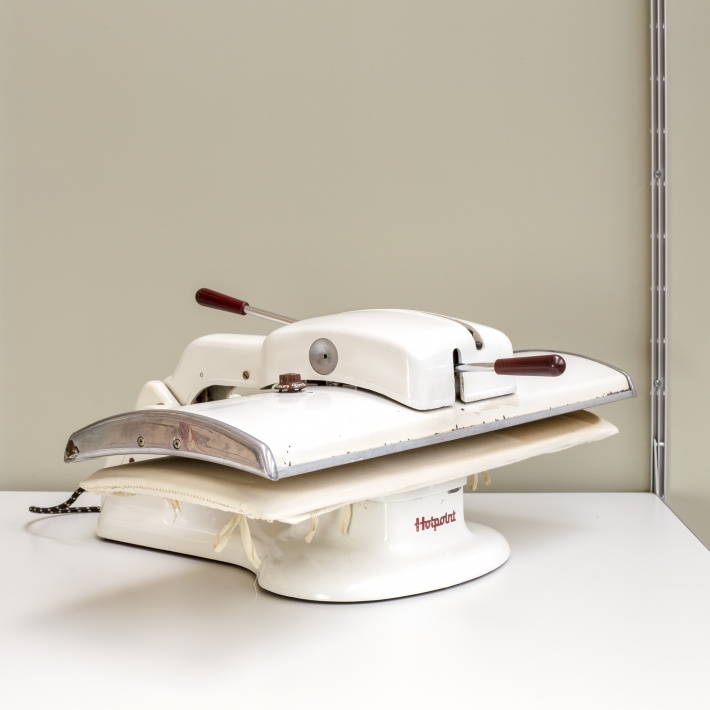 Sheet-press iron
"The iron was bought by my grandparents in the late 1950s. It sat in their farm kitchen and was used weekly for pressing all the bed linen and tablecloths. Sometime in the 1970s it became redundant, probably the fashion for easy-care cotton/poly bedding and it no longer being fashionable to use tablecloths did away with its use.
"When my mum was studying textiles at the RCA in the mid-1980s she rescued it from storage and started using it to heat-fix the printing pigments she was using to create painted fabric wall hangings. It was initially in her studio. Marriage and family then changed the volume of laundered bedlinen and it moved into the house. It has always sat in the same place in our home for the past twenty-plus years and been used weekly to press the bed linen.
"I now use the press to heat-fix hand-painted denim pieces that I produce. The fabric cover on the bed of the press has been replaced many times as, with persistent use, it has become burnt or stained.
"The spring lifting the top plate has weakened, so we have a kindling stick to hold the top plate open when needed. The cable has been replaced and probably needs replacing again, but otherwise it's still serving us very well."
Odette Moncur, textile designer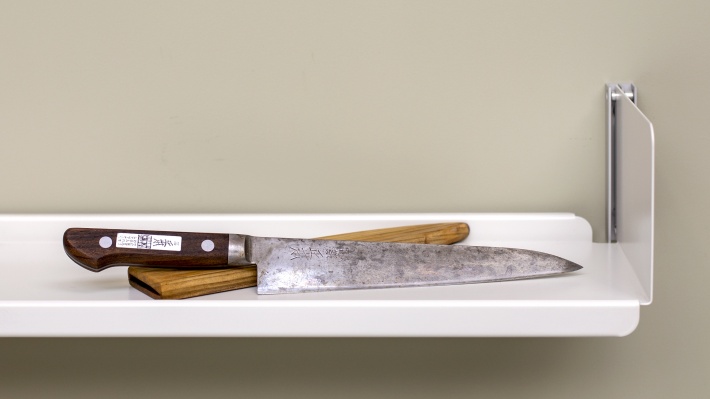 Japanese knife
"We found the knife maker Massamoto in Japan on our third attempt – boy, it was worth it. Gleaming racks of steel…I drooled. They helped me find this Shirogami #1 Gyuto, which fits my hand and stature perfectly.
"I prefer the western handle, but it means the saya, or sheath, doesn't have a pin to secure the knife. I have modified it with a cloth soaked in camellia oil. Now the blade stays put.
"This is my home knife – I use it almost every day. Because the steel rusts, it has to be maintained and kept in the saya.
"The young man at Massamoto showed me how to sharpen it on a whetstone. The joy of learning a new skill and honing that skill has stuck with me ever since. Although, I have not yet managed to sharpen it as well as that young man in Japan."
Will Leigh, chef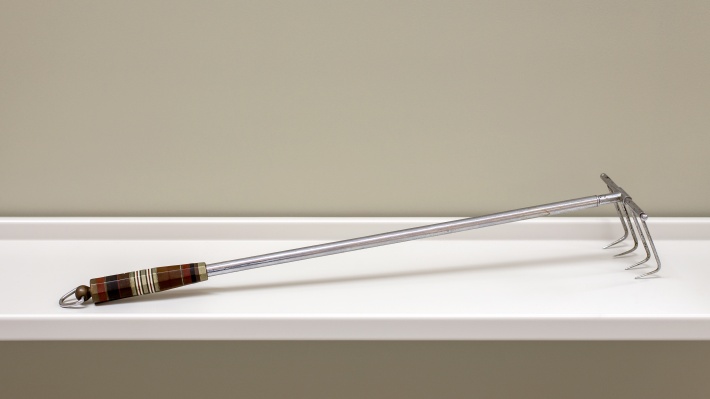 Ingenious toasting fork
"The fork was made by my great-grandfather as part of his apprenticeship at an engineering firm somewhere in south London. I'm not sure exactly when it was made but I would assume in the early 1900s.
"The fork was made out of spare parts at the firm. You can see this most clearly in the handle made of different sized bolts and washers. The fork was used by my grandmother and her siblings to make toast over the fire and my mother and her brother did the same as children, too.
"It took pride of place next to the hearth at each home my grandparents had and the story of its creation was told to us on every visit. When my grandmother passed away a couple of years ago this was the single item I asked my mother and uncle for as a memento. It was the item I felt most connected with. It now lives with us in London to make toast again in the future."
Stephen Mann, fashion consultant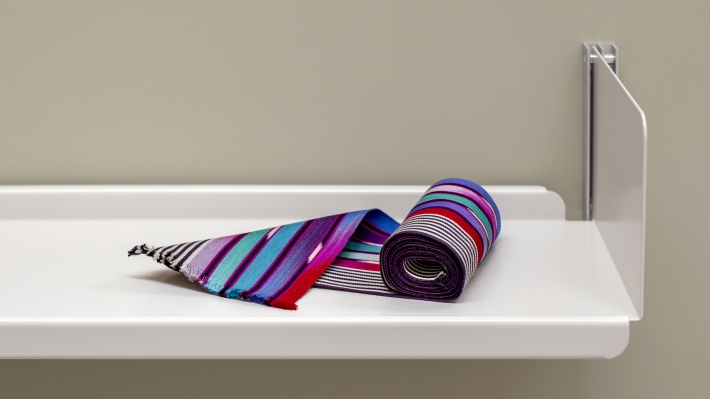 Ikat-weave sash
"I bought this ikat-weave sash by Mary Restieaux in the late 1980s when I was gallery manager at the British Crafts Centre in Earlham Street. I bought it for my mother and then it passed on to me.
"I have cherished it while repeatedly wearing it. Its longevity is due to the quality of the fabric which keeps its shape and colour. Its visual appearance sits outside of fashion, and how I wear it is down to styling.
"It has so many associations, not least my ongoing relationship with Mary Restieaux, who I have worked with for many years, helping identify new and emerging talent in the field of weave.
"The sash symbolises my desire to continue to encourage a high level of craft skill and design in the UK such as is demonstrated in this early piece."
Vanessa Swann MBE, arts business consultant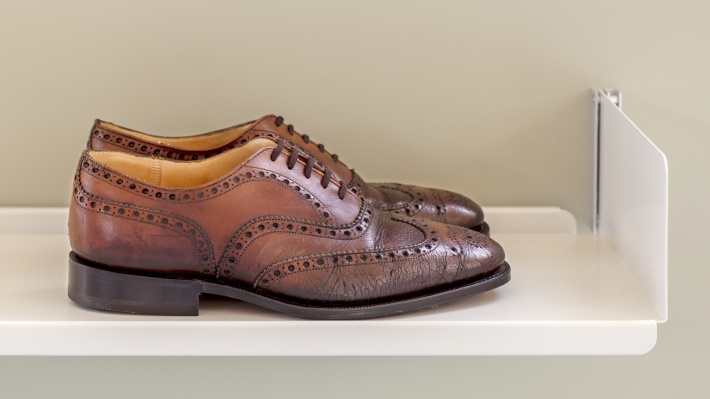 Brogues
"These lovely English brogues were the first 'proper' shoes I bought with my first 'proper' salary, so they hold a particularly strong significance. They now have a rich patina and are in remarkably good condition. They underwent a super service at Church's about six years ago, and recently they have been re-soled.
"My choice back in 1987 was influenced by a wonderful teacher, friend and typographer, Raymond Roberts. His advice: spend a bit more on something of higher quality as it will last longer. How right he was. Ray, who was a modernist and a great Dieter Rams admirer, died last year at the good old age of 92. I think he would be pleased to know the shoes are still going strong, and very happy to see them displayed here on these shelves."
Tony Chambers, editor and creative consultant
_
The exhibition at Vitsœ's London shop comprises over 20 items loaned by its eclectic customers and friends.
Visit from 15 September to 6 October 2018 at 3-5 Duke Street, W1U 3ED. Monday to Saturday, 10:00 – 18:00. Sunday 16 September, 11:00 – 16:00