Slices of utopia
Anton Rodriguez has lived in five different Barbican flats, inspiring an unexpected career path and endearing him to the city complex for life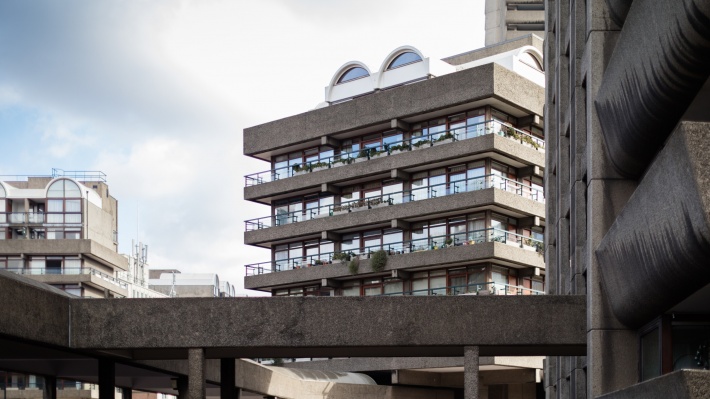 Words: Leanne Cloudsdale
Photography: Anton Rodriguez
"It's not brutal on the inside!" laughed Anton Rodriguez, the photographer who credits London's Barbican Estate with changing the way he looked at the world forever. Born in Germany and brought up in Merseyside, England, he moved to London in 2010 to start an internship at a small, independent fashion company during the second year of his university degree in Menswear Design. Within six weeks of the placement starting, he'd been offered a full-time job. The decision to leave university before graduating was a tough one, but looking back now, he knows he definitely made the right choice.
Becoming a permanent London-dweller meant looking for a place to live, and when a lettings agent mentioned a rental in the Barbican, Anton and his partner Laura agreed to go for a viewing. With a grin, Anton said, "We didn't have a clue what the Barbican was. I was only 23 at the time and when we turned up to see these huge, imposing buildings, we didn't know what to think. I'd spent my childhood in Kirby, just on the outskirts of Liverpool, which has its fair share of post-war housing, so I didn't have high hopes for the flat we were about to view. But once we were inside, we were speechless. I remember thinking 'Wow. What is this place?'. It was incredible. We moved in two weeks later."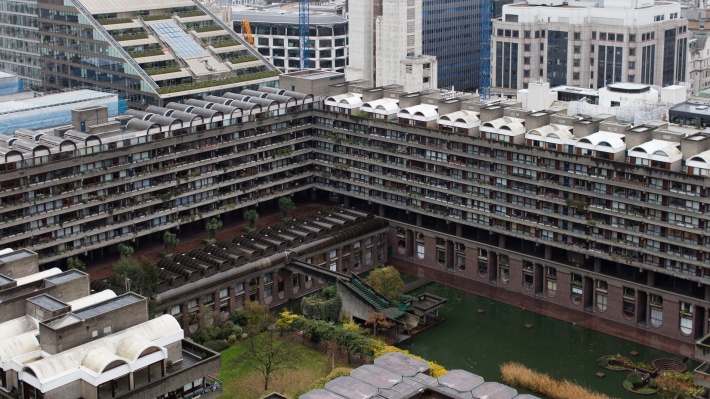 Designed by three young architects: Chamberlin, Powell and Bon; construction of the Barbican Estate began in 1965. Often referred to as a 'city within a city', it was officially opened by HM Queen Elizabeth II in 1982. The iconic pick-hammered concrete walls of its 42 storey towers and adjoining terrace blocks are a prominent part of the London skyline, where they continue to divide opinion half a century later. Now Grade II listed, its status is preserved – bringing a welcome sigh of relief to brutalist devotees and groan of disbelief from those who think it ugly.
For Anton, his love of the Barbican centred around what it was like on the inside. The labyrinth of buildings and residents-only walkways felt otherworldly at first – and very different from his previous Victorian flat in nearby Clerkenwell. He explained, "As a kid, I remember seeing these hostile-looking multi-storey car parks that were built in the 1960s and thinking about how horrible they were. It's as though, at school, we're educated to only revere and respect the things that represent good taste, and at first glance, I must admit, it brought back memories of those car parks. But, living in the flat with its double-height windows, sliding doors and compact stainless-steel kitchen (designed by boat makers) altered my outlook. I'd never had a home that felt so full of light or felt so quiet. You'd never know you were in the heart of central London.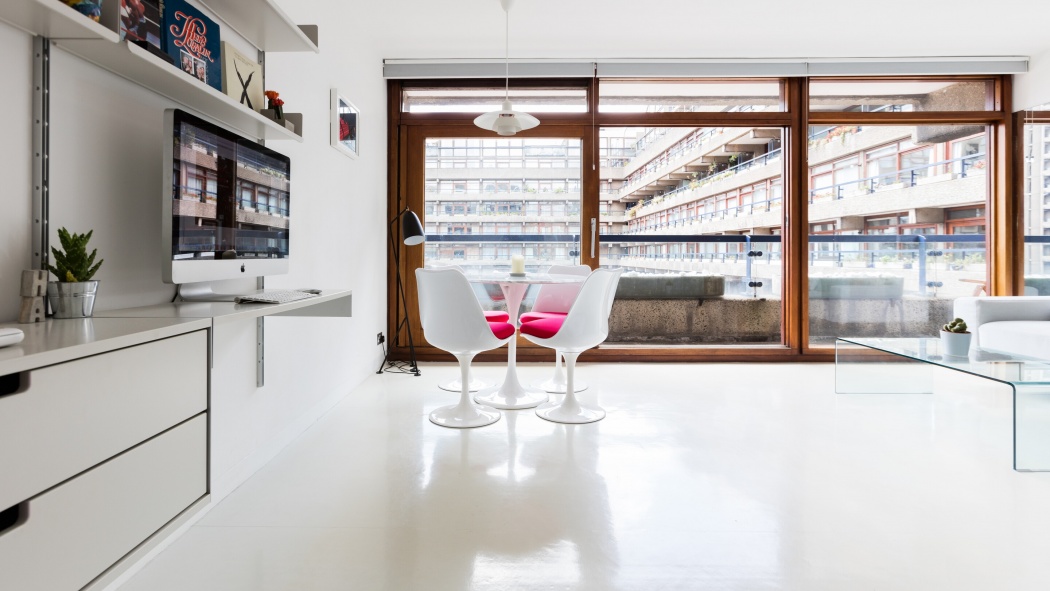 I used to wander around the estate with my camera, noticing new stuff all the time. I'd visit the art centre, the cinema, mooch around the gardens and explore. Having never taken an interest in modernist architecture before, I suddenly found myself reading books about it. It was about this time I bought my first Vitsœ shelving. As soon as it was installed it was as though it had been there forever. Seamless."
The community aspect of life inside the Barbican also came as a surprise. Household rubbish is collected daily from a cupboard next to residents' front doors. Underfloor heating is centrally controlled by the estate, rising and falling in line with the seasons. A pink slip through the letterbox is a signal to go and collect your post, which is kept securely by the concierge. "Everything is taken care of. A little slice of utopia. It is easy living, that's for sure."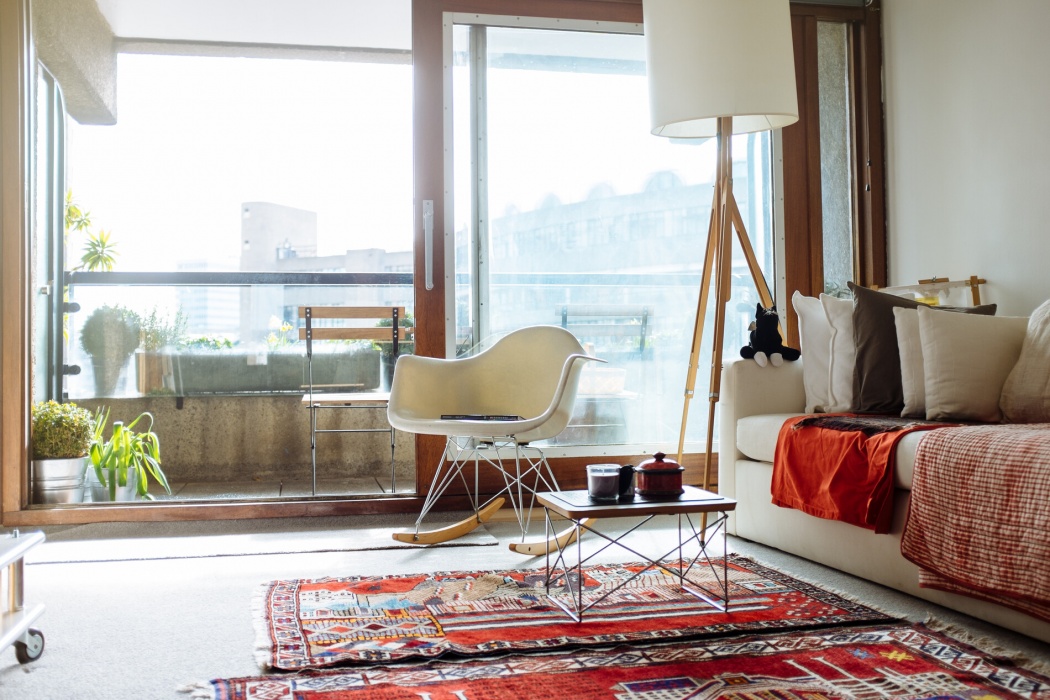 His growing curiosity coincided with an article he'd read about the VSCO (Visual Supply Company) Artist Initiative. It called for pitches from creatives and offered to help fund artistic projects. Anton remembered how, "It seemed like such a good opportunity to do something professional with my own photography. The cash would come in handy to buy new lenses or other equipment – all I had to do now was start dreaming up a proposal. The eureka moment happened a few days later when I walked past a neighbour's place and noticed their front door was ajar. I had a cheeky glance and thought about how incredible the barrel-vaulted ceiling was (which our flat didn't have). It got me thinking about how I wanted to have a proper nose around and see what everyone else's Barbican homes were like inside. I'd found my idea."
He was granted funding and found 25 willing participants on the estate. His images caught the eye of the head of retail at the Barbican, who agreed that the pictures and stories would make a great book. 'Residents: Inside the Iconic Barbican Estate' was published in 2016 and changed Anton's life almost overnight. Millions of people knew what the Barbican looked like from the outside, but few were lucky enough to see what it might be like to live in. With a smile he said, "Things took off for me, publicity-wise. I had all the major U.K. and European broadsheets calling me asking for an interview. Brands, interiors magazines and fancy restaurants were getting in touch and commissioning shoots. It got to the point when the 9-to-5 had to stop, and the photography became my career."
Until quite recently, Anton and Laura had lived very happily in a total of five different Barbican flats, each with their own unique layouts. It was a change in family circumstances and an extended visit back home to Liverpool that shifted his perspective. Being with his family, so close to the Lake District and Wales, renewed his appreciation of the great outdoors. Now married, the couple yearned for their own private garden and more space to work from home.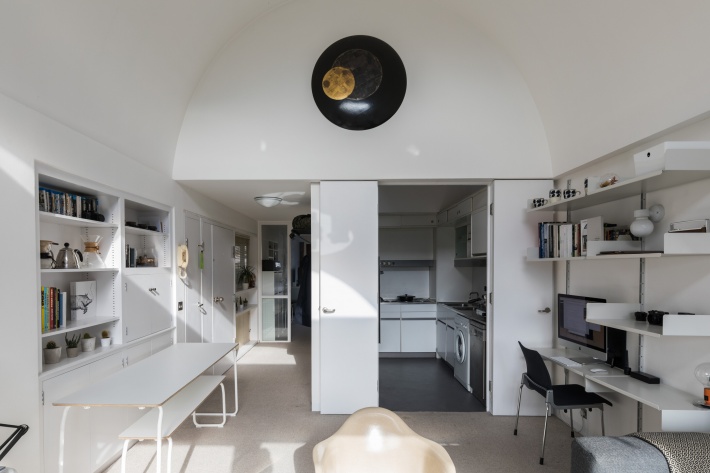 "We always knew the Barbican couldn't be forever. It was built to be affordable – but that's not really the case anymore. We flirted with the thought of moving north, but our work is here in the city, so that was never going to happen. Kent was our compromise. Now we've got a little house in suburbia with a barbeque, a Dachshund and a baby on the way!"
I do miss the Barbican. These days my visits back there tend to be for photo shoots or to see exhibitions. The estate represented a moment in time for me. It's the place where I grew into a fully-fledged adult and found my way towards a love of modernist homes and furniture. It 'cultured' me. So, as much as I miss how special our life was there – I think if we ever moved back there, I'd miss the comforts of living here. Sitting on one of those Barbican benches watching the world go by was great, but kicking back in my hammock with a good book here in the 'Garden of England' is better."