Welcome to Jana's playroom
When her shelving system was installed, Jana exclaimed: "Today is more exciting than my Birthday!" – we just had to discover why…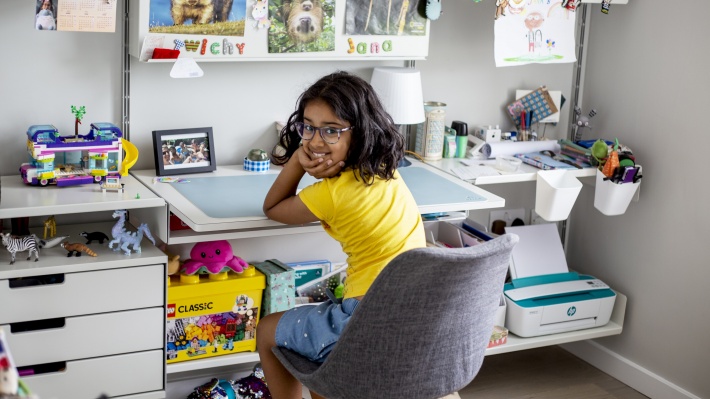 Words: Leanne Cloudsdale
Photography: Vitsœ
"It's much easier to play with things when I can find them easily. I used to tip my Lego all over the floor, so that I could see all the pieces and my Mummy and Daddy would go crazy!" giggles 8-year-old Jana, as she walks over towards her bean bag and takes a seat. "Everything lived in big plastic boxes before, so when I had an idea of something I wanted to build – like a house or a car, it always got really messy. Special pieces got lost because they were so small. I'd need some wheels or an edge bit, but they'd go missing." Standing up to reach for a Lego 'campervan', Jana proudly opens its door and points to a tiny stove, complete with frying pan and microscopic-sized sausages. "You can cook and sleep in here" she says, with conviction.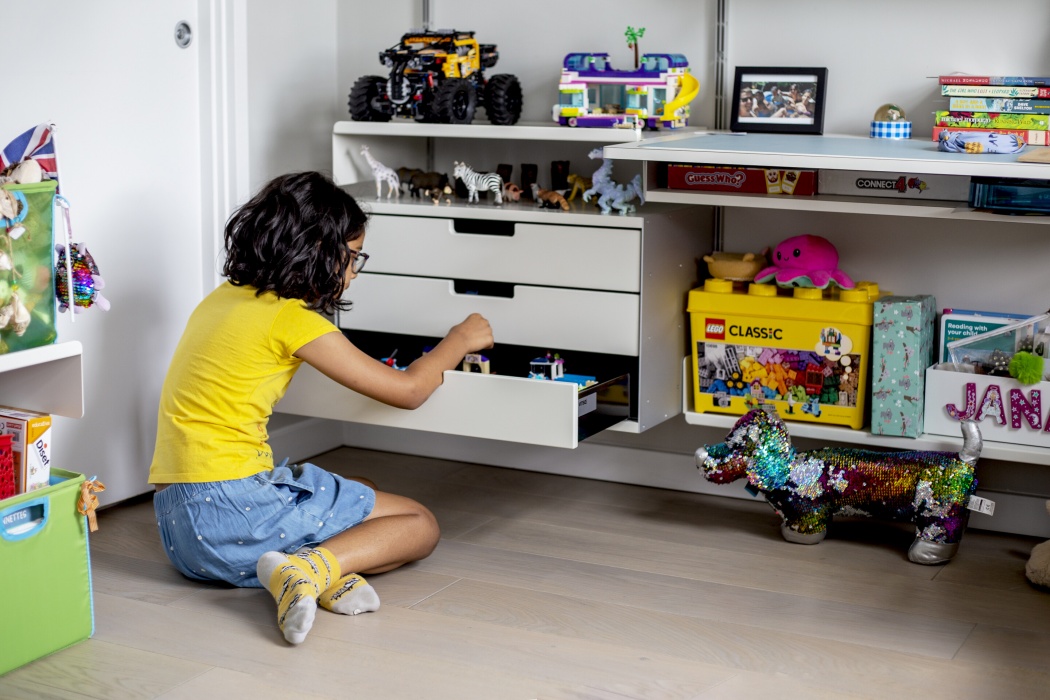 Welcome to Jana's playroom. A space where she can focus on the important things in life – like drawing pictures, reading storybooks, and immersing herself in the wonderful world of make-believe (with some homework thrown in, for good measure). Adult intervention is rarely required because every doll, felt-tip pen or dinosaur is easily accessible, positioned within safe reach and clearly visible. This is Jana's universe; the place where she feels happy, surrounded by all her favourite things.
Jumping to her feet, she pointed at the poster of some harvest mice above her desk. "See that?" she asks, "this is my magnet board. I can put pictures on it whenever I want. I don't even need to ask because the magnets are so clever. They stick on, and come off, really easily – like magic. Right now, I have the mice, a wombat and a sloth up there, but maybe in a day or two it might be something else. It's a good place for me to put things I want to see all the time when I'm sitting doing schoolwork, or colouring-in."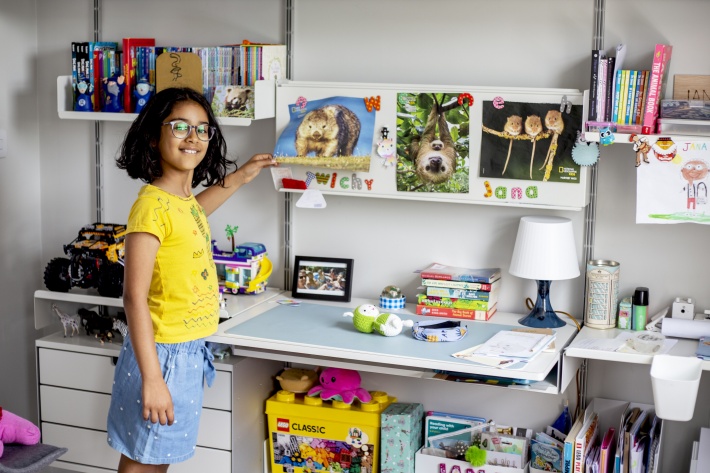 Attention is quickly diverted towards a collection of animal figures. Jana picks up a zebra and asserts, "They are all so much better here, than hidden away in a box. They really like living on the top of the cabinet and don't like to be moved. It's better for them to all stand facing the same way because then I can see them all, all the time. Sometimes the giraffe wants to be at the front – other days the seal wants to sit there instead. But they always stay here together at night."
Jana and her parents moved into their [newly built] home in 2018. Located a short walk from the centre of town, it is a light-filled, spacious property with an open-plan living area on the ground floor, leading out to a lawned garden. Buying the house off-plan meant they had the exact dimensions for each room – which made it easy to buy furniture before moving in. Vitsœ was a natural choice, Jana's father explains, "With so many books, records and general life stuff, we knew we'd need a way to manage things and make sure everything was off the floor.
Even though the house was bought off-plan and has a very modern interior, there were still awkward spots in some of the rooms. Vitsœ made them all into useful spaces – which they'd never have been otherwise. The 606 shelving has given everything a place and the 606 desk-shelves mean my wife and I can work from home without bringing in any additional pieces of furniture to take up valuable floor space."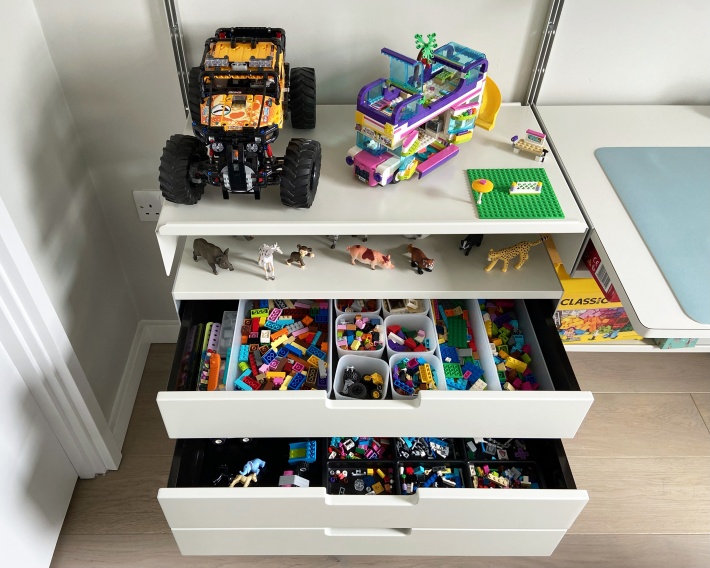 Back in Jana's playroom, the 'Lego drawer' is open and she is immersed in play. When asked which part of the room she likes best, her response is immediate. In a flash she's on tiptoes, reaching up to grab a home-made clock. "Everything on this shelf are my memories. My grandpa is an engineer. He helped me to make this clock for my homework once and I won an award for it! The pink painted box has all the little toys that I loved from when I was a baby – wind-up ones that move on their own. Mummy bought me the globe from Spain – it's even got the equator on it! Sometimes we bring it down and we talk about all the different continents. It's better for me to keep them up there, because I don't need to play with them every day, but I still like to see them."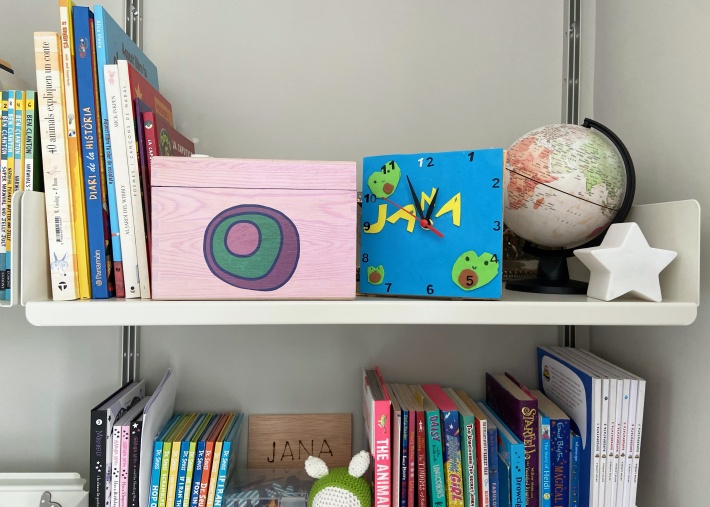 Next on the agenda is a fossil. Opening the pocket-sized presentation box, Jana inspected the fossil and commented, "Guess what? I found this on a beach. It drifted near me. I thought maybe it was just a rock, but one side had a pattern on it like a fish, so I think a rock fell on it while it was alive, and it never moved. Millions of years later and this pattern has formed. It doesn't feel real. People might think it's ancient pottery – but it really was alive once!"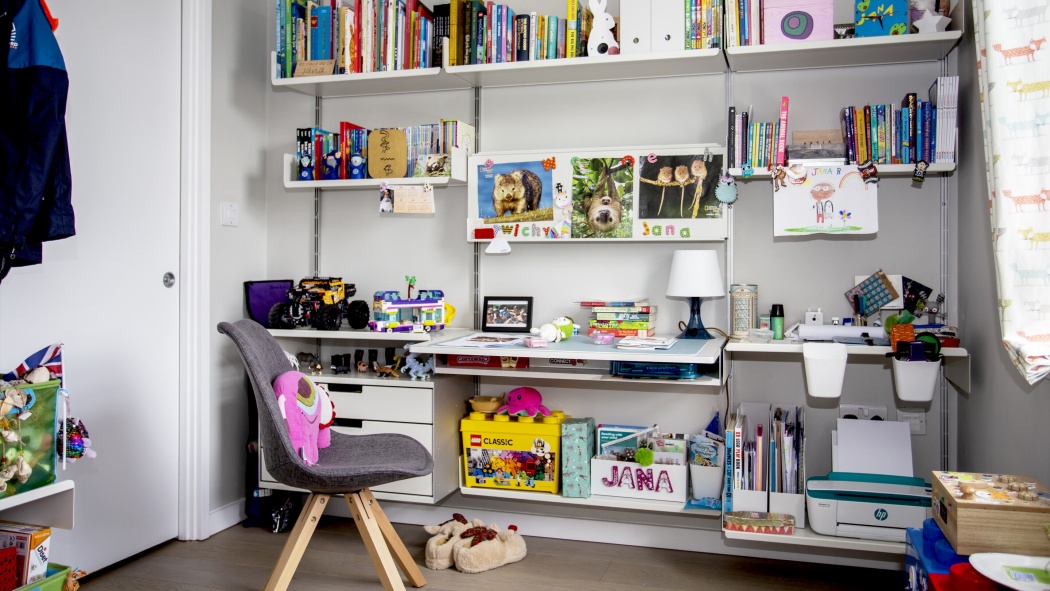 Books are grouped by language and subject. Some in Catalan, which Jana is learning. Others in English and Sinhala. Stickers, crayons, cuddly toys and schoolbooks are neatly arranged by Jana – who is very much in charge and happily keeps things looking tidy. When asked what's so great about having a Vitsœ playroom, she swirls around on the spot and says, smiling, and slightly out of breath, "Well. When I get taller, I can just move the desk up higher can't I? I won't need anything else. I can keep it all until I grow up and go to university. I won't need to get other shelves or a new desk my whole life!"